The Future of Car Mobility Driven by Design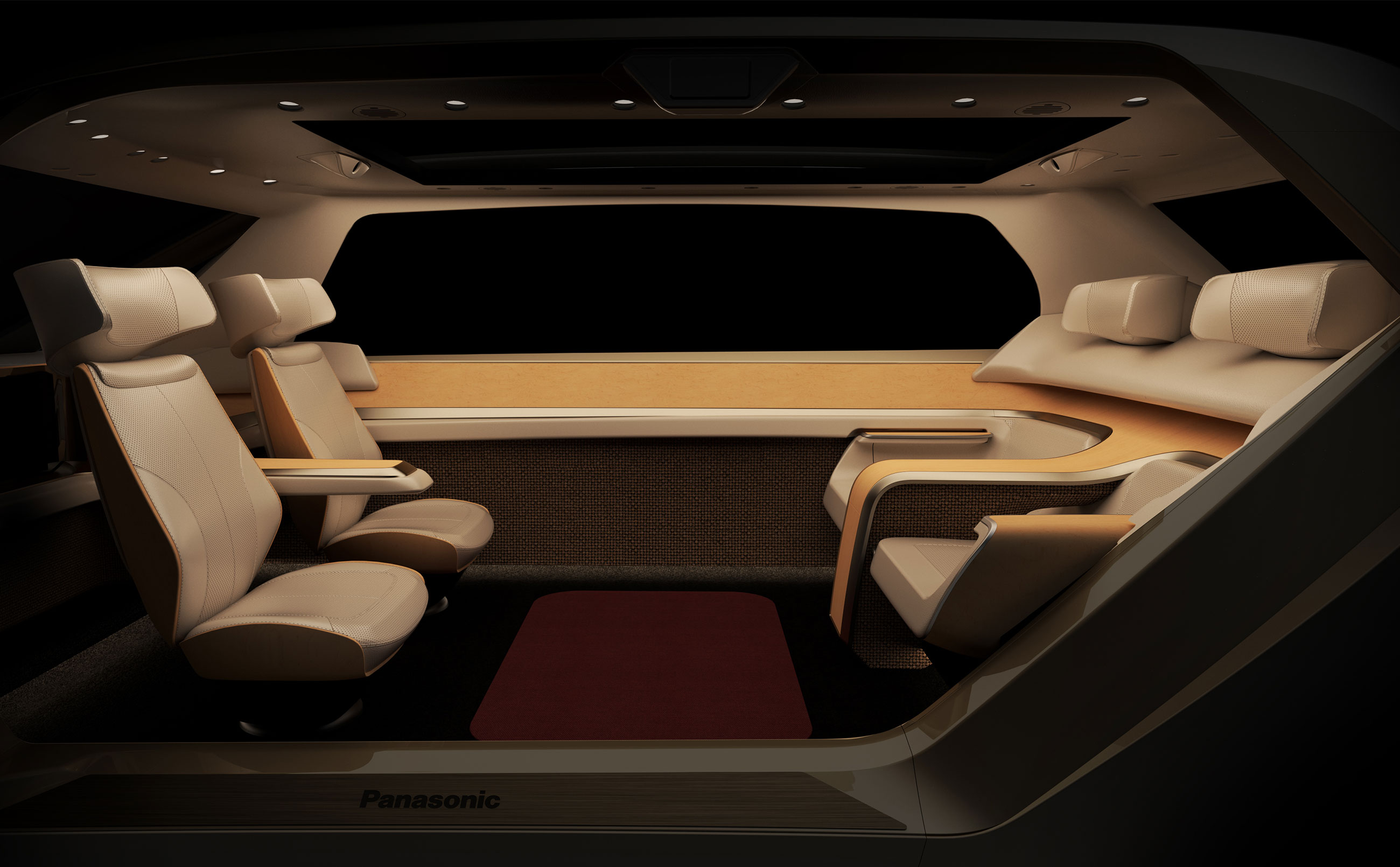 Panasonic has been expanding the areas in which Panasonic Design is actively applied by making full use of its expertise and knowledge cultivated through the development of solutions for consumer electronics and living spaces.Our design proposal for car mobility is one of these applications. Panasonic has been disseminating its envisioned future of car mobility through several design concepts at exhibitions held in various countries.
Autonomous Living Space Cabin - Inspiring Wonder in the Cabin Space
The concept of design-driven, fully-autonomous cars was revealed to the public at CES 2018.

The concept is expressed as an Autonomous Living Space Cabin, which is not creating space for transportation alone, but also provides various valuable experiences as future living space.

Based on this concept, four types of in-car environments were designed: Family for facilitating family communication, Entertainment for enjoying entertainment, Relaxation for taking a rest in a leisurely manner, and Private for valuing personal time.
Collaboration to realize the value of experiences felt through the five senses
Our design team tackled space design using basic technologies related to light, images, sound, air, and scents, which appeal to the five senses, to provide experience value. The design team has achieved, for example, transparent displays on car windows that allow passengers to enjoy a new image experience, a lighting system that creates ambiences suitable for enjoying private time or entertainment, an LED display system that allows the displayed light to pass through real wood panels, and a technology that can generate various scents that match in-car conditions.

Much collaboration was required to achieve these technologies. These technologies were successfully completed in cooperation with many experts not only within Panasonic but also from outside the company and overseas, including service/product/CMF/UX/lighting designers, air conditioning specialists, and acoustic and robotics engineers.
Proposal of a wide automotive display system to prevent driving errors
Wide display system for automotive use that won a 2017 Good Design Special Award [Design for the Future] This display system was developed aiming to prevent accidents caused by driving errors.

The system integrates the function of rear view mirror and side view mirrors, separately installed at three positions, into one large display, allowing the driver to gain a clear view of the conditions around them. This system requires less driver's eye movement in comparison with the past, and allows the driver to rapidly absorb information on pedestrians and road conditions. This speedup in information absorption by the driver is designed to prevent accidents. The concept for creating a world with a sense of security and safety proposed by Panasonic Design is what supported the development of these devices.
A next-generation car cockpit design allows the driver's seat position to centrally collect all information
In 2015, Panasonic tackled the design of a driving support system that displays the information needed by the driver in a centralized manner.

The system can display various types of information at the appropriate timing based on its structure. It employs displays that are positioned overhead and close to the driver's hands as well as a main display with a curved surface that appears to enfold the driver. This allows the driver to obtain information on current road conditions without any blind spots. We aimed to achieve a cockpit design that can link the driver's responses and outside information together to allow the driver to reach his/her destination in safety and comfort by, for example, warning the driver when the car gets too close to obstacles or other cars.
Aiming to propose solutions for a fully mobile society
Other than these design concepts, Panasonic, as a supplier to car manufacturers, has proposed a variety of automotive use designs through the Panasonic Design Philosophy. Furthermore, the company is striving to propose not only solutions for cars but also traffic infrastructure solutions and systems that make full use of image, sensing, and communication technologies.

We will utilize our technologies, expertise, and know-how when designing mobility-related solutions, and provide comprehensive designs by making full use of our knowledge cultivated through the development of solutions for consumer electronics and living space. Through these endeavors, Panasonic hopes to contribute to the realization of a fully mobile society of the future.