kyo-zutsu—a wireless speaker system that lets you enjoy music in the palm of your hand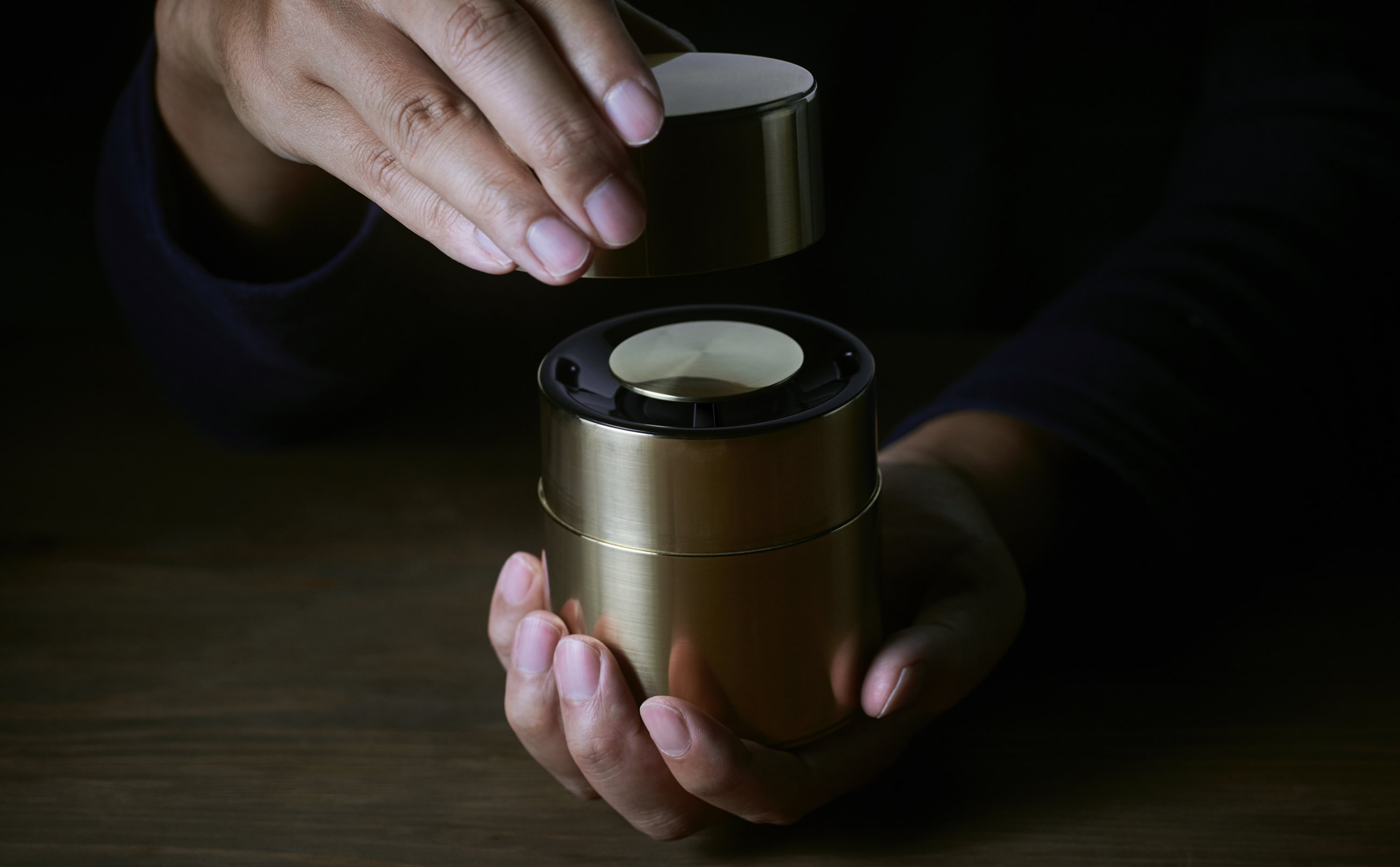 Opening the lid of kyo-zutsu turns it on, allowing the sound of music to come forth slowly. At the same time, the notes vibrate in the palm of your hand, combining the tactile with the aural. In this way, kyo-zutsu is a wireless speaker system that offers you an entirely new way to experience music.
Kaikado is famous for the near-perfect airtightness of their tea caddies. Thanks to this quality, when you open one, the pure fragrance of the tea wafts out in a truly sensual way. Thus also does sound resonate from kyo-zutsu, which inhabits a Kaikado caddy. When you replace the lid, it slides slowly downward, obeying gravity while letting the music fade with elegance and refinement. Even touching the beautiful brass of the caddy adds to its color and luster, making it completely yours as the months and years pass.
Since 2015, Panasonic Design has been engaged in the Kyoto KADEN Lab Project, which seeks to integrate the traditional arts of Kyoto with the design of modern electronics. This initiative celebrates the unique aesthetic sensibility of Japan and the ancient origins of the country's craftsmanship. Under the theme of "Electronics Meets Crafts:," Panasonic designed a range of creative prototypes, ultimately winning the Milano Design Award for Best Storytelling at the Milano Salone 2017 and the world-renowned iF Design Award Gold Award in 2018.
The public was especially captivated by kyo-zutsu. In response, Panasonic is now making the wireless speaker system available as a product. By melding the precision and feeling of traditional Japanese art with Panasonic's decades of success in and innovative approach to audio digital technologies, Panasonic is keeping alive the transcendent experiences of the past while creating the amazing experiences of the future.
For sales information,
please call +81-75-351-5788 or email info@kaikado.jp
Kaikado is closed Sundays, Japanese holidays, and every second Monday of the month.