End-of-life appliances must be correctly recycled, not simply discarded. We'd like to introduce some knowledge about the Home Appliance Recycling Law, to help all consumers to play their proper role in a recycling-oriented society.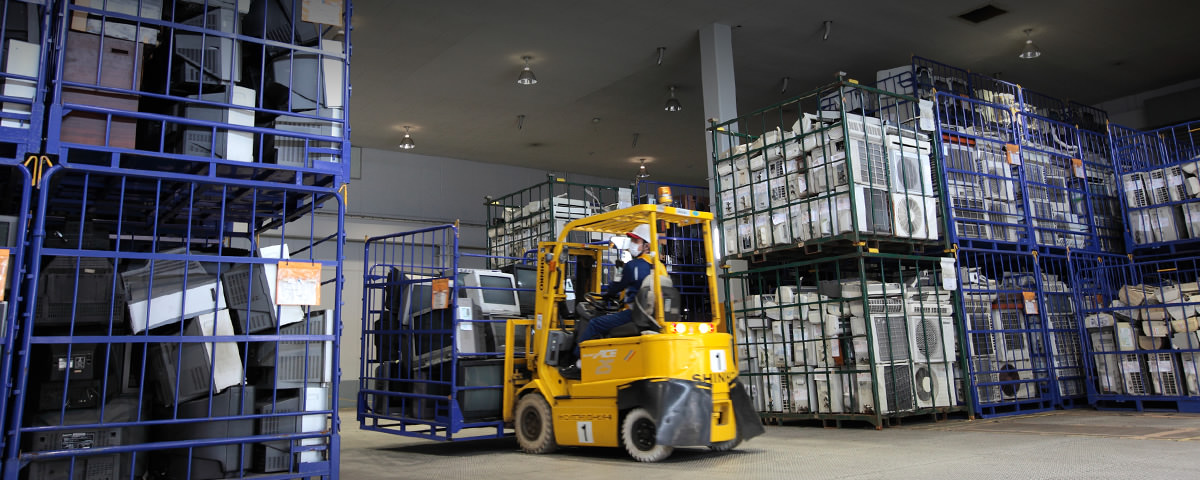 This is a law aimed at achieving a recycling-oriented society in Japan, to encourage people to value the items that they use.
In the past, people in Japan used to recover steel and certain other metals from end-of-life (EoL) home appliances and discard the rest of the appliances in landfills. With the enactment of the Home Appliance Recycling Law in April 2001, a system was established to properly recover EoL home appliances and efficiently recycle them so that they can be reborn as raw materials. In conjunction with this law, Panasonic Eco Technology Center (PETEC) also began operation in April 2001. Our efforts are now devoted on a daily basis to serving as a part of this system to promote the reduction of waste and the effective reuse of natural resources.
See details about Home Appliance Recycling Law (Only available in Japanese)
Four Home Appliance Types Under the Home Appliance Recycling Law
These four types cover about 80% of all home appliances in terms of weight

Please take a look at the "Recycling Processes" for each appliance.
Ministry of Environment: Information related to home appliance recycling (Only available in Japanese)


We must lower the consumption of natural resources, reduce the amount of waste disposal, and reuse materials as recycled resources. In other words, we need to create a system of "produce → use → return → utilize" in order to lessen the burden on our environment to the greatest possible extent.

The Home Appliance Recycling Law is a regulation covering the disposal of individual products.


The Home Appliance Recycling Law divides the roles of home appliance manufacturers, retailers, and consumers (waste generators). Consumers are asked to cooperate by paying a collection and transport fee and a recycling fee when disposing of EoL home appliances.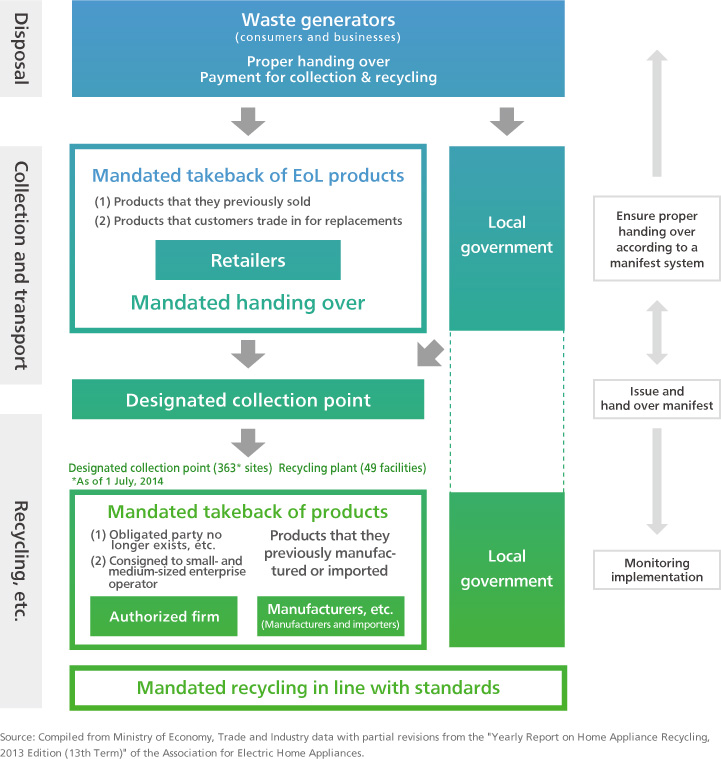 Hand over the EoL appliance and pay the recycling fee and collection and transport fee.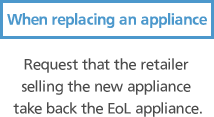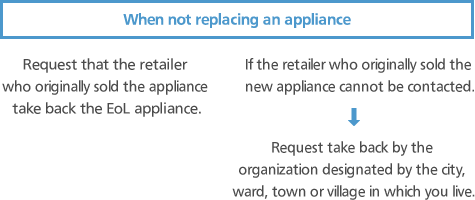 A Home Appliance Recycling Coupon will be issued.

This makes it possible to track whether the EoL appliance was properly handed over to the manufacturer. See the following website for details.
Home Appliance Recycling Coupon (Only available in Japanese)


The EoL appliance is transported from the retailer or organization to a designated collection point.


To the recycling process
Manufacturers are organized into either of two groups, A or B, for nationwide operation of the home appliance recycling system.
See details about groups (Only available in Japanese)
(Website of the Association for Electric Home Appliances, the Home Appliance Recycling Coupon Center)

Unfortunately, some of the EoL appliances that come to PETEC contain foods and other types of garbage, or other appliances. When processing these appliances, the garbage has to be removed and the appliances cleaned before the ordinary work steps can begin. This takes a surprisingly large amount of time and work. The presence of unexpected items can also pose a danger to workers.
In order to enable efficient and highly precise recycling, please return the EoL appliance as much as possible to the condition it was in when originally purchased (with no garbage or other items inside it), and hand it over to an authorized takeback company or collection point. Your cooperation is requested in this respect.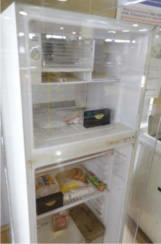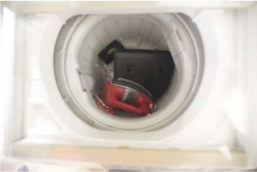 When having your EoL appliances collected, be sure to hand them over properly to an authorized collection service.
If you hand appliances over to an unauthorized collector...
Some unauthorized collectors who do not have permission as General Waste Collectors and Transporters and have not been consigned by local government have been found to illegally dispose of waste both inside and outside of Japan, and fail to take the proper processing and disposal steps. By handing EoL appliances over to collectors like these, you end up not only failing to recycle them, but actually contributing to the problems of environmental pollution and health hazards.
(Cases have also been reported where high processing fees have been charged by unauthorized collectors.)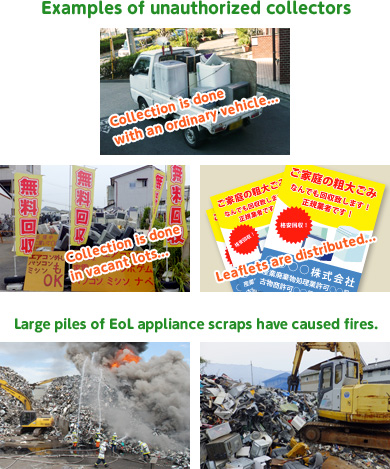 Check this list for information on the four types of EoL appliances. (Only available in Japanese)
(Website of the Association for Electric Home Appliances, the Home Appliance Recycling Coupon Center)
Please do not use an unauthorized collector to dispose of your appliances! See the site for the Ministry of the Environment. (Only available in Japanese)
"Q&A: About Home Appliance Recycling."
Let us answer some questions about appliance recycling.