The Potential of the Solar Lantern: Interview with Mr. Nishigori of the UNDP
2014.01.09 Our Partners
UNDP Representation Office in Tokyo Toshiya Nishigori has supported development of the solar lantern from the start. In this interview, he speaks on the role of lighting in improving living standards in regions without electricity. (Date of interview: November 8, 2013)

*The interview was conducted in Japanese. The English text was translated by Panasonic Corporation under its supervision.
Building bridges between Japanese private sector and development projects to achieve MDGs
Tanaka: Thank you very much for taking the time to speak with me today. First, could you tell us about your job?
Nishigori: I am responsible for public relations and partnership building at United Nations Development Programme (UNDP) Representation Office in Tokyo ("UNDP Tokyo"). UNDP is the United Nations' global development network that provides support to facilitate each country's access to knowledge, experience and resources to help people build a better life. In particular, to achieve the Millennium Development Goals (MDGs), one of the goals focuses on reducing poverty by half by 2015, I have worked on building partnership with private sector partners and civil society organizations as well as facilitating to implement development activities in developing countries.
In building partnerships with private sector partners, I used to find out potential products and/or technologies that can bring positive development impacts to developing countries, facilitate transfer of them to the UNDP offices in developing countries, and facilitate communication between private sector partners and UNDP offices to conclude an agreement.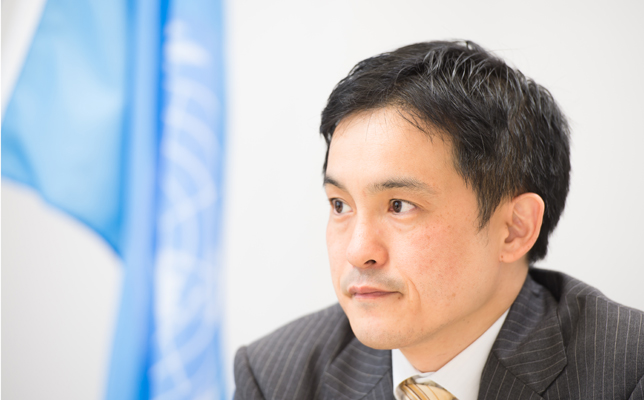 The donation program as a total energy solution
Tanaka: UNDP has helped us greatly with making donations ever since the start of the 100 Thousand Solar Lanterns Project. With the assistance, we donated 1000 solar lanterns to a Millennium Village Program in the United Republic of Tanzania in April 2011 and a Life Innovation Container (a stand-alone power system incorporating solar panels packaged into a 20-foot container) in October in the same year.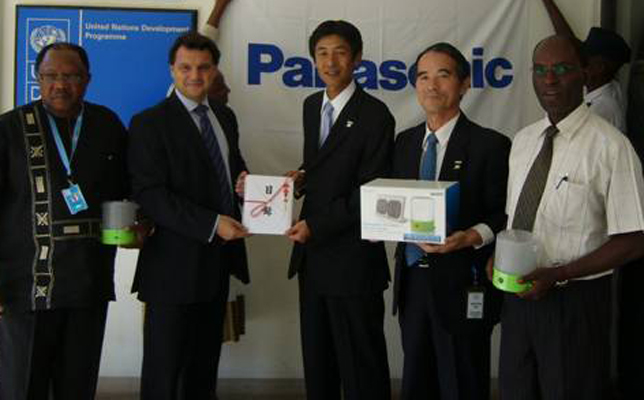 Nishigori: That's right. At that time, UNDP implemented the Millennium Village Project and the solar lanterns were sold at a low price in Mbola, where six Millennium Villages were located, by the Savings And Credit Co-operative Societies (SACCOS). The project team decided to sell the lantern because it was important for the people to have a sense of ownership to be independent.
Tanaka: We first came into contact with UNDP around the time we were developing the first model of the solar lantern under SANYO Electric Co., Ltd. We consulted with UNDP Tokyo to conduct a survey on its social impacts, such as creating opportunities for education through lighting, and on building a local and sustainable business model. The donation to Tanzania was a result of discussions based on the wish to fulfill our responsibilities as a member of the international community and contribute to MDGs in the country, where we have operated since 1968. Since the UNDP is both neutral and impartial, we felt it would be a partner we could trust for projects in such a distant country.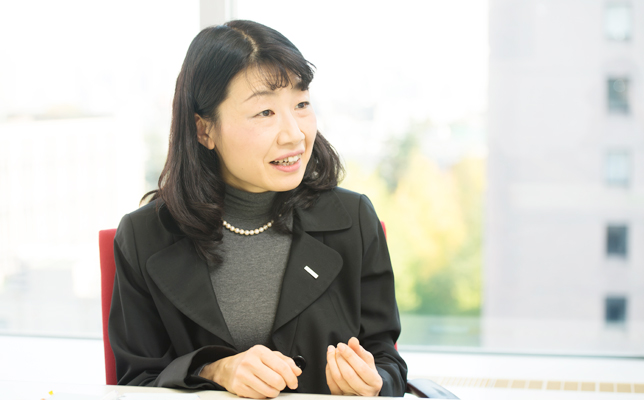 Nishigori: That was just the time when UNDP Tokyo also was actively looking for private companies that could make contributions to developing countries through their businesses. The first meeting was very impressive--I found that the solar lantern would be necessary to improve living conditions of the people in many development countries. I also found it promising Panasonic was considering contribution to development through their businesses. We then started to discuss a business development strategy jointly.
Africa is one of the main fields for UNDP, but at that time there are few Japanese companies that seemed to have a business interest there. It was good for us that Panasonic selected Africa as the first donation country of solar lanterns since a majority of people are living without electricity in the continent.
Also, it sounded very interesting to provide a total energy solution by combining a community-based energy station (Life Innovation Container) with its application (solar lanterns).
We have experienced in providing solar PV system or lighting equipment in the past, but it was interesting to provide them together in that they can serve various energy needs of the people. I was also interested in how this would affect local people's incomes and local education and health.
Lessons from practices
Tanaka: When I actually visited the area after the donation, I was surprised to find that the impact exceeded my expectations. Some people had gone so far as to purchase two solar lanterns: One served as both a security measure and an outside light, while the other was used indoors during cooking or when the children were studying. When I asked the people about what they wanted next, one replied that they would like another solar lantern. Also, the Life Innovation Container worked to let them know that it is possible to store electricity to use freely when needed.
We believe it important to continue visiting the area after the donation to see if there is anything further we can do to improve the lives of the people. As such we are continuing to follow up on the impact of donations.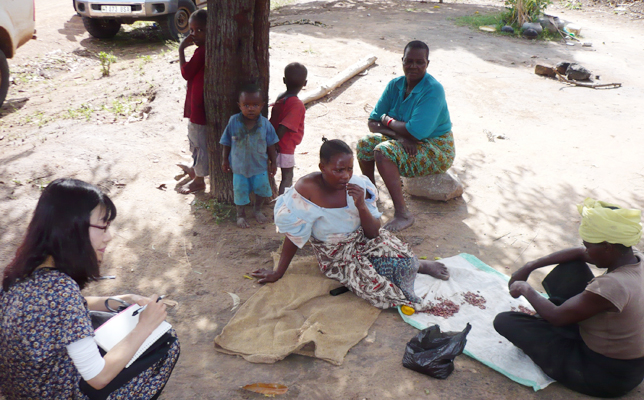 Nishigori: It takes time to see such project's results. There are also various ways of interpreting the results. Trying a new approach in a new region with a new technology is a big challenge for everyone--for local people, donors, intermediaries and UNDP. It is all a process of learning.
It would be ideal if we could predict the results in advance, but it is not the case as local people usually have never experienced in using such new products. It's like we are asked to describe a space shuttle that we have never been inside (laughing). As people use new products over time, they may find their lives change gradually. In this respect, it would be good to consider what you want to learn from a pilot project beforehand. I think it important to continue a new initiative in a mid to long term if possible.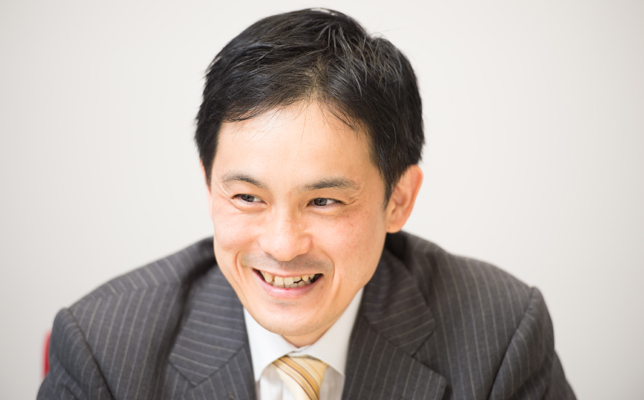 Increasing expectations on "renewable energy + lighting" to achieve the MDGs
Nishigori: In Japan and other developed countries, "lighting" may be associated with convenience in daily life, but in developing countries it is an important basic service to improve quality of life, education, health services and income generation.
In fact, lighting is very important to provide the achievement of the MDGs. It would influence on education, health, the environment, and poverty reduction. Even if girls have to spend the day helping their mother and cannot go to school, they can study at night if they have light at home. Delivering at night without lightning is one of the causes of death of mothers, but it can be avoided if there is light. With respect to the environment, solar lanterns produce no air pollution and present no health hazard as opposed to kerosene lamps. They also do not causes fires and are of great assistance in disasters.
I believe 100 Thousand Solar Lanterns Project can contribute to the achievement of the MDGs.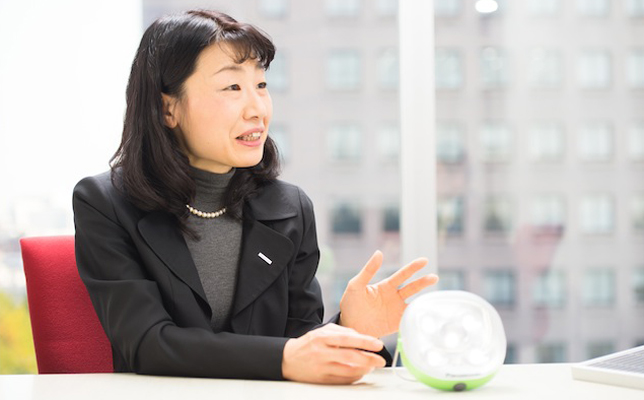 Tanaka: To what degree is the international community interested in the issue of lighting in regions without electricity?
Nishigori: In the last few years the UN has attached a high importance to access to energy with focus on lighting and renewable energy. The year 2012 was the International Year of Sustainable Energy for All. The Secretary-General of the United Nations Mr. Ban Ki-moon stated that the achievement of MDGs and development agendas would be difficult without the promotion of renewable energy in developing countries and called for the participation of the private sector in addition to the government. In this context, products such as the solar lantern can respond to the call of the international community.
Learning process for development partners and private companies
Nishigori: Generally speaking, there are currently two approaches for the private sector to engage in development assistance. The first approach is through corporate social responsibility (CSR) initiatives. The other is through corporate core businesses. The latter is drawing attention in the international development community which a company is contributing to development with its own resources such as technology, personnel, products and funds as part of its business.
What's unique and promising about the solar lantern is that it aims to expand in both ways. I think it is worthwhile trying an approach combining CSR activities with business at the beginning and developing a sustainable business model based on experience and lessons learned.
The most important thing is to make a small but quick start. I observe companies get stuck on discussions on indicators and the like. In the case of Panasonic, it is important that you took action even if it was tough at the start.
Tanaka: As part of our CSR activities here on, we will donate 100,000 solar lanterns to Africa, South Asia, Southeast Asia, the Mekong Subregion and other areas. In Africa, the government of Kenya has set forth the policy of the kerosene-free program, and this is something we would definitely to get involved with. We would like to connect and partner with international organizations in Africa and NGOs working in health and education in Asia.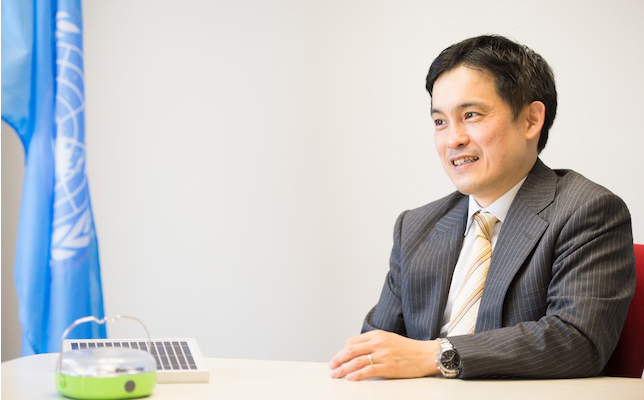 Nishigori: The important thing in trying CSR activities and business activities is to cooperate with local partners who better understand the local context and have good experience. If you have already developed a product, it had better to let the people use it and learn their usage or potential needs. Then you will find out appropriate specs, affordable prices, and sustainable marketing and business models. In the discussions on international development assistance, some people argue private companies should just make donations without thinking of own profits, whereas others argue companies should pursue profits. I think it is not that simple to decide which is better for development.
At the event of the Tokyo International Conference on African Development (TICAD V) held in Yokohama in June this year, UN senior officials saw Panasonic's solar lantern and recommended your making solar cookers as well. The impact of climate change in developing countries forces the poor people to spend longer hours to gather firewood just for cooking. If there is a solar cooker at home that can be charged by the same panel as the solar lantern, they can spend saved time on other productive purposes. I think it is an effective way to develop solar power applications to meet unmet needs of the poor in developing countries.
With regards to the target population, I think the 100 Thousand Solar Lanterns Project can bring a greater impact if it can deliver the solar lanterns to the poor and vulnerable, especially women and the youth who are often marginalized in developing economies,
I believe Japanese private companies can play a leading role in development by making best use of its resources and potentials for the world. I'm very looking forward to seeing what kind of changes the project will bring about to the lives of the people in 2018.