[Voice] Message from Donated Lantern Recipients: Japan Heart
2014.05.30 Voices
Here is a March 2014 report from the recipient organization in Myanmar, Japan Heart, on how donated compact solar lights and solar lanterns are being used in the medical assistance that they provide.
Dear everyone at Panasonic,
Hello, this is Akiyo Higaki of Japan Heart in Yangon, Myanmar.
I'd like to extend my deepest gratitude for your donation of compact solar lights and solar lanterns. They have been helping immensely in our activities to support the future of the people of Myanmar. Here's how.
Compact solar lights: Gentle light, simple design
The compact solar light doubles as a charger and gives off a gentler light than a solar lantern. These features make these lights useful for us in two places.

1. Wachet Jivitadana Sanga Hospital

At night, nurses use solar lanterns when treating patients but in the daytime, compact solar lights are their preferred light source, for their ease of use.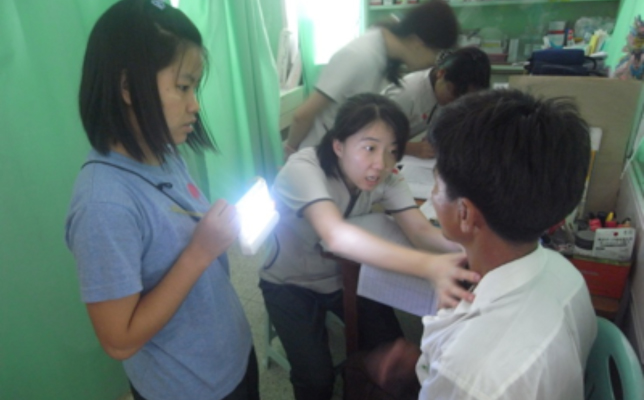 Light is crucial when staff make the rounds at night, when all lights in the hospital wards are turned off, except in hallways. The compact solar lights, with their gentle light in comparison to flashlights and solar lanterns, are very convenient, because they can be worn around the neck. The solar lights are also easy to charge and take up little space, which is why they are stored in the locker room for use in the event of a sudden power outage.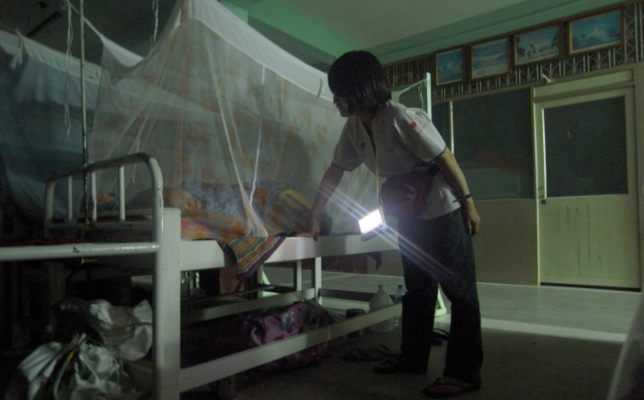 2.Myitkyina General Hospital
Since last year, Japan Heart has been conducting periodic surgical missions at Myitkyina General Hospital in Kachin State. The area has frequent power outages, so the lights are used during hospital treatments as well as inside storerooms where medical equipment is stored.


The compact solar lights also play an enormous role on path leading up to the staff residence, bathing area, and bathroom as well as the bathing area where there are still no electric lights installed.
Bright solar lanterns used in post-operation checkups and for students to study
Three months after receiving the donated solar lanterns, Japan Heart now uses them in three establishments and an initiative.
1. Wachet Jivitadana Sanga Hospital
During power outages, bright solar lanterns are used to check on patients' surgical wounds in completely-dark hospital wards. In contrast to the compact solar lights, the solar lanterns are designed to stand on their own, which makes them convenient, because users can place the lanterns on the bed and have both hands free, even when making the rounds alone.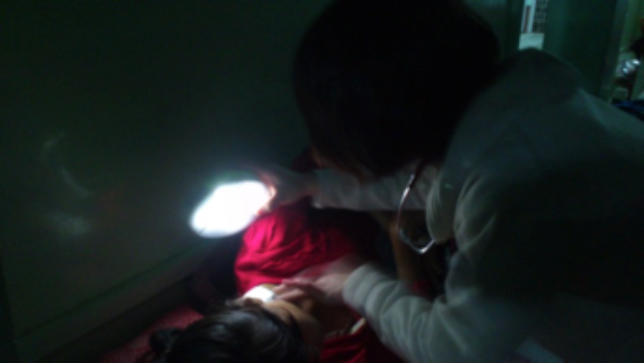 Additionally, since there are no lights installed along the road between the hospital and the new staff residence, nurses take the solar lanterns home to guide them through the dark, and the nurses on the night shift carry them back to the hospital.
2. Child nurturing facility Dream Train
Though the frequency of power outages has dropped in recent years, they still occur in Yangon City. This is the home of Dream Train, a nurturing facility that helps foster the next generation by protecting children from human trafficking. Solar lanterns play a major role in helping children study since they can be positioned on desks at the desired angle.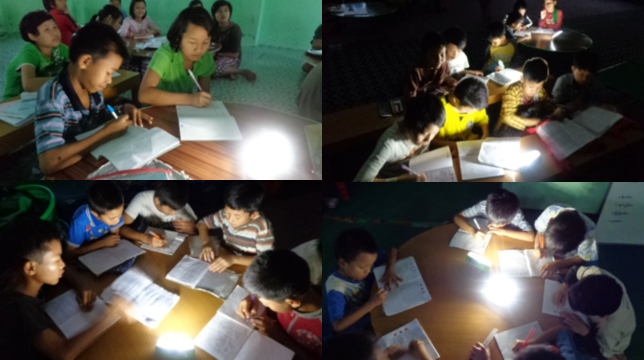 3. Support for children orphaned by cyclone
For five years, Japan Heart has been providing foster care to children (currently 40 children) orphaned by Cyclone Nargis in Yangon's Kungyangon region.
Among them are several students with outstanding academic results, including one accepted last year as a physics major at a top university, as well as two who applied this March to attend university. However, the frequent power outages have made it difficult for students to secure study time. As a solution, we initiated a solar lantern lending system for 25 families. The arrangements are renewed every year and the solar lanterns are returned upon the student's graduation from university or high school, whereupon they are lent to the next children waiting for their turn.

4. Yangon office
When February came around, we started experiencing power outages for several hours every day as we headed toward the hot season coming in March. The infrastructure is still weak, even in Yangon. During the evening power outages, the solar lanterns also provide valuable light to Japan Heart staff.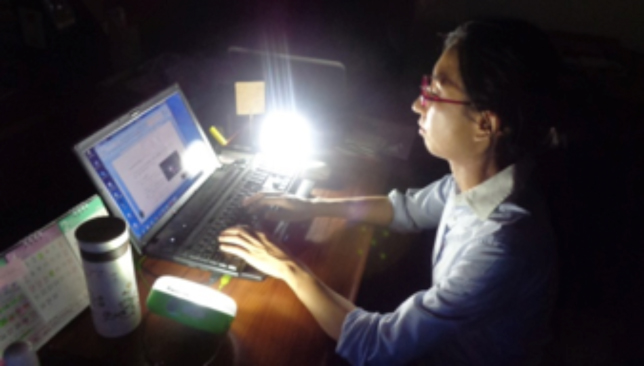 Additionally, an organization that has been supporting scholarship students for many years through Japan Heart heard about the solar lanterns. We have been told that they will purchase ten and donate them to our scholarship students.
We will continue to use our compact solar lights and solar lanterns in meaningful ways.