JRCS: Solar Lanterns Bringing the Light of Hope to the People of Africa
2014.09.15 Our Partners
Light brings hope to people's lives. It provides tremendous power to those who are most vulnerable in the society, such as refugees and returnees. We interviewed Maki Igarashi from the Japanese Red Cross Society, an organization to which we donate our solar lanterns as aid for East Africa. (Date of interview: July 28, 2014)

Joint project with the Japanese Red Cross Society, on-site operations expert
Tanaka: It's been a while since we last saw each other. How many years have passed since you began working in Africa?
Igarashi: This is my seventh year. Currently, as the Regional Representative for East Africa at the International Department of the Japanese Red Cross Society, I am engaged in providing financial and technical support to local Red Cross Societies in Kenya and the surrounding countries, based in Nairobi, the capital of Kenya. I regularly visit local regions to have discussions with local Red Cross staff, volunteers, and villagers, so as to conduct our various operations smoothly.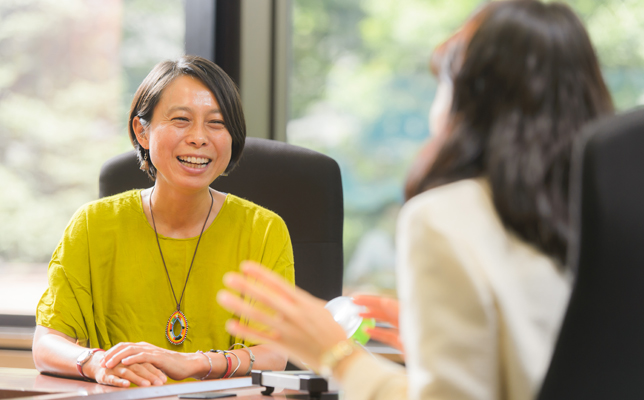 Tanaka: I haven't had a chance to visit Kenya yet. What are conditions like in East Africa on the whole?
Igarashi: Well, it's only 20 hours by plane (Smiling). East Africa has a wide variety of languages and cultures. Generally, in countries that have experienced armed conflicts, such as Somalia, Rwanda, and Burundi, refugees and returnees from other countries are living hard lives, having lost everything. This is a big problem. Meanwhile, Kenya is experiencing significant economic growth, to the point that Nairobi is bristling with large buildings. The disparity between rural and urban areas is huge, and we cannot ignore this issue either.
Tanaka: You and I have known each other since we first met four or five years ago. When we considered donating solar lanterns to African regions in 2013, we wanted to work with reliable people at reliable organizations, and you were the first one that I thought of.
Igarashi: Thank you very much. I heard an overview of your project and suggested three countries ―Kenya, Burundi, and Uganda―as recipients of your solar lanterns. In particular, I wanted to bring the light to people living in Dadaab, the world's largest refugee camp in Kenya, and to those living in Burundi who came back as returnees after the civil war ended. They are in the most vulnerable situations.
(For details about how recipients are using solar lanterns, please see the field report.)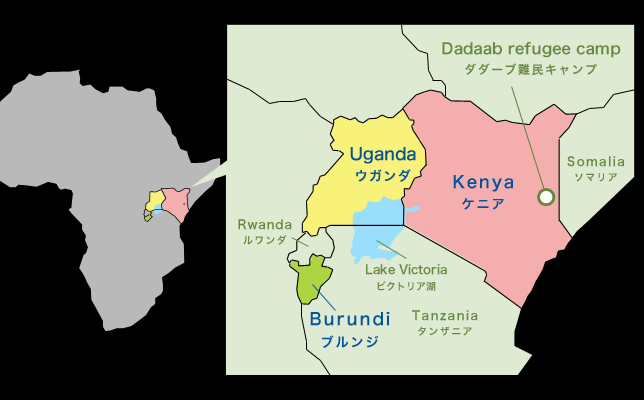 Light strengthens resilience, helping people to become independent
Tanaka: How are the solar lanterns being used?
Igarashi: In Burundi, returnees use them from sunset to bedtime every day, to study at night and to charge mobile phones. Neighbors visit recipient families to share the light. That is truly a wonderful thing, because people who until now have relied on others, can do something useful for their communities, which leads them to restore their dignity and take a new step toward independence.
Recipient families value the lanterns so much that when they set the solar panel outside their home to charge the lantern during the day, there is always someone standing watch so it is not stolen. I feel that the light gives them something really big, which is helping them to strengthen their resilience.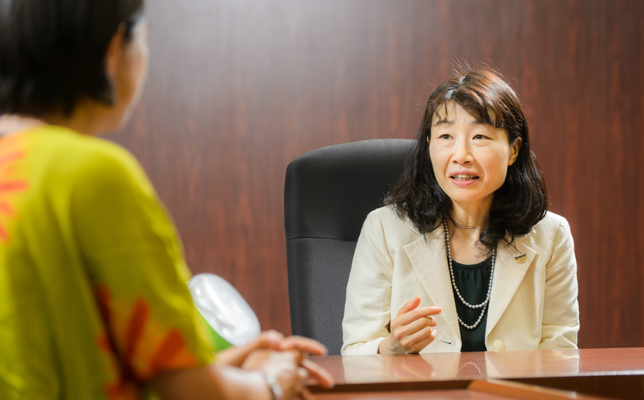 Tanaka: You just said "resilience." What exactly does that mean?
Igarashi: "Resilience," which is used in "national resilience" for example, basically means the ability to bounce back from damage caused by disasters and so on. Let me give you an example. Returnees returned to their home countries without any belongings, so they were extremely poor and continued to be completely dependent on volunteers. We could not tolerate this situation, so we began to help them strengthen their resilience, by giving instructions on how to start home gardens in groups. They can live on their own crops, and then sell the surplus, if any, to earn a living.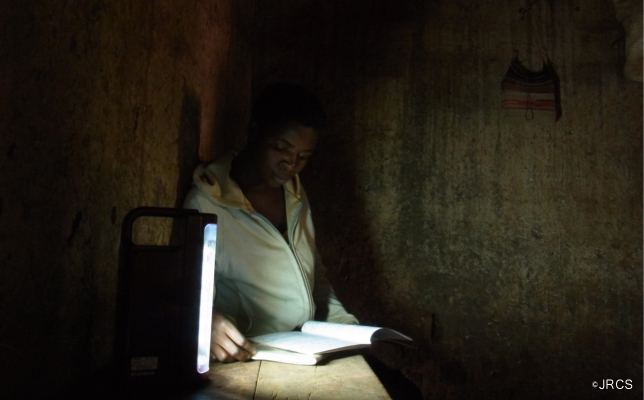 Tanaka: I have found in the field report that solar lanterns help to save fuel costs that were once spent for firewood and so on. How is the saved money spent?
Igarashi: They say they want to use it for their children's school expenses first, and then for health insurance. Providing health and nutrition education has led to a change in their way of thinking, so that they realize they can plan their own lives. If they use the money saved for this purpose, I think it will lead to significant change in the long run.
Tanaka: A hand-to-mouth lifestyle has been gradually changing toward a forward-looking lifestyle, hasn't it? We hope that our donation of solar lanterns will provide a foundation for independence. I will be glad if synergy can be generated through the combination of your organization's service-based support, including educational support, and our material-based support as a manufacturer.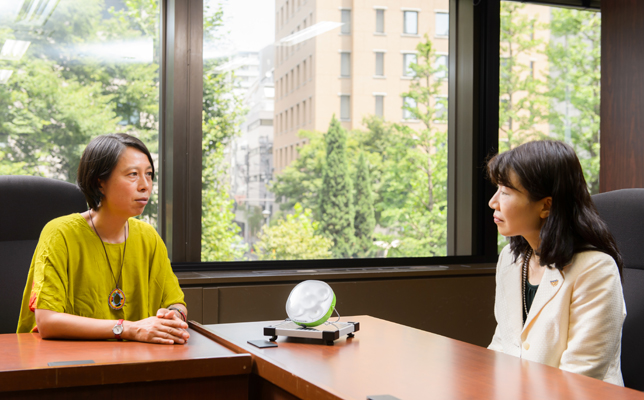 Solar lanterns bring a light of hope to a once-dark future
Tanaka: We have donated solar lanterns to people in Kenya's Dadaab refugee camp, which has approximately 400,000 refugees. What is the situation there?
Igarashi: Currently, it's almost impossible for foreign nationals to enter into the Dadaab refugee camp, which houses refugees from Somalia, Sudan, Congo, and so on. So, we rely on the Kenya Red Cross Society to take responsibility for management and reporting. Some of the refugees have left the camp to go back to Somalia, but that conflict is still ongoing. In addition, 20 years have passed since the Dadaab refugee camp was established, and many young people were born and grew up in the camp without knowing about their home country. From this perspective, returning home is not easy for refugees.
Tanaka: Even if they have a desire to return home, it's difficult for them to do so without peace in their countries. By what criteria did you choose the recipients of solar lanterns?
Igarashi: We paid attention to women's human rights and education for children. We distributed solar lanterns to women who have experienced sexual violence, families without parents, or families with children of middle and elementary school age. At refugee camps, an increasing number of women have been sexually assaulted when going to outdoor toilets at night. Red Cross staff continuously provide mental care to the victims, while the light gives women a sense of safety and security.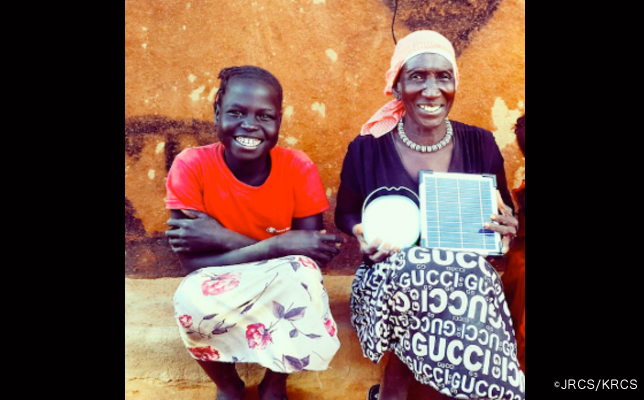 Also, children say, "We are happy that we can study at night," and they are studying hard. It is wonderful to be able to provide opportunities for those who did not have any. They might have given up going back to their home countries on the grounds that they would face difficulty in getting jobs there. But now, solar lanterns enable them to study even at night, which will bring light to their lives. I am happy to watch over their future.
Tanaka: We can donate only a limited number of solar lanterns, but we also plan to sell them in Kenya. I hope that families who are able to will buy one, leading more people to use our solar lanterns.
Light strengthens human relationships and compassion for others
Igarashi: When we visited families who had received solar lanterns, we were blessed with their heartfelt smiles and words of gratitude, which convinced us of the power of the light. Light brings people not only safety and security, but also stronger human relationships and compassion for others, which ultimately brings hope to people. We also received the recipients' message to you, our friends at Panasonic, saying, "We truly appreciate your donation."
Tanaka: I am very happy to hear that. We are also indebted to the Red Cross for the support to our projects in Cambodia and Myanmar. We wish to continue collaborating with your organization to solve social problems, by taking advantage of each other's strengths.
Igarashi: We will continue to support your 100 Thousand Solar Lanterns Project by utilizing the Red Cross network with volunteers in 189 countries around the world.
We will work hard on this operation with local people, so that we can send you further reports of positive results of their independence and the revitalization of the region.