Cambodia: Lighting up the Off-Grid Areas Near the Angkor World Heritage Site
2014.10.31 Field Report
The project leader Akira Hoshi visited 16 organizations during his tour of Cambodia in the summer of 2014. Based on his report, we'd like to introduce how solar lanterns are being used at Bayon Junior High School, established last October by the Joint Support Team for Angkor Preservation and Community Development (JST).

Hello, this is Akira Hoshi of the CSR & Citizenship Group.
When we hear about Cambodia, the Angkor World Heritage Site probably comes to mind for many people. Nearby, Siem Reap is a major city for Angkor tourism. However, despite the fact that the city is home to a thriving tourism industry, people in nearby villages have no access to electricity. Furthermore, roads, bridges, and other infrastructure are far from being adequately developed.
A local NGO named the Joint Support Team for Angkor Preservation and Community Development (JST) works in these villages near the Angkor Monument area to promote a healthy co-existence between the Angkor site and villages.
Refugee, site restorer, turned JST Founder
JST founder Mr. Chea Nol lost his father and two brothers to the Pol Pot government, came to Japan as a refugee in 1980 at the age of 13, and lived in Japan from junior high school through college. Following graduation from college, he returned to Cambodia as an interpreter and public relations staff of an Angkor restoration team created by the Japanese government. During this visit, shocked to learn that restoration staff from neighboring villages lived in a place where there were only rutted roads and rivers without bridges, he started building infrastructure with his own funds and the support he gathered from his acquaintances and mentors. This later led to the founding of JST.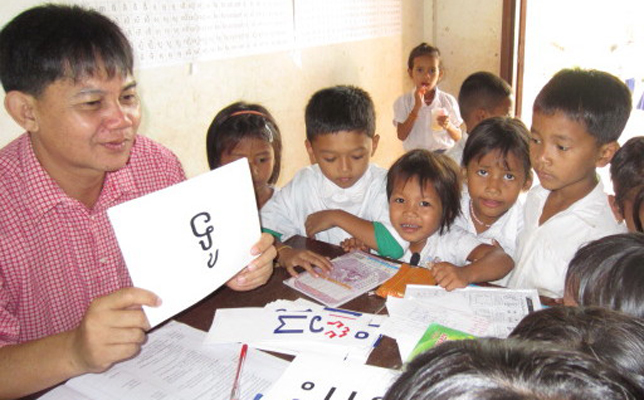 In 2005, Mr. Chea Nol registered JST as an NGO in Cambodia. Later, with support from individuals and organizations in Japan, he built elementary schools and bridges, supported education by supplying materials and books, offered school lunch services, promoted environmental conservation, trained human resources for restoration of the ruins, operated free schools, and dedicated himself to a range of other activities from his base in Angkor Krau village.
When I first met JST in Siem Reap in January 2012, I instantly felt the sincerity and honesty of the organization and have since built a relationship with them as one of our recipient organizations in Cambodia. So far, the solar lanterns donated to JST have been used during language lessons at the village's free school as well as in agricultural tours for foreigners.

A dream come true, opening of Bayon Junior High School
Last December, JST took another big step with the opening of Bayon Junior High School. Until then, JST had been dedicated to building elementary schools, but soon started receiving multiple requests to build a junior high school. Research revealed that there were no junior high schools in the area to serve students who graduated from the five local elementary schools, including Angkor Krau. As a result, students had to commute to a junior high school in Siem Reap town, more than eight kilometers away. This commute was hard on the children, who had to travel on foot or bicycle in torrential rains during the rainy season, and there were frequent accidents on the way.
That is when Mr. Chea Nol and his wife Ms. Yoko Koide (who happens to be a registered architect) donated land, gathered support from others, and established Bayon Junior High School last October. Currently, more than 130 graduates from neighboring elementary schools attend the junior high school. Classes are five hours a day, from 7 a.m. until noon. The solar panels on the roof powers computers during class and study time. However, this is not enough electricity to run lights, so there are no lights in the classrooms.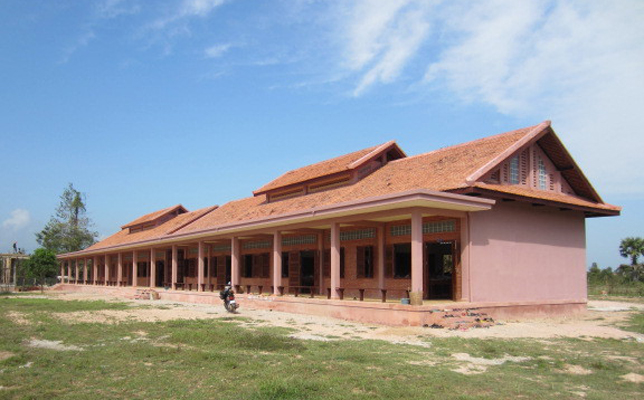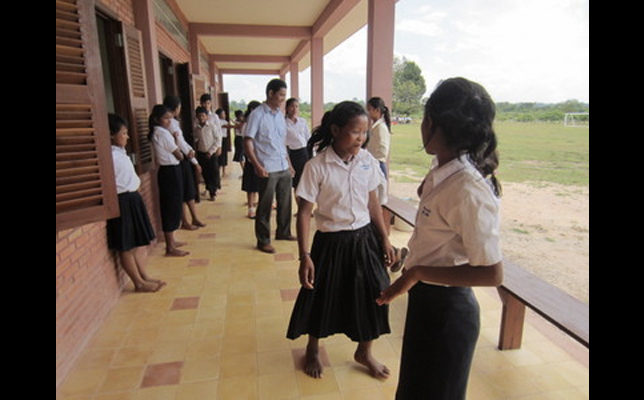 Theft! Solar lanterns proving helpful in preventing crime and improving study environment
One night, a volleyball net was stolen from Bayon Junior High School. Ever since, students have taken turns sleeping in the study room to prevent further thefts. The donated solar lanterns were also used during the time spent at night as well as for studying.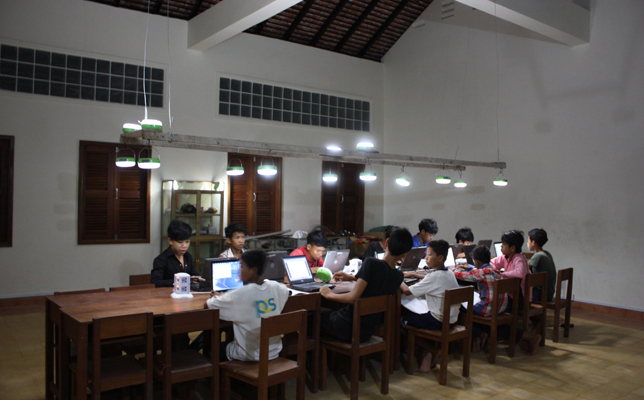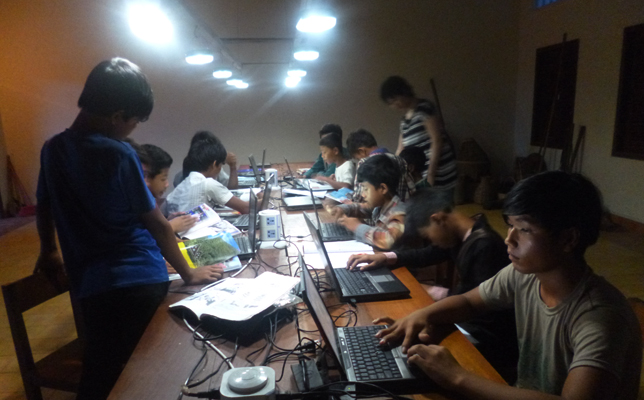 The Kota Plant of Panasonic Eco Solutions Housing Equipment Co., Ltd. will donate 12 solar lanterns to Bayon Junior High School this November, and this additional donation will also be used inside the study room. According to the principal, in rainy season, it is sometimes difficult to charge the lights fully during the day due to limited sunlight, so the additional donation will make it possible to use the lanterns in rotation and further improve convenience. Our mission is to make the future of Cambodia as bright as possible and we look forward to what the future holds for these children, concentrating on their studies with twinkling eyes.