Impact Survey in Verifying the Power of Solar Lanterns: JELA
2015.02.13 Our Partners
"How much impact do solar lantern donations have on people's lives?" The Japan Evangelical Lutheran Association (JELA) has been conducting surveys with users in India and Cambodia to verify the impact of the donations. (Date of interview: December 22, 2014)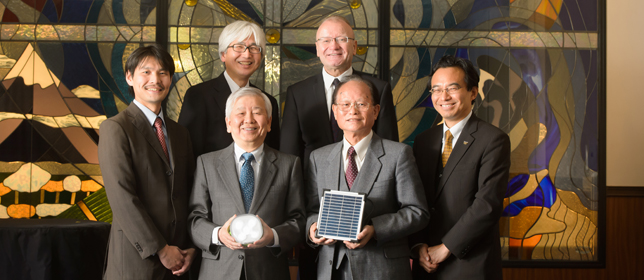 Individuals share their thoughts about solar impact
Hoshi: Today, I am sitting here with Dr. Gretebeck and Mr. Narabu, my regular contacts, along with Chairperson Mr. Nakagawa, Trustee Mr Imai, and Executive Director Mr. Morikawa. Thank you for joining us.
Nakagawa: We, the Japan Evangelical Lutheran Association (JELA), are an association that practices the love of Christ. In addition to supporting churches, our activities span across a wide range of fields including support for refugees in Japan and children all over the world. Today, Dr. Lowell J. Gretebeck will explain the status of solar lantern use in India and Cambodia where they were donated, followed by survey findings regarding their impact.
Hoshi: I'm sure that quantifying the post-donation benefits based on detailed data is an arduous task. I am looking forward to your report.
Gretebeck: Four to six months following the donation, local staff gathered data using a survey prepared by JELA for the approximately 300 people who received the solar lanterns. Three-quarters of the respondents were from India and the remaining quarter from Cambodia.
Narabu: On multiple occasions, staff from Japan also went on local inspection tours. Local staff filled out a survey sheet for each interview while Japanese staff analyzed the information. Since in Cambodia even the numbers are written in Khmer, deciphering the numbers while referencing a chart proved quite challenging (laugh.)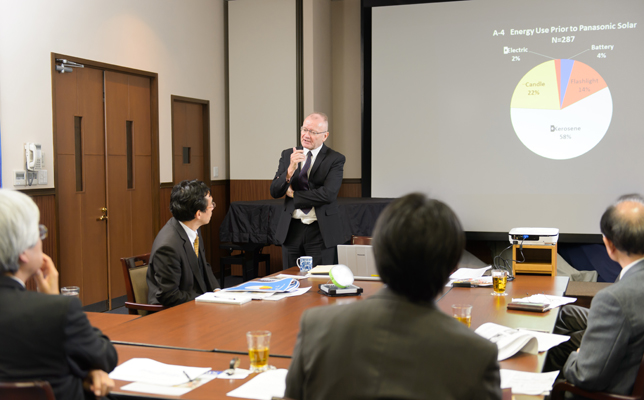 Providing support to those in need
Gretebeck: The average monthly income of households receiving solar lantern donation is about 68 USD. Of course, there is no electricity in these homes and their main light sources until now, have been kerosene lamps at 58%, candles at 22%, and flashlights at 14%. On average, energy costs account for 9% of their monthly income. Since low-income households have only a limited amount of money to spend in other areas, the opportunity to save as much as possible on energy cost translates into more spending in areas like education which will support their economic independence, so we can expect major positive benefits.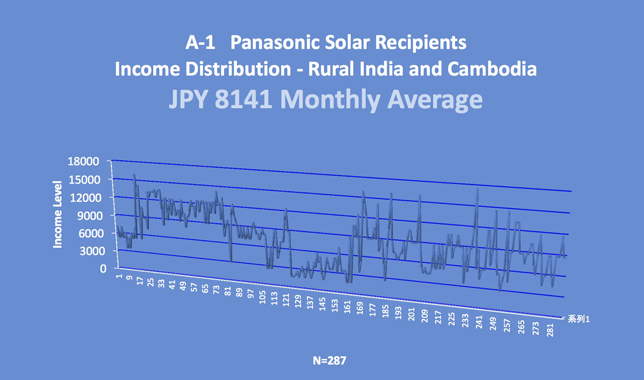 Hoshi: Did anything require your special attention when carrying out the survey?
Gretebeck: Information accuracy. During surveys, we try to get confirmation from a third party. For example, when researching the impacts of solar lanterns on children's studies, we confirm with the parents but also the children's teachers.
Additionally, in surveys of this nature, the parameters are critical since the more data we have, the more we are able to grasp the trends. In the academic world, 250 is the minimum number of people. Going forward, we'd like to increase to about 1,000.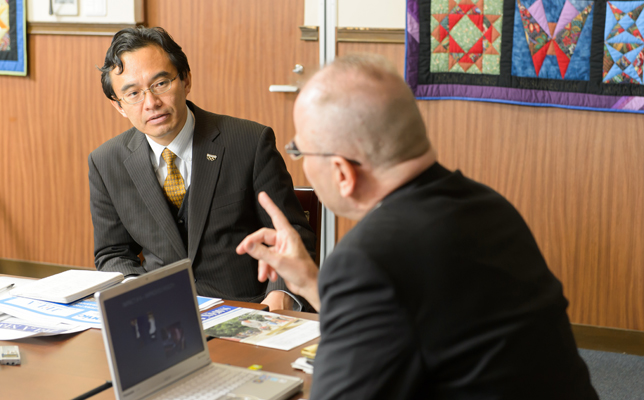 Study time doubled and energy cost cut by more than one-half
Gretebeck: Solar lanterns are used an average of 3.12 hours a day. They are used most often in order of cooking, study, and emergencies (e.g. sudden illnesses) while the most benefits are felt in education, followed by housework and finances. The toxicity of kerosene lamps is obvious from its black smoke and though we had expected more people to raise health as one of the key benefits, this was not the case. This is an indication of how people suffering from poverty face graver issues that take priority over health.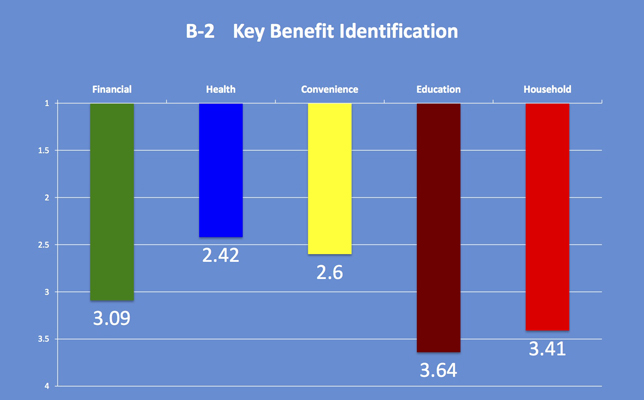 Gretebeck: We saw significant improvements in children's time spent studying. On average, study time increased by 2.05 hours. If these children continue to put their hearts into studying, we believe this could help them pave a path out of poverty. The teachers also commented that the children's grades have improved remarkably.
Hoshi: That is good to hear. Whenever we go on the local observations, in any country, we are impressed by the children with beaming eyes studying under the light of solar lanterns.
Gretebeck: In addition to more time to spend on housework and home-based work, energy costs have been cut by more than one-half. With this, the people can now buy nutritious food and medicines with the money saved and hence, improve their health.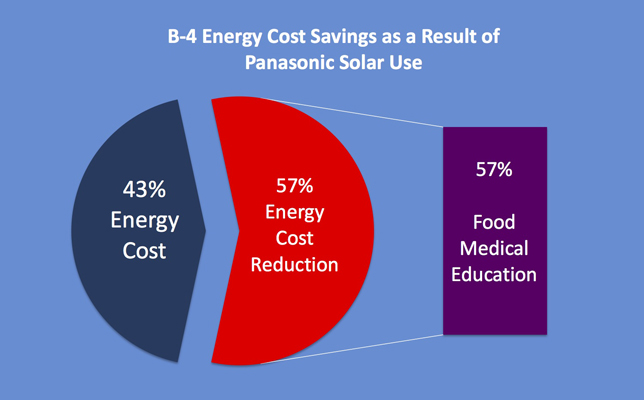 Hoshi: This is very valuable information because it shows the specific benefits in numbers. For low-income households, I'm sure this is a substantial amount.
Gretebeck: Another notable response was how women, especially in India, said that they use solar lanterns for "safety." In rural regions, women face the risk of falling victim to sexual violence when going to and from outdoor toilets in the dark at night but now with the solar lanterns, they can go about safely.
Hoshi: Likewise, we made donations to refugee camps in Kenya, Africa in 2013 and 2014, and one of the most important ways to use them is for women's safety. It has helped us realize how solar lanterns are benefitting people in terms of "human security." We hope to continue our support in a way that is beneficial for women and children, who tend to be the most vulnerable in society.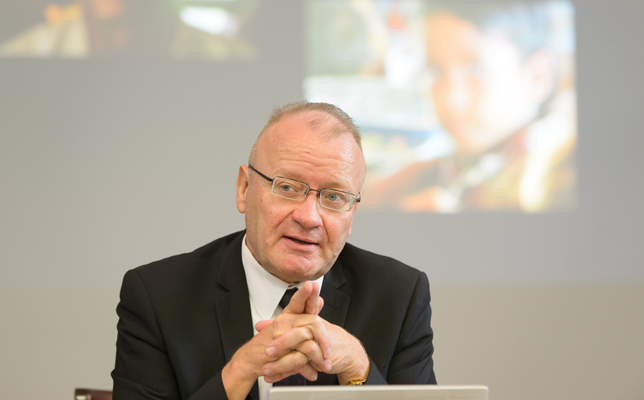 The key is to improve for capacity to reach out and help
Imai: It all began in July 2013 when we called Panasonic for the first time after hearing about their solar lanterns project. I remember it as if it were yesterday. It thrills me how that phone call has brought light to people in need.
Hoshi: Yes, I also remember receiving that phone call, and with great timing at that, since it was the day before I left for a business trip to Cambodia (laugh.) During my stay in Phnom Penh, I was able to visit Life With Dignity, the local partner organization you introduced to us, and from there on, everything unfolded in leaps and bounds with the donation taking place in December 2013. If I may add, we made our second donation to Life With Dignity in November 2014.
Including this November donation, as of now, we have donated a total of 30,000 solar lanterns through the 100 Thousand Solar Lanterns Project. However, there are approximately 1.3 billion people in the world without electricity. Obviously, our 100,000 lanterns cannot cover this entire population, which is frustrating at times, but we'd like to keep coming up with ideas and continue doing the best that we can.
Gretebeck: Mother Teresa once said, "We cannot change the entire world, but we can change that small part of the world in which we live." Cutting back on energy cost by using solar lanterns and spending that money to gain independence is the first step in escaping poverty. Solar lanterns are steadily changing people's lives for the better. We plan to continue this survey for the next three years to ensure that we provide support in the most effective way.
Morikawa: We work with many other organizations so it would be nice to work together with them too, like donating solar lanterns to an NGO that builds and runs hospitals in rural villages.
Hoshi: I look forward to continue working with you in the future.