CALICO: "Village Fabrics" Connecting Japan with India
2015.08.14 Our Partners
Fumie Kobayashi, President of CALICO LLC, empowers people in rural Indian villages with pride and sustainable development through the power of hand woven fabrics. We spoke with her on the beauty and cultural value of these "village fabrics" and their support for women in rural villages (interviewed June 2015).

Old yet new values overlooked in India
Okuda : Already, the 100 Thousand Solar Lanterns Project has delivered light to many countries and regions. In March 2015, we worked with CALICO and a local NGO, Bindaas Unlimited Trust, in making donations that led to new employment opportunities for women in India while also helping the country's traditional culture survive.
Kobayashi : The donated lights are being used by women producing handwoven fabrics in rural Indian villages supported by Bindaas. CALICO is involved in design and marketing on clothing and other products made from those fabrics.
Okuda : In India, I've often seen women weaving fabrics, which I assume is because India is one of the largest producers of handwoven fabrics.
Kobayashi : That's right. Currently, more than 95% of the handwoven fabrics in the world are produced in India and it is reported that more than 4.3 million weavers support the industry there. However, the wave of modernization in the industry combined with greater wage disparity is leading to fewer people taking up the craft in the younger generation. CALICO was founded in 2012 to help pass on and promote village fabric techniques that have been passed down for generations in rural Indian villages. There are many types of village fabrics from handspun and handwoven fabrics called "khadi" to embroidered fabrics called "kantha."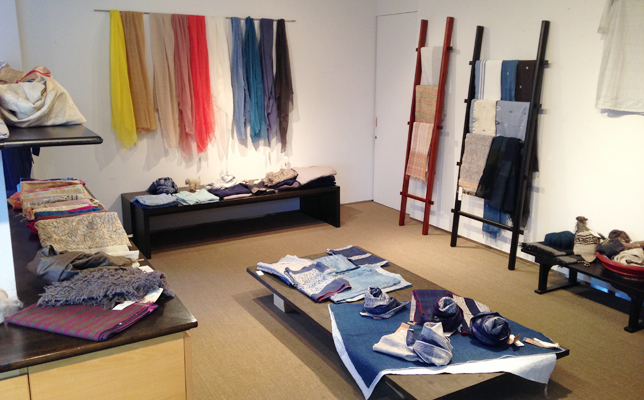 Okuda : We first met when you gave a lecture to an employee workshop for facilitating greater insight on how to solve social issues in developing and emerging nations. How did you first get started in this business handling fabrics in India?
Kobayashi : One of my inspirations was a quote by Mahatma Gandhi that I discovered while working as a business consultant in India. Even today, the Indian people still speak with pride about how Gandhi wrapped himself in traditional Indian cloth instead of English-made cotton products, during India's campaign for independence from British rule. He said, "Khadi is not just a cloth. It is a thought." However, as was the case with Japan's textile industry in the past, rapid economic development has also exposed traditional industries in India to the threat of decline. I founded CALICO determined to make sure that these beautiful fabrics remain on our planet.
Okuda : So village fabrics are weaving together culture onto the next generation. I am actually a huge fan of CALICO products. More than anything, the fabric feels so different to the touch.
Kobayashi : Thank you. Even the Indian people themselves are sometimes unaware of the value of village fabrics. Our purpose is to open the people's eyes once again to the splendor of village fabrics and how they are integrated with agriculture while providing work for many.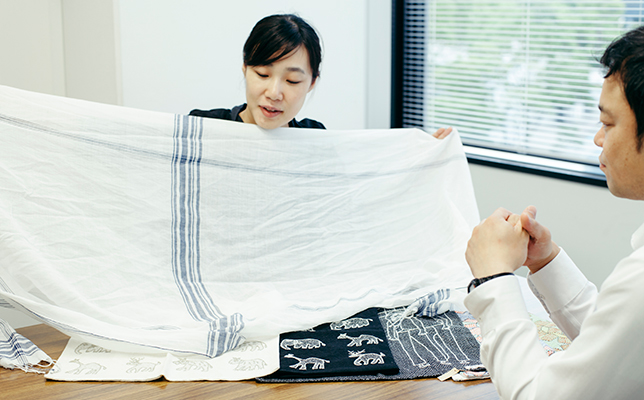 Village woman connected India and Japan
Kobayashi : The recently donated solar LED lights are now used in rural villages in the state of Bihar, an especially poor region of India. Our partner, a woman named Archana, connected us with a local NGO and that is how the donation came to be.
Okuda : I've met her as well. She is so gentle and yet, when she heard that I was in India, she hopped onto a night train to meet me the next day. I was so impressed by her passion and motivation.
Kobayashi : Archana was born in a village in the surroundings of Patna in Bihar and had a life changing experience when she traveled to New York at the age of 15 for an embroidery demonstration, through the support of an NGO. Following this, she became a designer who fused traditional Bihar designs with her own unique message and now runs her own NGO that creates work through embroidery for women living in rural villages.
Okuda : Right away, Archana created a fabric with a solar LED light design and we were so moved when she showed it to us. It was an indication to us of what major impact that light has on the local people.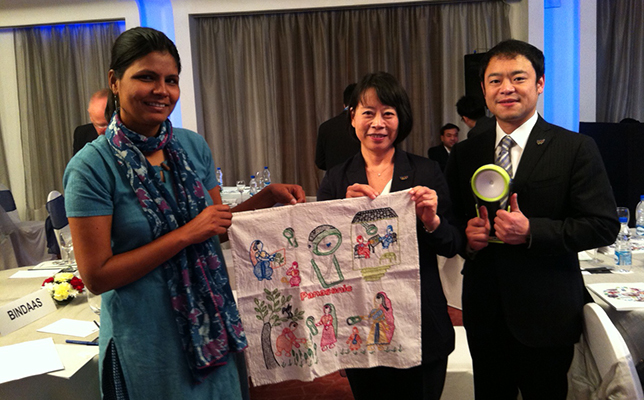 "Light" that connects people
Okuda : Many villages in Bihar live without electricity, but how do the people make use of light?
Kobayashi : The lights are used, for example, in homes where people embroider. Until now, women used to embroider on their free time during the daytime field work or by the light of dim kerosene lamps in the night. Meanwhile, ever since the arrival of solar LED lights, they can go about their work efficiently with sufficient light. They can now do housework and look after their children's studies at night, something they weren't able to do until now, and this has brought about great change in their lives.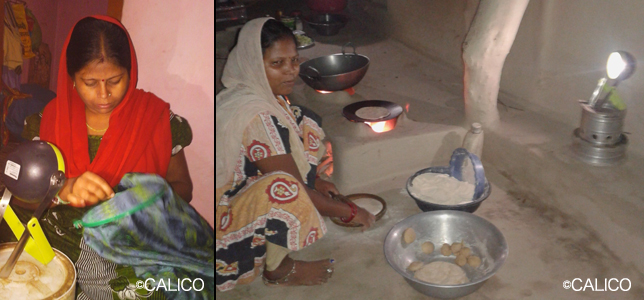 Okuda : I'm sure that embroidering under the light of dim kerosene lamps was hard on their eyes, considering the meticulousness of the work involved. The solar LED lights made in India were made possible through much effort and passion by those involved. It makes me happy to know that they are changing lives for the better.
Kobayashi : The thing that we value most in our work is how we can take handcrafts, a treasure of humanity, and pass them on for generations to come. We hope that through the wondrous powers of India's village fabrics, we will be able to restore pride in rural villages and create sustainable industrial development, while and reawakening the people's deep appreciation for fabrics and clothing.
Okuda : People create village fabrics under the light of a solar LED light, connecting Japan with those living in rural India. More than just providing light in people's lives, we'd like to play a role in connecting people through our donations.