Delivering products the poor really need: NPO Kopernik
2015.11.18 Our Partners
In February 2015, Panasonic delivered solar lanterns to Sone Village in Indonesia and 50 clinics in East Nusa Tenggara through NPO Kopernik. We spoke with Hiromi Tengeji, representative director of Kopernik Japan on how Kopernik reflects local needs. (Interviewed September 24, 2015)

Bringing innovative technology to people in developing countries
Okuda : Thank you again for your tremendous support in the donations in Indonesia. Please tell us once again about Kopernik and what you do.
Tengeji : Kopernik was founded in 2009 by members who worked at the United Nations. We deliver "innovative technology" to local people in developing countries to improve the lives of and support self-reliance among the people. Today, we have offices in Japan and Indonesia, are active in developing countries, and we have worked in 24 countries to date.
Countless products have been developed for the improvement of people's lives in developing countries, but when those products are too expensive or do not meet local needs, people do not buy or use them. That is why at Kopernik, we research the people's needs by maximizing our local resources and understand the challenges that the last mile communities face in their daily lives to match them with products they truly need while also supporting the product's development.
Okuda : Specifically, how do you research the local people's needs?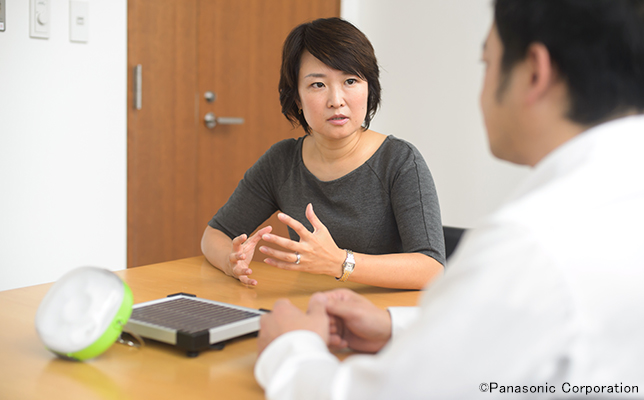 Tengeji : In each region, Kopernik has local partners such as NGOs in developing countries, schools, and companies that we partner with. They have solid relationships with village leaders, so we know very well the local people's needs and their economic situations.
Additionally, the Tech Kiosk network, which we have in Indonesia, helps us to hear from the people and deliver the kinds of products they need. At Tech Kiosks, the kiosk owner sells Kopernik products along with their other products and pays back an agreed amount to Kopernik depending on the sales. By actively providing training for the sales agents and kiosk staff that sell the products and creating a system that provides after-sales service to customers, we can expand product distribution channels while also gathering precious feedback from users.
Solar lanterns providing light in clinics at night
Okuda : In addition to the donation in Sone Village through the Cut Out the Darkness project, where solar lanterns were delivered together with shades based on designs sent in from around the world, we donated 200 solar lanterns to 50 clinics in East Nusa Tenggara. What was the criterion for selecting those clinics?
Tengeji : We consulted our local partners for the selection. The decision was made based on the interviews our partners conducted with the village leaders, while also considering various factors, including access to electricity, facility conditions, and level of poverty in the region.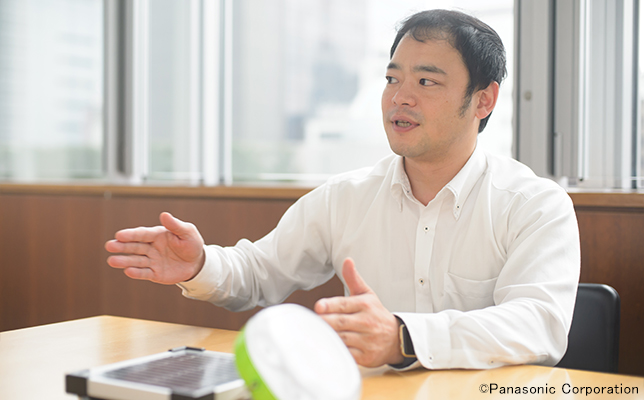 Okuda : I see. Several months after the donation, you monitored some of the clinics. Looking at the results, we were happy to see that expenditures for kerosene lamps had declined and the people were happy to finally have access to safe light. Additionally, the solar lanterns are helping out enormously during emergency procedures and childbirth at night and it also seems like they are helpful in charging mobile phones. Meanwhile, I wonder if there have been any requests.
Tengeji : Users are very satisfied, especially since the product is so easy to use. They also appreciate that they can easily charge their mobile phones. Request-wise, they said; for example, a hook in addition to the handle would make them more convenient, or that it would be even nicer if the power could be turned off without pulling out the battery cable.
Okuda : Thank you. I'll be sure to relay the information to the development team.
In between business and social contribution
Okuda : When we consulted you about the donations, I especially remember you saying at first, "Can't we sell them instead of donating?"
Tengeji : I remember that. Usually, at Kopernik, we send products to people in last mile communities through a business approach of having them purchase the product. The reason for this is because we believe that in order to resolve economic inequality, we must cut off the dependent relationship between the supporter and the supported and instead, establish an equal partnership with the people. When selling the products, we set locally affordable prices or set up installments for payment.
Okuda : Is donating not an option?
Tengeji : No, it's not that we never distribute products for free. For example, as with the clinics we donated to recently, public facilities often have little or no budget, and given the integral role they play in the community, we may opt to donate the products in those cases.
Okuda : Maintaining an equal relationship instead of a dependent one is an extremely important mindset. Likewise, with the 100 Thousand Solar Lanterns Project, we collaborate with NGOs with good knowledge of local needs and through that, we try to select recipients only after identifying the people and places that need them the most.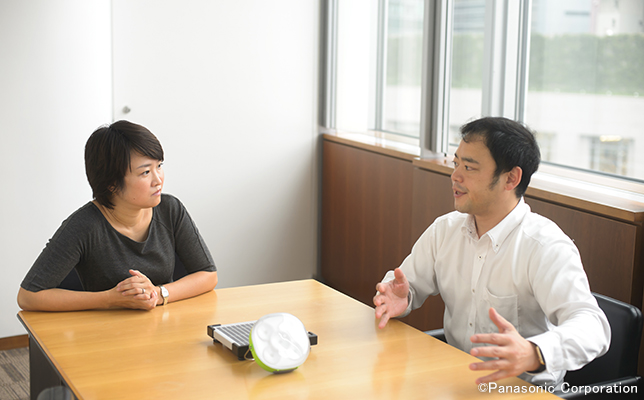 Tengeji : Especially for corporations, unless they can build an equal relationship, it becomes difficult to improve the product since they will not have adequate user feedback at hand.
Okuda : It is an outlook that is critical for creating products that people truly want and for executing local business. Going forward, we'd like to learn from Kopernik's approach.
Tengeji : Thank you. I think that Panasonic's social contributions and product development for developing countries are some of the most innovative among Japanese corporations. In the future, I hope that you will successfully combine donations and business to expand initiatives that will have a greater impact around the world for both society and the economy.