[Voice] Needs for light Revealed through Surveys: Tanzania
2016.01.15 Voices
Tanzania is home to Panasonic's only factory in Africa. Our efforts to provide light are expanding here, where more than three quarters of the population has no access to electricity. Daiki Shibano reports on local research conducted to understand the people's needs.
Hamjambo (Hello)! This is Daiki Shibano in Tanzania. Tanzania is home to Panasonic's only factory in Africa, Panasonic Energy Tanzania (PECTZ), which produces zinc carbon batteries. From the time I joined the company until 2013, I was responsible for sales of batteries in the Middle East and Africa. In 2015, I was transferred to Tanzania, where I have been developing new sales channels for solar products.
Towns and villages dramatically different from the cities
Tanzania's electrification rate is low at 24%, but this number drops to 4% in rural areas.*1 Cities with airports have electricity and other infrastructure as well as plenty of traffic, but the scenery changes dramatically within 10 minutes from the city by car. Outside the cities, vast areas have no electricity.
Besides making donations of solar lanterns, we are preparing to launch sales of solar storage to bring light to people living in areas like this. As a part of these initiatives, we visited households in Kigoma region in the western edge of Tanzania to study how people live.
Assessing local needs by studying how people live
David lives with his wife and their five children, and makes a living by growing corn and beans.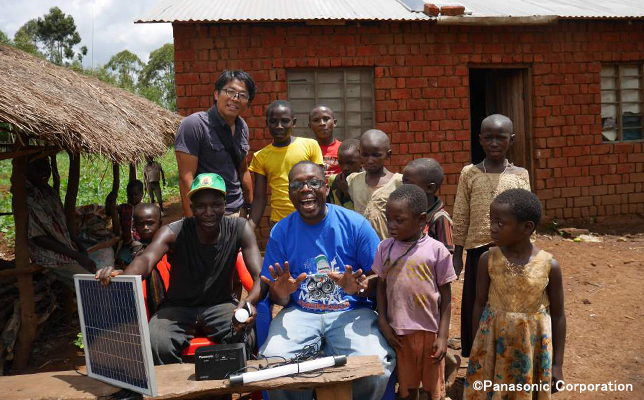 David's home already had a solar system, which directly connects a car battery to a solar panel. He purchased the system by installment payments from a retailer that he knows well, but it seems he is one of very few people in the village with such a system. He previously earned extra income by providing villagers with a mobile phone charging service, but he lost this income source when the battery wore out and stopped working.

We explained the features of the solar storage to David (long life, USB port to charge mobile phones, bright lamp included). He loved the product after trying it out and we were happy when he said, "There are cheaper products on the market, but this is the product I want to buy and use when it goes on sale."
We also interviewed retailers and became even more convinced that Panasonic products are appealing for the people of Tanzania.
The challenge, expanding from batteries to solar products
Panasonic started selling batteries in Tanzania in 1966, but the sales of solar products are a completely new challenge for us. We still have many challenges, like how we will build sales channels for products to reach the rural areas and how we can offer purchase loans (micro-financing) that will enable easier purchase, but we will continue dedicating our efforts to further enriching the lives of Tanzanians.