Solar Lantern Donations in Myanmar Approaching 10,000
2016.03.04 Field Report
In January 2016, we donated 2,400 solar lanterns to 11 organizations in Myanmar. This fourth set of donations brings the total to 9,464 lanterns donated in this country. The number of recipient organizations has increased and solar lanterns are finding more uses.
This is Project Leader Akira Hoshi.
On January 29, 2016, we participated in a solar lantern donation ceremony at a showroom in the Yangon Branch of Panasonic Asia Pacific. We donated a total of 2,400 solar lanterns to Myanmar in FY2015. Letters of donation were given to 11 recipient organizations.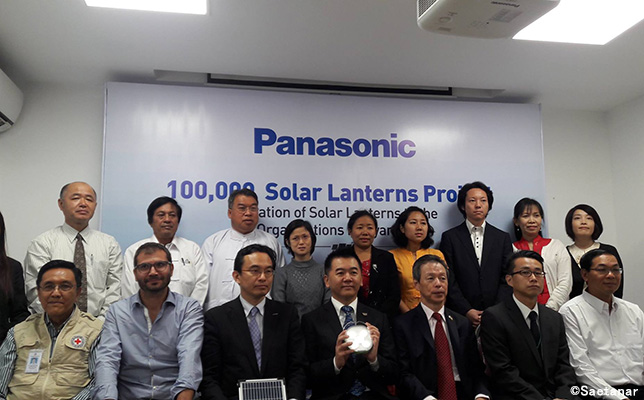 FY2015 Recipient Organizations (11 total):
- All Country Agency for Rural Development
- Association for Rengein Tanjoji International Cooperation
- Birumero no Kai
- Greater Mekong Initiative
- Karen Baptist Convention
- Linguistic Society
- Meikswe Myanmar
- Myanmar Red Cross Society
- Peoples' HOPE Japan
- Saetanar
- Save the Children Japan
Five new recipients in 2015
People's HOPE Japan, a new recipient, provides support mainly for health and medical education to promote self-reliance for people in Asia's developing countries. The donated lanterns are distributed to midwives working mostly in rural areas and used in situations such as medical checkups and when assisting childbirth.
All Country Agency for Rural Development, in its effort to resolve poverty issues in rural areas, distributes the solar lanterns to midwives, teachers, and students in off-grid areas and is also planning to use the lanterns for its adult literacy classes.
Karen Baptist Convention plans to use the solar lanterns at its childcare facilities and development support facilities in its communities. The Linguistic Society, who provides educational support to minority people and Meikswe Myanmar who supports healthcare, education, and community development are scheduled to use the solar lanterns on-site in places like middle schools and education centers. We look forward to the solar lanterns being used effectively by each organization.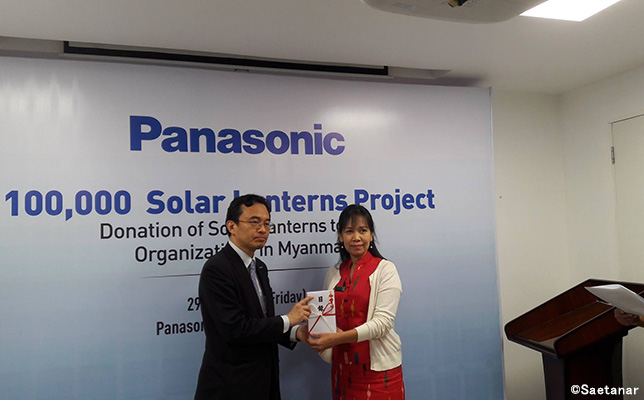 Solar lanterns, a dependable friend in school exam preparation
Saetanar, which just received a third donation after its first in November 2014, is an organization that addresses rural development by building schools based on its principle that "a sustained basic education is indispensable for the progress of a community." The solar lanterns are being used by approximately 8,000 students in schools across Shan State, which lies on the borders of China, Thailand, and Laos.
In Myanmar, primary education is for five years and students must pass an advancement test to proceed to middle school. The solar lanterns are used by fifth grade students from 4:30 to 6 a.m. and 6 to 9 p.m. as they prepare for their exams. According to the principal of the primary school, "The solar lanterns help save costs because there is no cost for the electricity. I expect that they will boost the progress of children's studies more than ever."

Identifying needs, measuring outcomes, and creating positive change
So far, we have donated a total of 9,464 solar lanterns to Myanmar, starting with the 3,000 donated to four organizations in February 2013, then 2,060 to five organizations between November and December of the same year, plus 2,004 to eight organizations in November 2014, and finally, the most recent donation.
While urban areas such as Yangon are enjoying dramatic economic development, economic inequality is increasing as rural areas lag behind. Myanmar today is 68% non-electrified*1, so more than half of the nation's people still live without electricity.
We will continue to deliver solar lanterns to people in need of light by cooperating with NPO/NGOsworking particularly in rural areas, so that we can contribute to helping solve various social issues
and be a positive change agent in people's lives. We will also continue to watch what kinds of positive impacts these efforts bring to society and confirm the long-term results of our activities, so that we can understand how our actions can be improved.
International Energy Agency (IEA) World Energy Outlook 2015