[Voice] Solar Lanterns on the Educational Front: WAfC/JRfC
2016.03.18 Voices
We've received a report from World Assistance for Cambodia/Japan Relief for Cambodia to whom we donated solar lanterns in November 2014. The solar lanterns are being used in a variety of situations, from children's studies and teacher's housework to class preparation.
Improving educational environments in off-grid areas
Friends at Panasonic, this is Neou Ty, Senior Program Officer of World Assistance for Cambodia/Japan Relief for Cambodia (WAfC/JRfC.) We support education based on the belief that education is the key to bringing positive growth to Cambodia.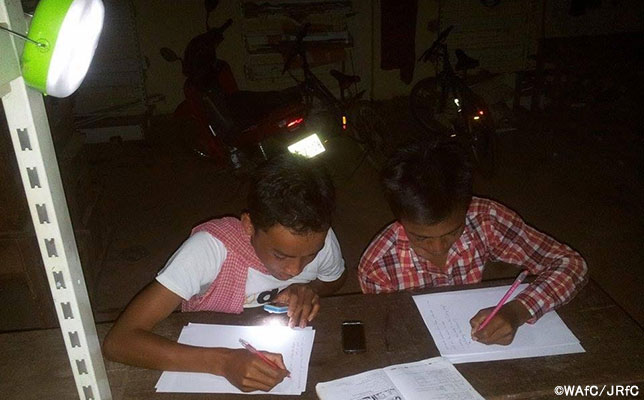 The solar lanterns donated in November 2014 are being used in areas without electricity, specifically at our Bright Kids Future Home (dormitory for scholarship students older than eighth grade), New Life Orphanage, and 38 schools by principals, teachers, and students from poor homes.
Until now, people used kerosene lamps for housework, studying, and preparing for class. However, in addition to the risk of the flames causing fire, the smoke from lamps also exposed users to the risk of bronchial disease. In contrast, solar lanterns can be used safely with peace of mind, and everyone is truly delighted. The lanterns also help save fuel costs (more than 52 dollars a year.)
Evenings spent well
Students and teachers from poor homes must help out with housework and farming while the sun is up, which means that it is dark by the time they can start studying or preparing for class. The solar lanterns are a big help for them.
Every night after coming home, English teacher Prey Sophannara feeds her pigs and prepares vegetables to sell at the market. She says, "It has become much easier to work after dark now that we can use the solar lanterns."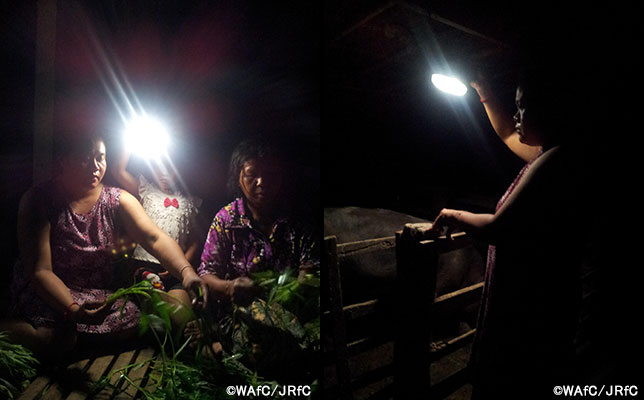 "The lanterns are helpful, because we have no electricity at home."
There is no electricity in the home of San Veasna, an English and computer teacher. That is where the solar lanterns help out in a number of situations, from cooking or taking a bath, to doing the laundry, reading, or planning for class. Besides providing light, the solar lantern is also used for charging cell phones.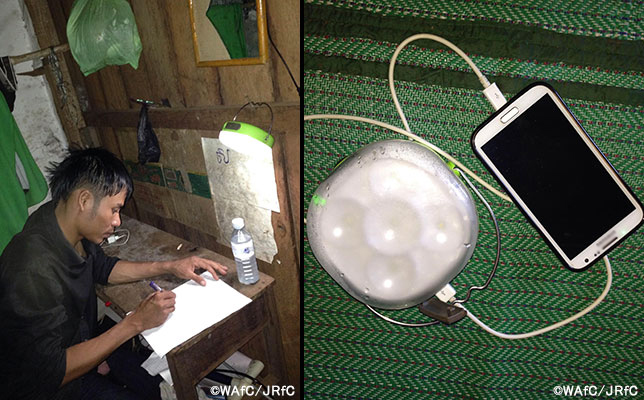 "Thank you to Panasonic!"
Every solar lantern that we've received from Panasonic has been working smoothly without malfunction thus far. They are easy to use, durable, and the design is splendid. When we meet with users, we are often asked to pass on their gratitude to Panasonic. So, on behalf of all the happy users, let us shout out, "Thank you to Panasonic!"