Supporting both Refugees and People in Host Communities: UNHCR Representation in DR Congo
2016.06.16 Our Partners
In March 2016, Panasonic donated solar lanterns to refugee camps in the Democratic Republic of the Congo (DR Congo) through the United Nations High Commissioner for Refugees. Here, UNHCR staff member Makiha Kimura talks about issues and the future of refugee camps. (Interviewed on April 25, 2016)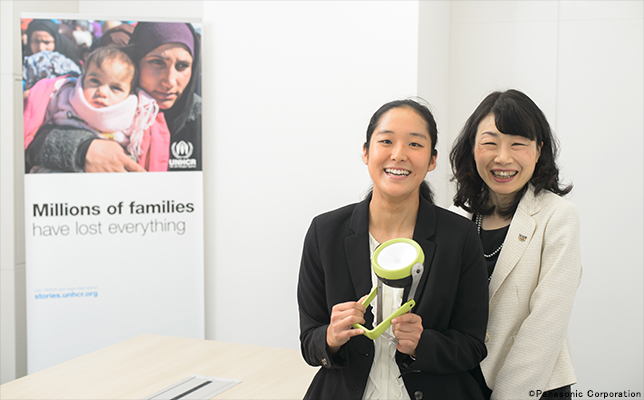 Donation started with a Facebook message
Tanaka: Our recent donation started with a message you sent to the 100 Thousand Solar Lanterns Project's Facebook page.
Kimura: That's right. The office suggested me to explore some possibilities to receive support from the private sector, for example, that of Japan, and after some searching on the Internet, I found myself on the project website. As I read about it, I felt confident that our activities were a perfect fit, and sent a message immediately.
Tanaka: I think most people don't have a clear image of DR Congo. Would you tell us what the country is like?
Kimura: Sure. DR Congo is located in central Africa and designated as one of the world's least developed countries (LDCs). Unfortunately, some parts of the country still remain in conflict. It is the second largest country in Africa, but its electrification rate is a mere 9%, meaning that most of the country has no access to electricity. *1 The northern city of Gbadolite, where I was stationed, has access to electricity but most of the northwest part of the country has no electricity. Even Gbadolite is often without electricity due to problems with the dam. Given this situation, I strongly felt there was a need for solar lanterns that can be charged and operated by sunlight alone.
From the World Energy Outlook 2015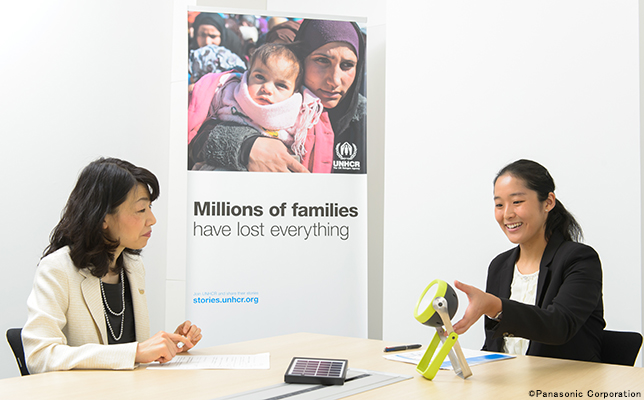 Tanaka: The donation took place about half a year after your first contact, which is exceptionally quick. In Africa, things take time due to various issues like unavailability of trucks to ensure safe transport or having to turn around because bridges had fallen. However, this time, everything went smoothly thanks to you and the entire UNHCR team's efforts.
Kimura: I was relieved as well that the distribution was successfully carried out. We were able to distribute the solar lanterns without any major troubles thanks to our logistic staff.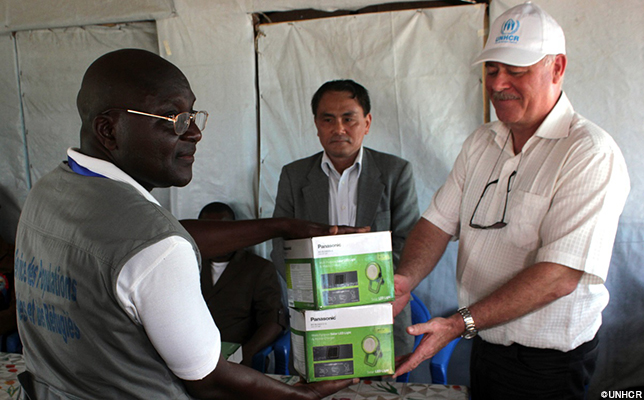 Providing support which promotes peaceful coexistence between refugees and host communities
Kimura: In the north where I was stationed, there are many refugees from the neighboring Central African Republic, where a conflict intensified about three years ago. In addition to this, around 400,000 refugees from other surrounding countries such as Rwanda, Burundi, and South Sudan have fled to DR Congo.
Tanaka: It seems the country is accepting many refugees, despite having various domestic issues.
Kimura: There certainly are difficulties in peaceful coexistence between refugees and local populations. For example, there are about 20,000 refugees next to a village of around 5,000 local people near our office. In the village, deforestation is one of the causes which has increased frictions, as refugees cut down trees for firewood. Also, in schools there has been a large influx of refugee children unable to pay tuition. Since the local people are also living in poverty, they feel frustrated that most of the funding of UNHCR and other humanitarian aid organizations has been used for refugees, rather than people in host communities. My job includes activities for raising awareness and promotion of mutual understanding through theater, dance, sports, and dialogues to achieve peaceful coexistence between refugees and host communities. UNHCR also provides support for host communities, for example, construction of wells in their villages.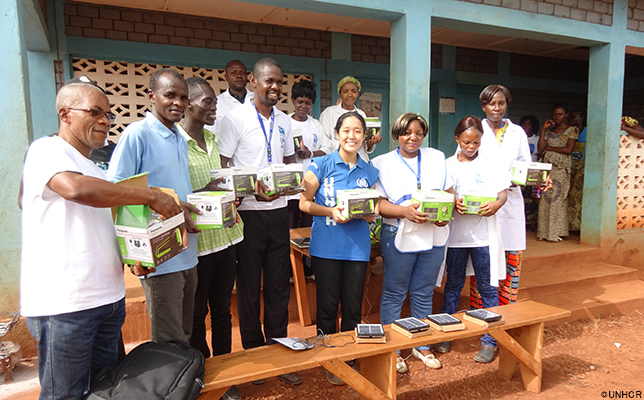 Solar lanterns used in medical and refugee facilities
Tanaka: How are the donated solar lanterns being used?
Kimura: The solar lanterns were distributed to medical facilities, such as hospitals, clinics, and health centers in 5 refugee camps and host communities, as well as nine transit centers. A transit center is a facility which receives refugees for the first several days after their taking refuge. However, some of these transit centers have no electricity at all, or even if they have a generator, its use is very limited, and therefore often the refugees are in complete darkness at night. Having light helps improve safety especially for women and girls. Moving around without light at night to go to latrines accompanies a great risk in violence against them. The light provided by solar lanterns contributes to the protection of women and girls, one of the most vulnerable beneficiaries in the field.
Tanaka: The sense of security that light provides is large, especially for women. To date, Panasonic has also donated solar lanterns to refugee camps in Kenya and other countries, and we have heard similar stories.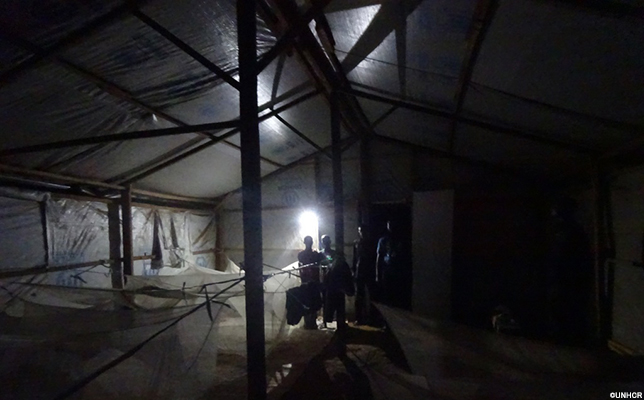 Kimura: We also distributed solar lanterns to hospitals and clinics in villages near the camps. This is because some refugees live outside the camps, living with relatives or renting their own houses. We aimed to share the lanterns' benefits with the host communities, since the condition of some village medical facilities is worse than in the camps. A doctor in a host community expressed his gratitude and told us, "We used to use flashlights when assisting births but now the safety of childbirth has improved, since the solar lanterns light up the entire room."
Tanaka: We use one word to say refugee, but actually refugees can face very different situations, it seems. I hope that the light of solar lanterns can contribute to building a positive relationship between refugees and locals.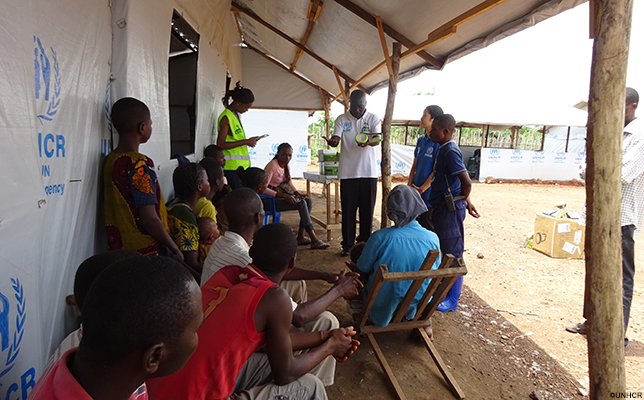 Support that leads to refugee self-reliance
Tanaka: Thank you for helping us learn today about local conditions. I'm sure that the situation changes daily but we hope to continue working with UNHCR in the future.
Kimura: Thank you. Our future goal at UNHCR is to provide support that will lead to refugee self-reliance. In many cases, refugees spend an extended amount of time at camps and come to take support for granted. Instead of handing them aid in the form of supplies, going forward, we feel that it will be important to establish a system that eliminates this reliance, for example, by giving them money and having them manage on their own. And with Panasonic, we look forward to continuing to work with you in the future.