The First Donation in Bangladesh, Supporting Children in Off-Grid Areas
2016.07.20 Field Report
Bangladesh is a country with a large gap between rich and poor, even while it experiences rapid economic growth. In March 2016, Panasonic made its first donation of solar lanterns to Bangladesh. Through local NGOs, the 760 lanterns will provide light to children in rural villages and living on the streets.
Electrification not keeping up with rapid economic growth
Bangladesh is about 40% the size of Japan and home to approximately 159.4 million people. People are migrating in large numbers to urban areas, and this is one of the most densely populated countries in the world. Today, Bangladesh's abundance of labor and the large potential market are attracting much attention and bringing rapid economic growth.
Meanwhile, people live in poverty in rural villages, which account for approximately half of the entire population, and there is a growing gap between cities and rural areas in terms of education, infrastructure, and other measures. Bangladesh also has many rivers and is often faced with floods, making people who depend on agriculture vulnerable to disasters.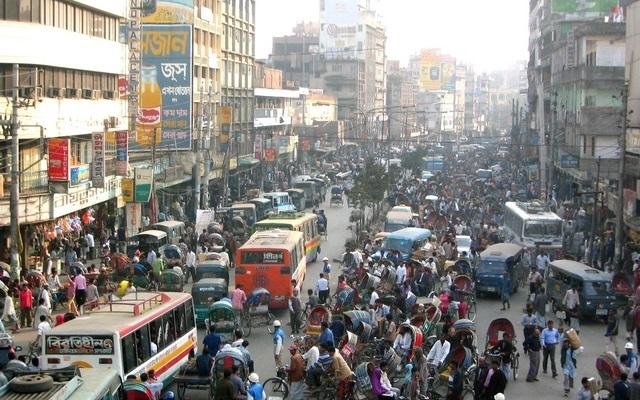 The electrification rate in Bangladesh is 55%. Many rural areas have no access to electricity at all, and the land is enveloped in complete darkness once night falls.
The government, in an effort to improve the electrification rate, is working to increase the power generation capacity through natural gas development, which accounts for approximately 70% of the fuel used to generate electricity, as well as imported liquefied natural gas and coal. Despite those efforts, however, Bangladesh cannot keep up with the rapid growth of demand for electricity. There are also concerns that rising electricity costs will affect people's lives.
Solar lanterns light up the darkness in rural villages
Last July, we visited the capital city of Dhaka, where we met with 16 companies and NGOs to survey local conditions in greater detail and learn the needs in regards to solar lanterns. Based on our findings, we donated 760 solar lanterns to four NGOs that provide support for children in rural areas, offer health education, and work to reduce poverty. This was Panasonic's first donation to Bangladesh.
Since 2004, Ekmattra has held "Open Sky School" and provided shelter homes offering food, clothing, and shelter to street children mainly in the country's capital. The organization also supports self-reliance of the children, through activities such as the opening of a yakitori (grilled chicken) restaurant, a rare cuisine in Bangladesh. The donated solar lanterns will be used at the Ekmattra Academy scheduled to open this spring.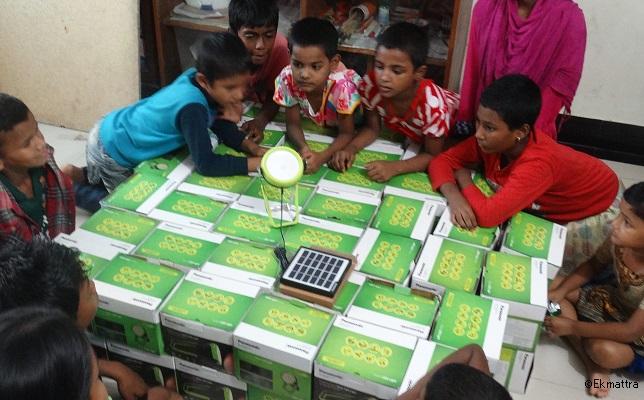 The next recipient is e-Education, which specializes in offering education to help students prepare for university entrance examinations, in the village of Haimchar, located six hours by boat from the capital city of Dhaka. This organization provides video recordings of classes presented by city teachers for viewing by high school students in rural areas where access to education is limited. These videos have reportedly helped several students get accepted at the University of Dhaka. Study time at night is limited in villages that have no electricity, so the solar lanterns will be provided to students who have actively attended the video classes.
World Vision Bangladesh offers community development programs in five villages, mainly in northern Bangladesh, and supports people's lives in various ways, ranging from education support for children and adults to production and sales of craft goods, to improve income and support for maternal and child health. The solar lanterns will be used to improve the quality of education for poor children living in rural areas.
In Bangladesh, with the large gap between rich and poor, people face a multitude of issues besides children's education. For example, the overcrowded population, mainly in the capital, is leading to health issues due to the shortage of toilets and open defecation. Panasonic donated solar lanterns to a local NGO named Nijera Cottage and Village Industries, which is dedicated to promoting health education classes for people in the local community, while also setting up toilets.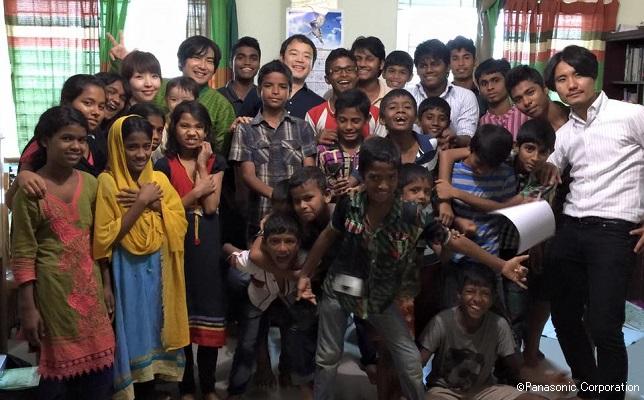 Working together with organizations and individuals addressing social issues
This first batch of solar lanterns donated to Bangladesh is not just a one-time provision of goods. We consider it to be a first step in actively addressing the various social issues that exist in the country.
In Bangladesh, NGOs dedicated to addressing socially meaningful issues have a powerful voice, and in many cases, their presence is as strong as that of corporations and the government. This donation is only the start and we will build cooperative relations with organizations and individuals dedicated to tackling serious social issues and deliver the light of solar lanterns to more and more people.