Myanmar: Volunteer employee reporters' visit to off-grid villages
2017.10.30 Field Report
From September 16 thru 20, 2017, six selected volunteer employee reporters visited off-grid areas in Myanmar to learn about local living conditions and how solar lanterns are being used.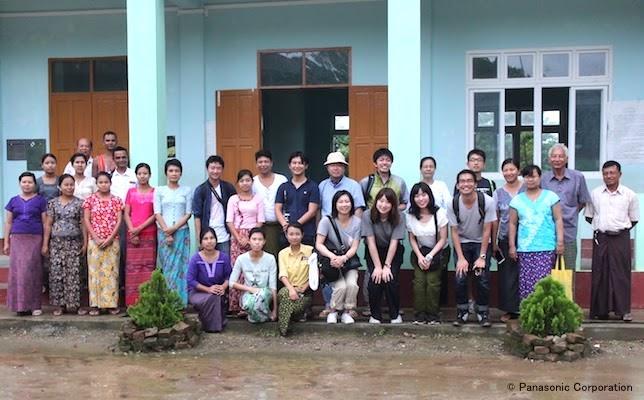 Volunteer employee reporters visited off-grid areas to see how donated solar lanterns are being used. Following the Indonesia tour in January, this time reporters visited three villages in the Ma-ubin District of Myanmar.
The six selected employees came from different corporate divisions including engineering, marketing, and human resources. Their motives varied. For one member, the lantern project was the reason for joining the company. Another member is originally from Indonesia, and wanted to share personal experiences with local children. However, they all shared the desire to see for themselves how Panasonic's CSR activities are helping to address social issues and benefit from the experiences for their career.
The four-day itinerary included visits to schools, meeting places, and family homes. The following is a report by the volunteer employee reporters.
A visit to schools built by solar lanterns
We visited an elementary school in the village of Thayargon. Approximately 700 students attend the new-looking brick school. It was actually built through solar lantern donations, meaning that the people created a system where residents rented the solar lanterns for a fee and the rental fees collected were saved to build the new school and dormitory. The solar lanterns shined bright for studying children at home and they also became a major factor that helped improve their learning environment.
We were invited to see the classrooms and once inside, we saw children immersed in their studies in dim light. It was the rainy season and the pouring rain outside made the classroom so dark, but the solar lanterns were being lent out to households at the time, which meant no light in the classrooms.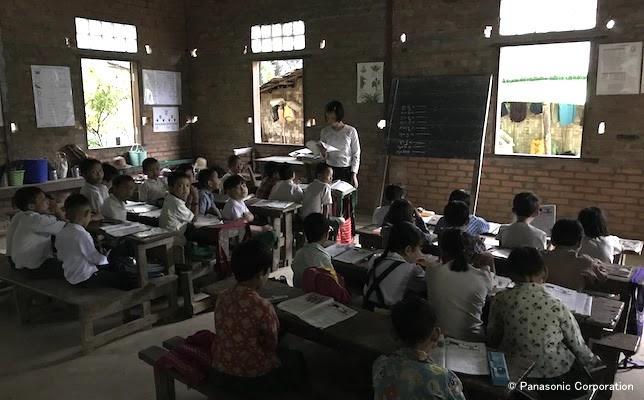 The third grade teacher was a 16-year-old girl fresh out of high school, teaching as a volunteer until she entered university. In fact, this school lacked both in the quality and number of teachers and though they had a building, it seemed that there was still a long way to go until the children could have an environment that allowed them to concentrate fully on their studies.
Mr. Nobuyuki Hirano of the Association for Rengein Tanjoji International Cooperation (ARTIC) joined us on the observation tour. He said, "We could enrich the classes if we had computers and the Internet, but we don't have those kinds of devices and the unstable electricity supply also makes things difficult. Going forward, we'd like to work on improving the learning environment."
Solar lanterns enrich lives and strengthen ties between people and community
In Sar Kyat Village, we visited homes using solar lanterns to find out how people's daily lives have changed with the lantern donations.
During farming off-season, one woman sells "mohinga," a traditional noodle dish from Myanmar. Thanks to the light of solar lanterns, she can now make preparations in the evening, which has helped increase her income. Another woman who makes and sells tobacco wrapped in corn leaves told us, "I can work more efficiently now with the light." We saw how light has led to more income for them.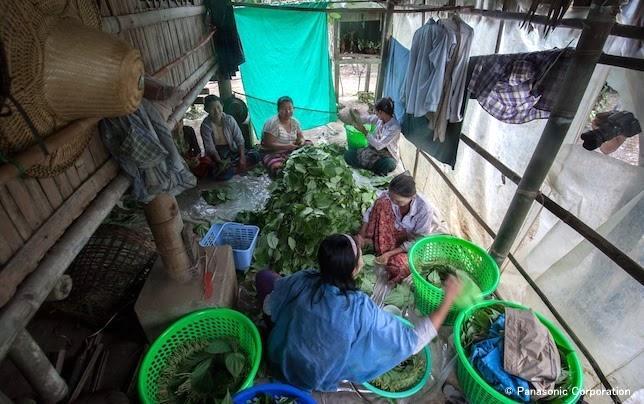 In homes with small children, the light of solar lanterns during the night has brought a sense of security. One person was pleased to tell us, "If we leave the light on at night, we can look after our children better when they need something."
Moreover, we heard comments that people now had more time for family gatherings or that the village can now hold meetings in the evening. Solar lanterns are connecting people and strengthening ties among families and the community.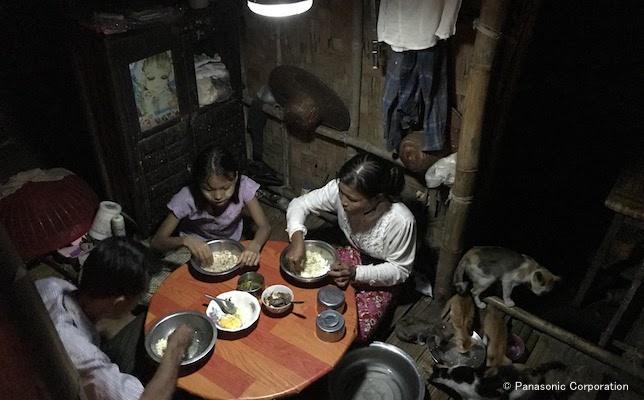 In addition to lighting things up indoors, solar lanterns were also being used outside. People were taking advantage of their portability and using them in different situations, like lighting the way to a toilet away from the home, catching edible frogs at night, or removing insects from their crops.
Panasonic's role in creating "A Better Life, A Better World"
The recent visit helped us see how solar lanterns are helping villagers across different situations in life. Light is definitely changing the lives of people in areas without electricity. When asked what has been their happiest moment, some villagers answered, "When we first held the solar lanterns in our hands."
Meanwhile, it is also true that they had some concerns about the future. What if the solar lanterns break and stop providing light? Once they experience the convenience of light, it will be hard to go back to the way things were. This was a strong message for us about our responsibility as a manufacturer and the need for systems that will provide light for people when they need it.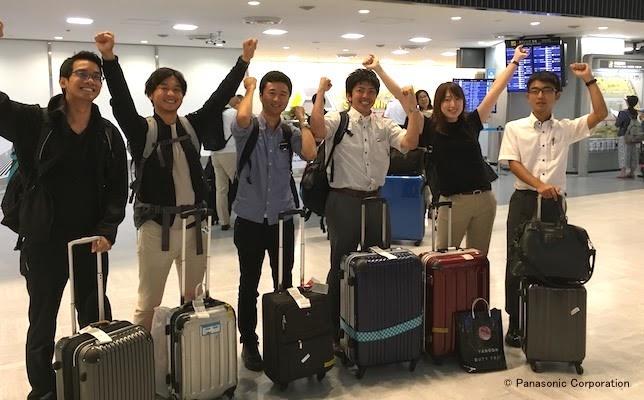 Power is essential in driving changes in society. Private companies that have technical, financial, and production capabilities can play a big role in bringing about that change, but there is only so much that one company can do. We hope to expand the circle of support in different ways, including cooperation with various stakeholders, to make "A Better Life, A Better World."
Finally, to everyone from ARTIC who accompanied us on the observation tour and the local people who welcomed us with open arms, thank you from the bottom of our hearts!
Here are some comments by each of the six volunteer employee reporters:
Hironori Kume:
People in areas without electricity are our future customers. This trip taught me the importance of building their trust for the brand by focusing on their issues and needs, finding common ground and applying insights gained into the making of products.
Kengo Kajii:
Everyone in the village has a dream and solar lanterns are playing a part in making them a reality. I'd like to keep on working so that I can contribute to solving the social issues among people in areas without electricity.
Nugraha Yonatan Andy:
Seeing the children talking happily about their dreams with solar lanterns in their hands made me want to contribute even more to the dreams and happiness of people everywhere.
Masahiro Ishiguro:
Solar lanterns are a light of hope that enriches people's lives, provides a sense of security, and lets them pursue their dreams. I will take the real information gained through this experience and spread the word to students in the hiring process!
Akiko Matsuo:
The power that light brings to people was undeniable. I want to drive myself even further as a member of Panasonic and bring happiness to people around the world just like solar lanterns did.
Yuta Niinobe:
People in off-grid villages have a tremendous passion for education and I was really impressed with that. Seeing the children studying hard even without much light makes me want to create products that serve their needs, while I work at Panasonic, a corporate member of society.