Tanzania: 600 Solar Lanterns Donated through UNDP Tanzania
2017.11.17 News
On September 12, 2017 we donated 600 solar lanterns to the United Nations Development Programme (UNDP) Tanzania. This is the second donation made to Tanzania through this project.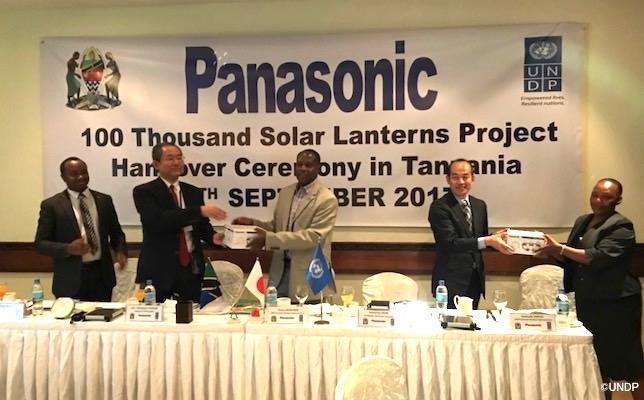 Tanzania, with approximately 2.5 times the land area of Japan, is a country rich in nature with forests covering about 52% of the country, of which 99% is natural forest. However, in recent years, trespassing into forest reserves, farmland conversion, forest fires, illegal logging, mine development, firewood collection, and large-scale farming for production of bio fuels have been depleting forests by 0.78% a year. Additionally, a large part of the country has no access to electricity, as the overall electrification rate is only 24%, and that falls to 4% (*1) in rural areas.
WEO 2015 Electricity access database
The recently donated solar lanterns will be used for activities such as forest preservation in national nature reserve projects promoted by UNDP Tanzania, and eco-tours for forest conservation. The lanterns will also be distributed to local communities that work with rangers at nature reserves to protect the forests from illegal loggers and used during nighttime volunteer patrols and meetings.
Mr. Amon Manyama, Assistant Resident Representative of the recipient UNDP Tanzania as well as guest Mr. Masaharu Yoshida, Ambassador of Japan to the United Republic of Tanzania, attended the donation ceremony at the Hyatt Regency in Tanzania on September 12, 2017. President Mori of Panasonic Energy Tanzania Co., Ltd. represented the company and said, "We hope that this donation will serve UNDP Tanzania's activities, while also helping to solve social issues in areas without electricity."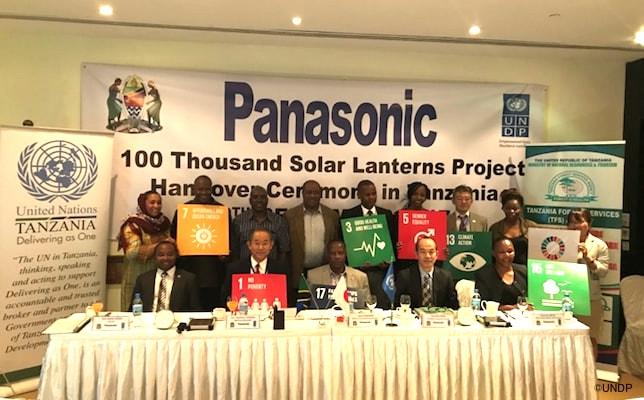 Currently, approximately 1.2 billion people worldwide still live without electricity, mostly in developing countries in Asia and Africa, and more than half of them are in Africa.
So far, Panasonic has donated 16,000 solar lanterns to 13 countries in Africa, through international organizations and NGOs. We will continue to play our part in solving social issues in areas without electricity in Africa so that its people can lead better lives.