Cambodia: Impact of Lanterns Heard through Recipient Voices and Seen by Numbers
2018.06.29 Voices
Life With Dignity received its second donation of solar lanterns in September 2016, and recently sent us a report on how they have been used in the first year after the donation. Light is bringing various changes to homes that received the lanterns.
(*See here for the first post-donation report)
Solar lanterns motivate kids to learn
Hello, this is Mey Sarun and San Vinich from Life With Dignity (LWD).
We work in one of the poorest regions of Cambodia, and solar lanterns have brought about various changes in the villagers' lives. One of the areas where we are seeing a particularly big difference is in children's motivation to learn.
Mao Sam and his wife Khon have seven children. Their home has no electricity and candles were their only source of light. But even candles cost money, so they were only used for about 10 or 20 minutes a day at dinner time. Today, they can do more things in the evening thanks to the light of the solar lantern. There has been a particularly large change among the children. Until now, their grades were poor and they were not very interested in studying. But now they study 1 or 2 hours every evening, spend almost all of their time after dinner studying, and their reading and writing skills are improving.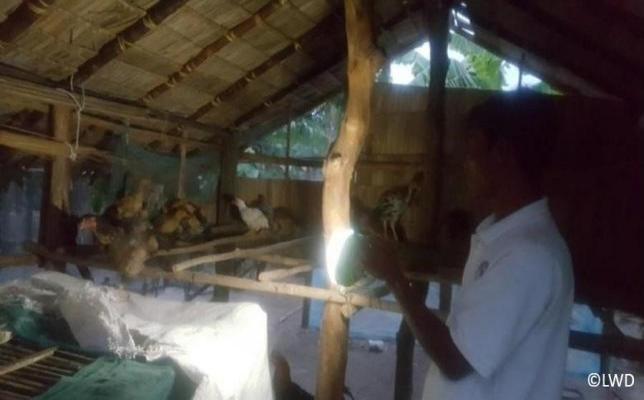 The same can be said for the Chheun Sreypov household. The children have picked up the habit of studying two hours every night since the solar lanterns arrived and they are becoming more and more motivated to go to school.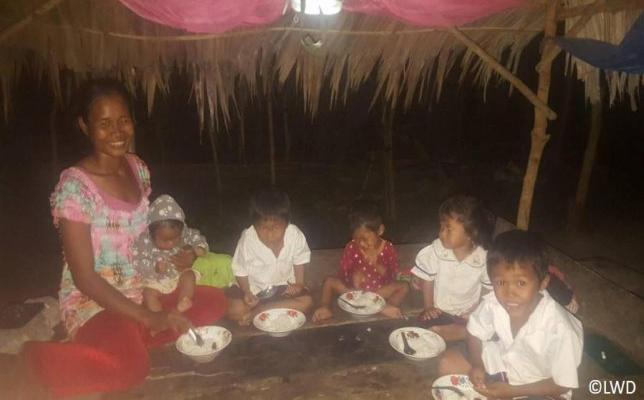 Being able to review the day's school work in the evening and prepare for the next day is critical for these children to continue with school and graduate. The children in the village where the solar lanterns were donated started studying on their own in the evening at home, which allowed them to keep up with their studies, resulting in every single one of them being able to graduate from elementary school one year after the donation.
Mainichi Media Café Report
On May 11, 2018, Dr. Lowell Gretebeck of the Japan Evangelical Lutheran Association (JELA), which facilitated the donation to LWD, gave a report at the "Mainichi Media Café."
The details of the report will be brought to you in the next article.