[Voice] Nepal: Solar Lanterns Lighting Up Lives in Earthquake Stricken Areas
2019.02.01 Voices
We've received a report from the Sindhupalchok District of Nepal one year after donations were made through Cafeteria Point, the Panasonic employee benefit program. Please find out how solar lanterns are changing people's lives.
Hello, this is Anirudra Neupane, program coordinator of the Nepal Red Cross Society. We have been working with the Japanese Red Cross Society to support the recovery projects of the Sindhupalchok District, which was devastated by the Nepal earthquake in April 2015.
The Sindhupalchok District is an area with limited electricity. The Himalaya Mountains make it difficult to connect rural areas to the power grid in Nepal, so electricity is only available to about 60% of the people living in rural areas. Moreover, the supply is unstable even in areas where electricity is available. That is why we spoke with people in these regions and it was decided to use solar lanterns in homes, during nighttime medical services at clinics after reconstruction (for emergency patients and expecting mothers, etc.), for local health volunteers making evening house calls, at government and municipal offices, and public facilities.
The total of 996 solar lanterns that were donated in November 2017 have become indispensable for the people's lives.
Having light in the home means being able to do chores and study even at night
Solar lanterns used in regular households have brought changes to the villagers' daily lives. We've received comments like, "Having lights even after dark allows us to clean, cook dinner, and wash dishes." "The lanterns are easy to carry around so I can now go to the stable to feed the cows." The children are happy to report, "Now we can do our homework at home even after dark!"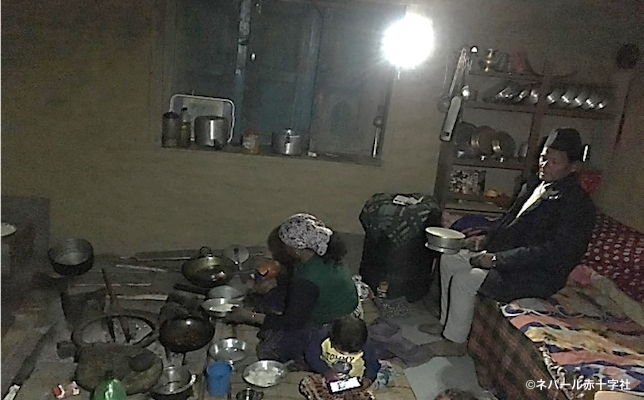 The light makes it easier to walk through bumpy roads at night
Female community health volunteers visit schools and homes in the communities to raise their awareness of good health.
Bumpy roads are hard to walk through especially after dark, which made the steps quite dangerous in the past. Now, walking is much easier than before since they have solar lanterns to shed light on the roads.
We will continue to report on changes of people's lives that solar lanterns are bringing to the communities.