[Voice] Laos: Light Shines for the Future of Children in Remote Mountain Villages
2019.06.10 Voices
We've received a post-donation report from the NPO Asian Education and Friendship Association (AEFA) which is active in Laos. A year and a half since the donation, the educational environment is gradually turning in a positive direction for the villagers thanks to the light of solar lanterns.
AEFA is an organization dedicated to raising children who will be the bearers and creators of Asia's future. Their goal is to work together with local communities to build and manage schools to create an educational environment in areas suffering from poverty and social disparities so that children can have hope for the future and an environment where they can expand their dreams. In the 14 years since its establishment, AEFA has built and supported 286 schools, of which 100 are in Laos.
The solar lanterns donated in 2017 were distributed to teachers and students at 20 elementary, middle, and high schools in Salavan Province's Ta Oy District, Samuoi District, and Saravane District, and the number of beneficiaries has reached nearly 500.
Solar lanterns used in dormitories and school education
Many villages in mountainous regions have no electricity. Or they may have the utility poles but no electricity because they do not have the money to bring in the electricity. At schools in remote villages like this, dormitories are used to house teachers sent in from the city and children from far away villages. The solar lanterns are used for daily life and studying in the dormitories, classes at school, and by teachers preparing study materials.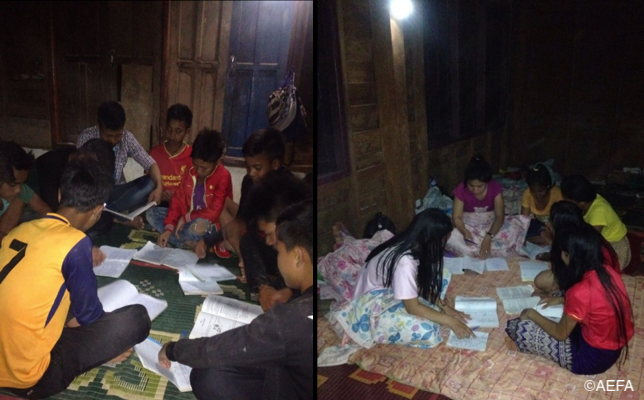 A teacher at a school in Ta Oy District says, "I can now help children if they need attention even at night. I can also prepare for class after dark, which boosts my confidence when teaching. I also feel like the students are more responsive and their concentration has improved."
Boualaphet Chounthavong, representative of the Association for Community Development (ACD), AEFA's local partner NGO says, "Until the solar lanterns came, teachers bought kerosene, which was poured into an empty bottle with a cloth wick to make a homemade lantern. That was dangerous since it could cause a fire and above all, the cost of kerosene was a heavy burden. Thanks to solar lanterns, they can now save the 200 yen they were spending on kerosene every month."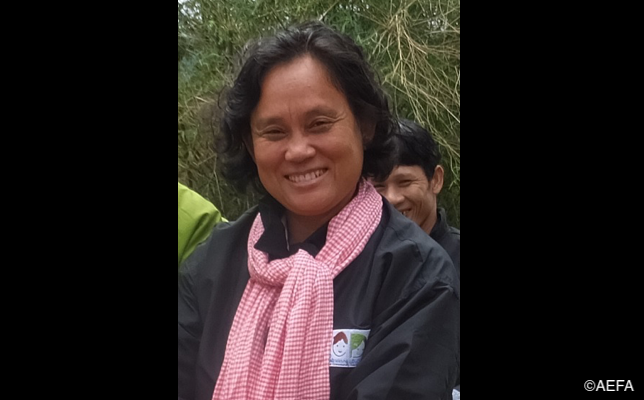 AEFA, as a part of the "Bringing Light to People Project," aimed at expanding the circle of donations, took part in a crowdfunding program in November 2018 and continues to bring the light of solar lanterns to schools and clinics.