[Voice] Solar Lanterns, the Catalyst of Change: Laos, Philippines, Liberia
2020.02.06 Voices
Solar lanterns delivered in 2017 to areas without electricity in Laos, the Philippines, and Liberia are now being used in various situations, from education and healthcare to community uses. We bring you some of those examples through the messages and photos picked up from reports receive two years after the lanterns were donated.
Laos
Solar lanterns donated to the Asian Education and Friendship Association (AEFA) in Laos were delivered to 20 elementary, middle and high schools in the districts of Ta Oy, Samuoi, and Saravane in Salavan Province as well as 10 clinics in the districts of Ta Oy and Samuoi.
Neua, in the village of Lalo in Samuoi District of Salavan Province, commented as follows.
"Until solar lanterns came, I had to go back home from the fields before dark or else I'd have to cook in the dark. Now, even if I come home after a day's work, I can cook easily under a solar lantern. The solar lantern is also great help for my children when they study and read at night."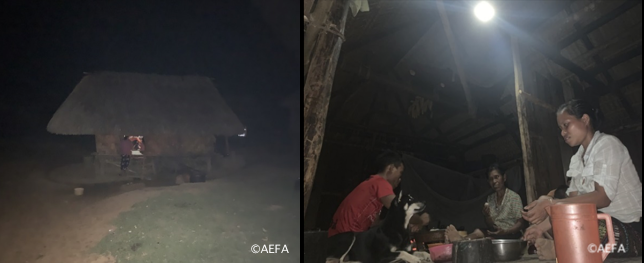 Dr. Boualaphet Chounthavong, representative of ACD, an NGO that is a local partner to AEFA says that Lalo is the remotest place out of all the villages in the ACD project and says, "Here, we try to improve maternal and child health, the childbirth environment, and to address malnutrition through our projects. Thanks to the solar lanterns, we can continue with project meetings even after dark and this has helped boost solidarity among villagers as well as community strength."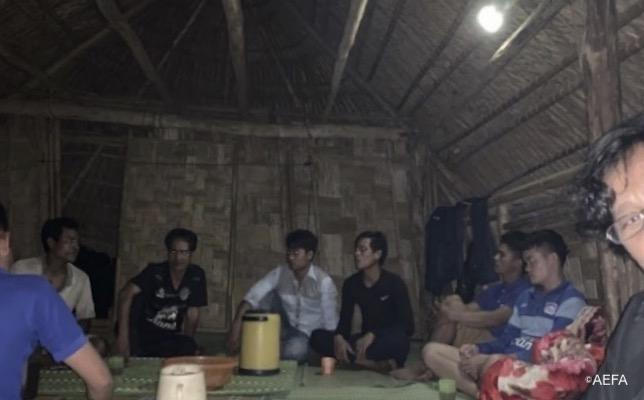 Additionally, we were told that solar lanterns helped out a great deal at clinics and schools during a power failure due to major flooding in Salavan Province in September 2019.
Philippines
In the Philippines, solar lanterns were delivered through the Center for Excellence in Special Education (Stepping Stone) Foundation, Inc. to poor homes in areas without electricity in the provinces of Leyte, Oriental Mindoro, and Northern Samar. Until then, children studied by the light of kerosene lamps at night and on rainy days, but the dim light made it difficult for the children to concentrate, which made them fall behind in terms of academic skills in comparison to other regions.
Since starting to use solar lanterns, the children can study in a bright and safe environment even after dark. Furthermore, they bring their solar lanterns to school and use them in dark classrooms, which helps them concentrate on their class as well. Local educators and guardians look forward to seeing the children's academic skills rise.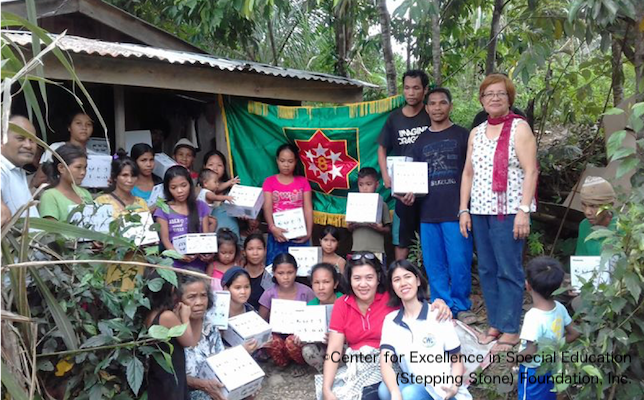 Liberia
Solar lanterns donated in Liberia through the Village Improvement Project were delivered and are being used by teachers, nurses, and midwives in rural areas as well as support centers for orphans who lost their parents to the Ebola virus disease and other reasons.
Donations in Africa: Light for Four Countries with Low Electrification Rates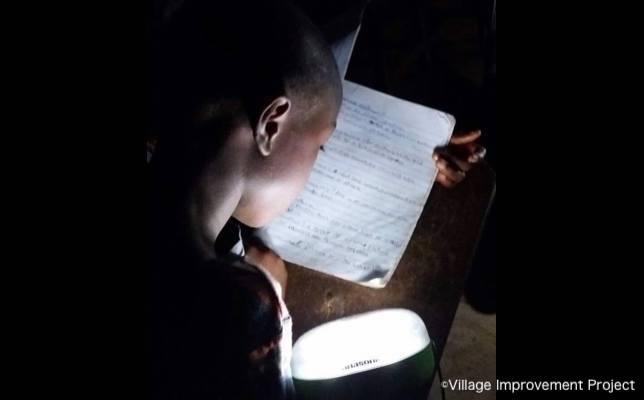 Krubo Davis, the Executive Director of the Tenegar Community Clinic in Bomi County talked about the outstanding benefits of solar lanterns as follows, "We tell traditional midwives in villages to bring mothers in labor to the clinic. Sometimes, the midwife and expecting mother will walk three to four hours in the dark to get to the clinic. Before we had solar lanterns, there was a time when a midwife was bitten by a snake on the path. Now, the lanterns show the way and help them avoid the danger of snakes. We couldn't be more grateful"