Support to Improve Students' Academic Abilities
Implementation of Essay Contest for 50 Schools in the Ayeyarwady Region We want to give children the opportunity to cultivate their minds and to acquire the ability to write on their own. It was from this desire that we started the competition for children to write book reports based on the learning material "If You Could Have a Sunao Mind; What Konosuke Matsushita Wanted to Teach Junior High School Students," which is a book that serves as an entry into the Matsushita Philosophy of Konosuke Matsushita, the founder of Panasonic. Approximately 10,000 copies were translated into the Myanmar language and distributed to around 1,600 locations including junior high and senior high schools in the Ayeyarwady Region. Among those, pieces of writing were collected from around 400 students from 50 Association for Rengein Tanjoji International Cooperation (ARTIC) assist schools and an awards ceremony was held at the ARTIC Human Resources Development Center. (March 2019)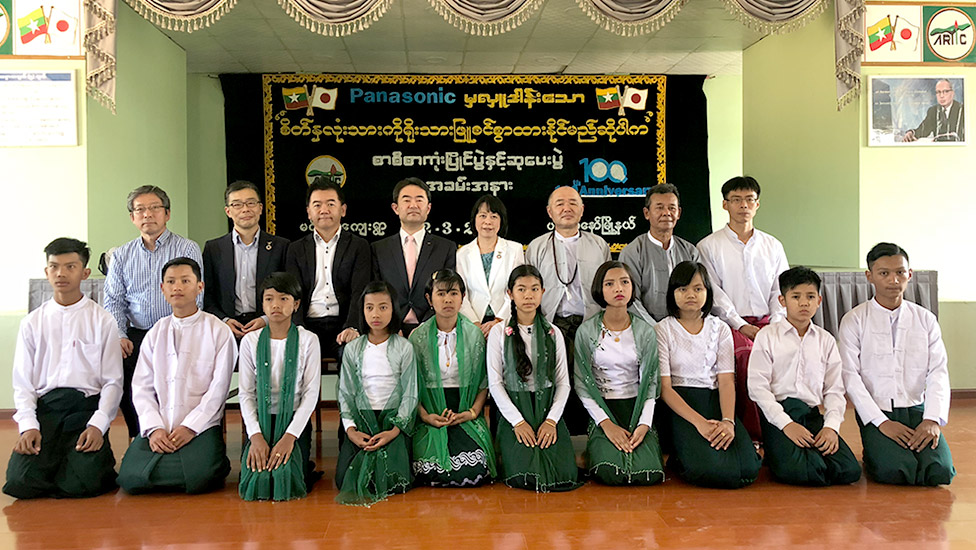 Twelve pieces of writing were chosen as outstanding works and 103 people participated in an awards ceremony, including the winning children and their families and teachers, and the Deputy Director of the Ayeyarwady Region Education Office participated as a guest. Additionally, the learning materials for the contest, "If You Could Have a Sunao Mind" (authored by the PHP Institute) is a book that conveys the habit of mind for realizing success at work and a happy life, which Konosuke Matsushita, who was also a philosopher, spent his life to attain, in an easy-to-understand manner for children.

Mg Htun Win Naing (8th grade), winner of the highest Panasonic Award. "My dream is to become a doctor. I want to open a clinic in a rural area to take care of villagers as well as others living in the outskirts of the area. I believe that I can make my dream come true as long as I study hard with a sunao mind."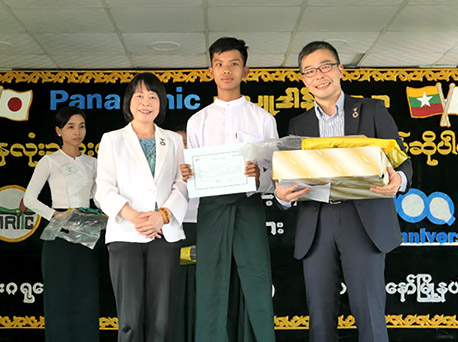 Ma Ei Myat Noe Htet (7th grade), winner of the PHP Award. "I want to make my life happy together with people who have a sunao mind. That's because I think that we can make a happy world if we combine the strengths of people who respect each other."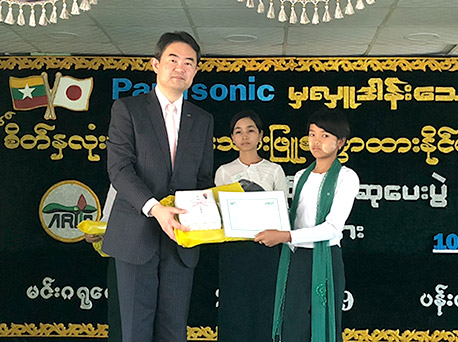 Also, on March 1, which was the day before the awards ceremony for the contest, a lecture in two parts was held by the PHP Institute to introduce Konosuke Matsushita's Management Philosophy to Japanese corporations operating in Myanmar. The first part saw about 50 participants from 33 corporations who are members of the Japan Chamber of Commerce and Industry, Myanmar, and the second part saw 18 participants from small to medium enterprises and consulting firms. There was also an introduction of Panasonic's Off-grid Solutions Project in Myanmar.

Supporting students' academic development
At the school, which started using electricity from the PSS* instead of a diesel generator, students smile and say, "Since the diesel generator isn't making noise, I can focus more on my studies" and "I think my grades will go up." The school saves approximately 160,000 kyat (about 10,000 yen) per month, which was previously spent on fuel for the generator. This will enable them to replace the PSS* batteries after five years. In the future, more evening classes will be offered thanks to the electricity from the PSS* and an essay contest about the life of Konosuke Matsushita will be held. Through these activities, we are aiming to improve students' academic achievements and foster human resources. (July 2018)

Supporting electricity education
At the 10-year school where the PSS* is installed, with the assistance of the Panasonic Asia Pacific Myanmar Branch, the "Eco Learning Program" for learning about environmental problems and electricity was offered to approximately 160 fourth-year and fifth-year students. Many children still depend on kerosene lamps and diesel generators in their daily lives and don't have the opportunity to learn about the eco concept. We want children who started using electricity from the PSS* and solar storage units to acquire knowledge about eco and thereby become builders of an eco-friendly sustainable future. This activity was carried out with this hope in mind. (December 2018)
Local employees at Panasonic Asia Pacific Myanmar Branch gave a 60-minute class for fourth-year and fifth-year students. When the slides were projected with the use of electricity from the PSS*, the children listened attentively to their first ever talk on the eco concept.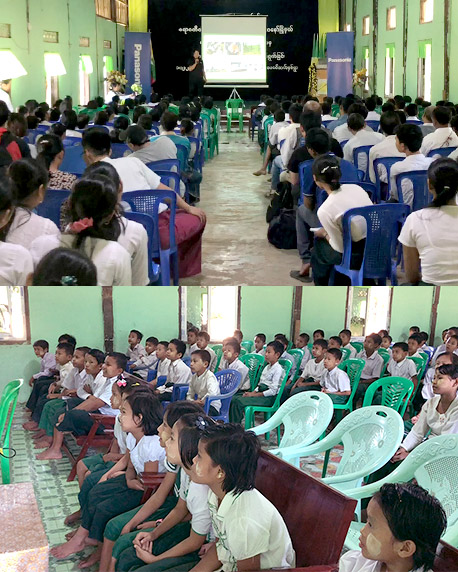 With easy-to-follow slides and videos, children learned about electricity and the eco concept through selected topics, such as the energy resources for electricity, global environmental problems generated by climate change, eco-friendly solar power generation, and smart ways to use electricity.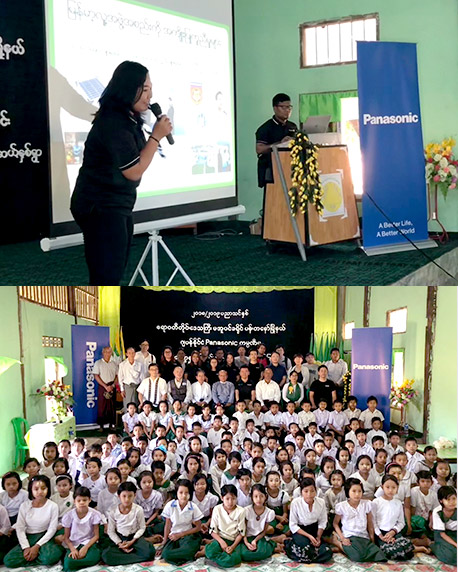 Aiming to enable continuous income generation: leasing solar storage units and selling popsicles
As per an initiative by the Rural Development Committee formed by 25 residents of the Baingbin Senna Village, new activities for leasing solar storage units to households in the village and producing popsicles at the school and selling them to students were started. Proceeds from these activities will be utilized in various ways, such as building up a fund to replace the PSS* batteries, honoring high-achieving students, purchasing study materials and equipment for the school, and promoting library activities. (November 2018)
An activity was started to lease solar storage units to households that wish to use them and generate income from the rental fees. Over the past eight months, approximately 2.8 million kyat (about 200,000 yen) has been collected. In this village of 400 households, we are aiming to create mechanisms to realize continuous income generation by changing the main area of activity every few months.

There is a constant stream of positive feedback from households that rent solar storage units. As a result of not using the diesel generator, people say "Our fuel cost has been reduced" and "We are happy not to hear the loud generator noise all the time." Those who have been living without electricity say "It's great to have light so children can enjoy reading books" and "We can now produce straw mats for sale in the evening." Slowly but steadily, the power of electricity is expanding in the village life.

In November, which marks the beginning of the dry season, an activity was started to make popsicles by using electricity generated by the PSS* and to sell them at the school. This is an ideal project in Myanmar where the consumption of frozen products increases in the very hot dry season. The Rural Development Committee raised funds from local residents and purchased the freezer used for making the popsicles by freezing juice and coffee. Popsicles of three tasty flavors were made, including coffee, strawberry, and melon. The estimated annual revenue is approximately 1.4 million kyat (about 100,000 yen). Further, by creating a balance management table, we are raising awareness about the need for maintenance, management, and status assessment.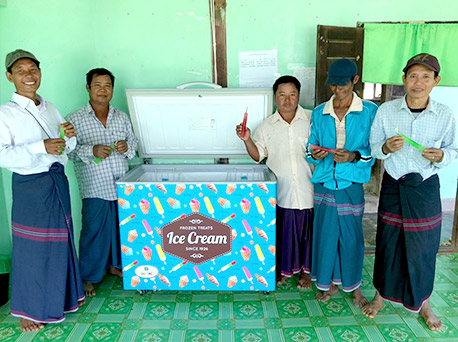 The Rural Development Committee was formed in 2016 in conjunction with the establishment of a school with the support of the Association for Rengein Tanjoji International Corporation (ARTIC). Through the school's construction, the committee has accumulated a variety of experience, such as managing funds raised from residents, acquiring and managing construction materials, and managing funds for making desks and chairs. After the construction was completed, the committee started operating the school dorm. All 25 committee members are working with determination "to realize a better community." They are gaining the deep trust of residents.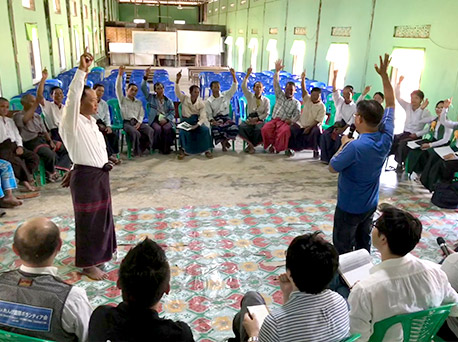 * This Power supply station (Power supply container) was discontinued in March 2019. So currently we cannot supply and donate it. Thank you for your understanding.