Compact Solar Lights Save Lives in Surgery Blackout, Myanmar
2013.11.15 Field Report
In this second report on the September inspection in Myanmar, Akira Hoshi explains how compact solar lights are used during operations carried out by NPO Japan Heart at Wachet Charity Hospital.

Hello, this is Akira Hoshi, reporting from the CSR & Corporate Citizenship Group.
I went on an inspection to Myanmar in September this year to follow-up on Panasonic's donation of a total of 3000 compact solar lights in February. In continuation to the last report (Use in a Temple School), I would like to introduce how they are used by International Medical Volunteers Japan Heart, an NPO partner organization that provides medical support.
The charity hospital managed by a temple
How would you feel if a power cut occurred and the lights went out when you were undergoing surgery? I'm sure you would be very anxious and frightened. In developing countries the electricity supply is still unstable and sudden power cuts occur frequently. Ensuring stable lighting during lifesaving operations is a crucial issue for medical practice in such places.

On this inspection, I visited Wachet Charity Hospital, located in the Sagaing Division in central Myanmar and one of Japan Heart's bases of initiatives in the country. The hospital stands by a river some way out of the town center and is managed by a temple.
Japan Heart uses the first floor to provide medical care. The hospital is also used as a venue for training local doctors in cooperation with The Japan Society for Medical Education.
The patient's ward is divided into large rooms for men and for women, and then one for priests. The priests' room has the best view--just what you'd expect in a Buddhist country!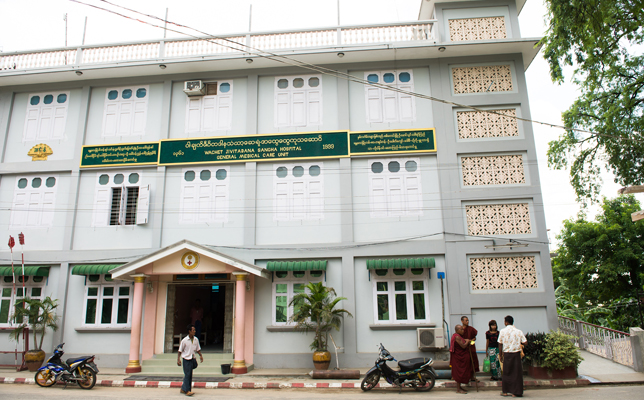 Overflowing with patients
Japan Heart focuses on providing opportunities for medical treatment to people abroad, with the principle "Providing health care to areas where it is currently out of reach, wherever that may be." The president and pediatric surgeon, Dr. Hideto Yoshioka, is a familiar face to many Japanese, having appeared on TV, radio and other forms of media in Japan.
As there is no medical insurance system in Myanmar, the patients must cover 100% of their medical expenses. However, through the J. S. Foundation, a fund established by the musician Shogo Hamada, Japan Heart makes the cost of operations, medical treatment and travel free for children. Japan Heart also accepts adult patients at the cost of 10-20% compared to that paid at nationally operated hospitals.
Medical treatment is expensive in Myanmar, and so word has spread about the Wachet Charity Hospital. As a result, it is always full of patients and their families.
"There are no doctors near my house. I heard about this place from someone who had been treated here before. I travelled six hours by car just to get here," said one patient.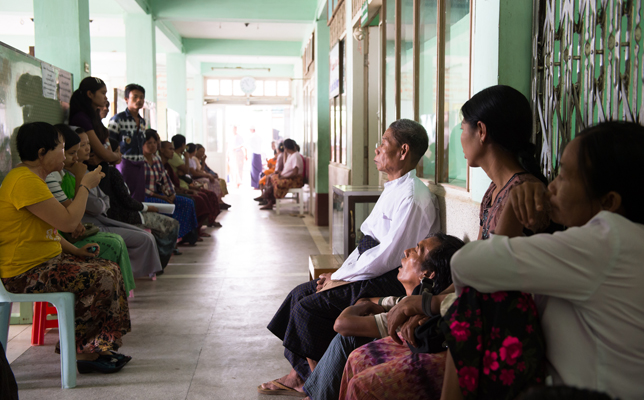 More than a dozen operations per day
Here, new patients first receive a medical examination. If an operation is necessary, they are asked to come back in two or three months while observing their progress carefully. The operations are carried out by Dr. Yoshioka and volunteer doctors from Japan. Dr. Yoshioka comes to the hospital for around a week twice a month and performs the operations in this time. A dozen operations were scheduled for the day of my visit, and all were to be completed on that day.
Similarly, no matter how many people come for a medical examination, Japan Heart's policy is to see all of them on the day and not defer any of them to the following day, in consideration of those who have travelled a long way.
Cleft lips, incisions of thyroid gland swellings, burns, inguinal hernias... Many of the diseases will heal if given the proper treatment or operation.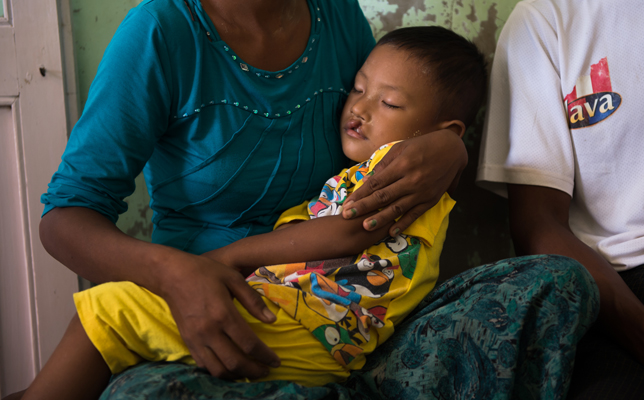 The new system of medical volunteering
There are locals among the Japan Heart staff working at Wachet Charity Hospital, but the majority is made up of short-term volunteer staff in their 20s and 30s who come from Japan.
According to Dr. Yoshioka, there are significant hurdles to participation in international medical projects, because medical organizations require doctors to be very highly skilled as a condition of dispatch overseas. As a result, only a limited number of doctors can engage in medical work abroad. However, Japan Heart has built a system to accept all applicants and facilitate short-term participation, opening the door to young people wishing to participate in international medical support. Now, over 300 doctors, nurses and ordinary volunteers participate in Japan Heart's activities every year.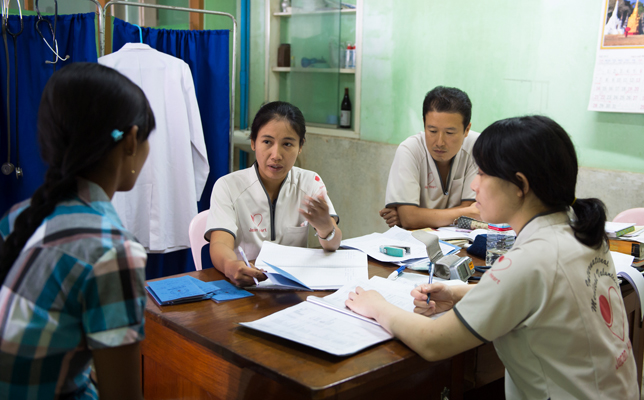 Dr. Yoshioka told us about the characteristics of Japan Heart .
"The local people are happy just to get a medical examination or to undergo surgery. In short, it's important to meet needs. So I think it good to have volunteers do whatever they can at their level. The Japanese people who come to volunteer do what they can and receive the gratitude of the local people in return. They go home with a greater sense of self esteem. Many doctors jump at the chance to volunteer in great numbers, because they get so much out of it."

A power cut during an operation!
At Wachet Charity Hospital, the rooms are quite dark even in the afternoon and lighting is absolutely essential for operations. Also, the large number of patients means that operations always continue into the night. But power cuts are frequent--three occurred in the period of my visit alone.
At around 7 PM, just when I was about to see an operation, a power cut occurred. During a power cut it was completely dark, difficult to imagine for those of us who take electricity for granted.
When a power cut occurs, an emergency power generator goes into operation, but it takes a while to kick in. At this point, the nurses flicked on the compact solar lights and the operation went on without a hitch.
This moment made me realize that the compact solar lights are strongly connected with saving lives in a medical setting.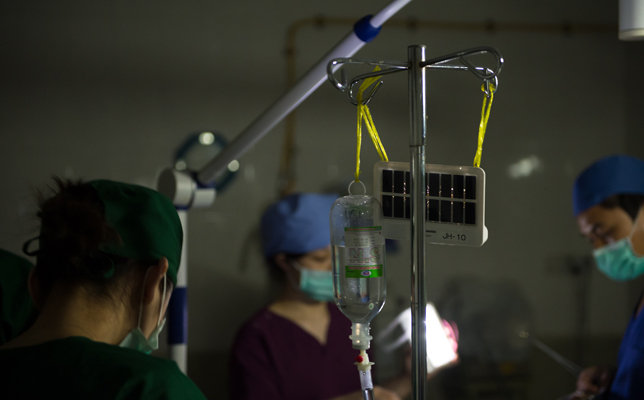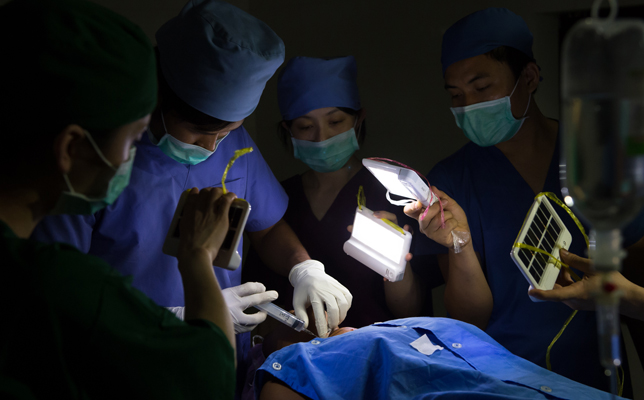 Also helpful in night rounds
The compact solar lights are also used on night rounds by the nurses to illuminate the affected part of the patient.
During the rounds, a nurse tested out one of the new solar lanterns planned for launch this December that I had brought with me. The lanterns have been repeatedly improved to reflect the feedback of the users in the non-electrified areas to which we have donated them so far. As a result, the new solar lanterns give off a notably brighter light, which made the nurse very happy.

Further cooperation in future
In a break between operations, I was able to listen carefully to Dr. Yoshioka. I was deeply impressed by both his strong resolution to help people in need through his medical work overseas, and his executive ability in creating from scratch a new system in which anyone from young medical worker to ordinary people can contribute.

Japan Heart's system is truly wonderful, benefiting both the local people and the volunteers. I hope that we can continue to cooperate in various ways in the future.