The Need for Solar Lanterns in Urban and Rural Communities in India
2014.05.22 Field Report
Our first round of lantern donations to India was in March 2013. Our second round consisted of 4,000 lanterns sent to six recipient organizations, of which four are new to this initiative. The following is a report on what we learned from the people of Orissa State, where one of our recipient NGOs, World Vision India, is based, and some comments on the issues we noticed on a tour of city slums.

Hello, this is Hal of the CSR & Citizenship Group.
Following the donation ceremony on Sumba Island in Indonesia, described separately, I headed to India for a donation ceremony at the LaLiT Hotel in New Delhi on March 18.
4,000 lanterns donated to six NGOs
In India, approximately 500 million people still live without electricity. Access to electricity is particularly low in rural areas, which have an electrification rate of just 55.3%(*1). But even where electricity is available, it is often only for a few hours a day, with power outages and drops in voltage a frequent occurrence.
Last year, we donated 5,000 solar lanterns in cooperation with four recipient organizations. This time, we donated 4,000 solar lanterns to six recipient organizations working in the fields of education and health-care --CARE India, Japan Evangelical Lutheran Church, PLAN India, Society for All Round Development, World Health Partners and World Vision India. The target this time included areas without electricity, like parts of Uttar Pradesh in northern India.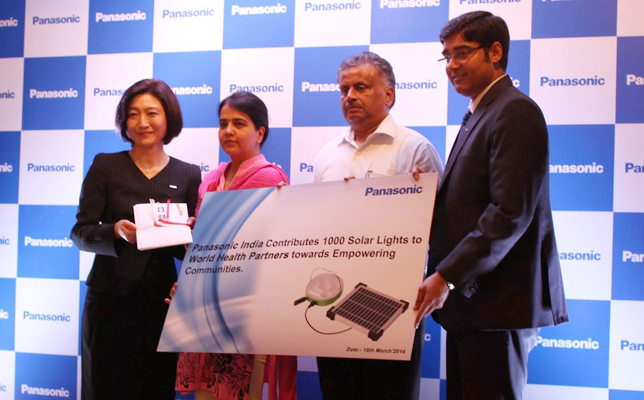 Users tell us how they use the lanterns
Before the ceremony, we had scheduled a tour in Orissa State, where one of our recipient NGOs, World Vision India, is active. World Vision had distributed the solar lanterns prior to the ceremony and we were looking forward to hearing directly from users. But the tour was cancelled due to deteriorating public safety caused by elections. We were advised that it would be best for foreigners to stay away from the area.
But after having come this far, we could not simply go home without speaking with the local people! After some discussion, we connected with World Vision's Orissa office via videoconference system from World Vision India's national office in Chennai, to hear about the status of lantern donations and talk with villagers who were actually using them.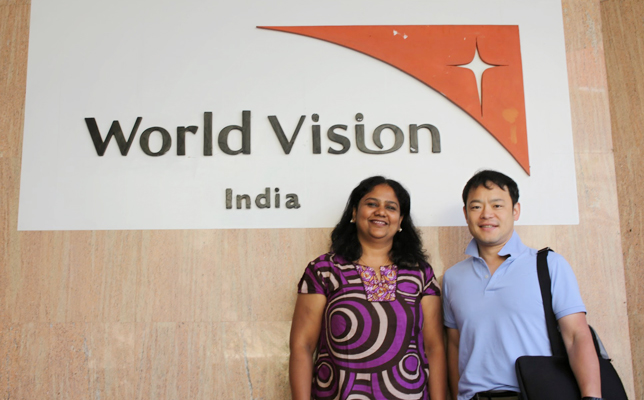 World Vision is a Christian humanitarian organization working to create lasting change in the lives of children, families and communities living in poverty and injustice. World Vision serves all people regardless of religion, caste, race, ethnicity or gender.
According to Mrinal Sengupta from World Vision India who works among these communities, the solar lanterns were donated to 39 villages, with a priority given to low-income households with children and no access to electricity. However, he told us that many more solar lanterns were still needed. We also had the chance to speak via videoconference system with several villagers from Kusibanga and Sitabanga who had gathered at the Orissa office of World Vision India. We were glad to hear their comments on the benefits from receiving the solar lanterns.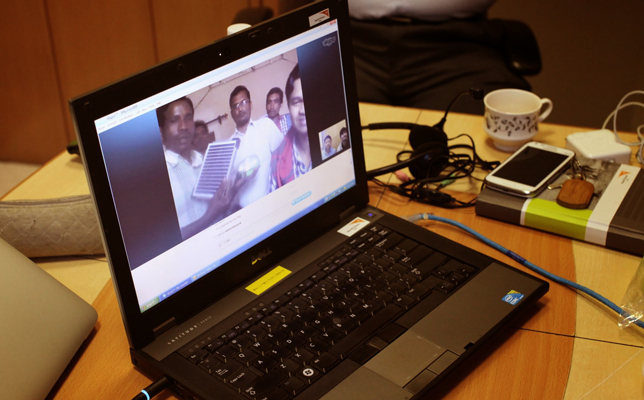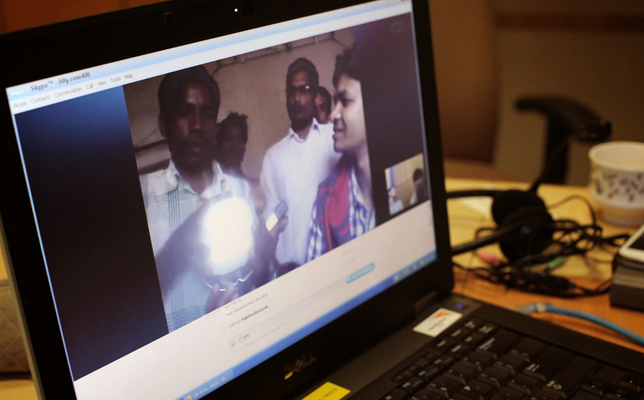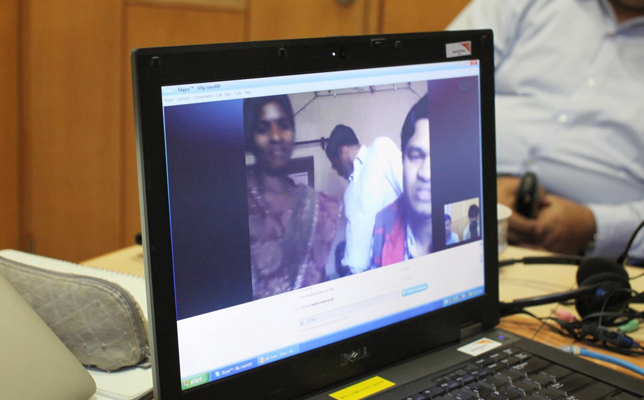 We also learned how the solar lanterns are serving various purposes, like lighting the path to avoid snakes while people walk at night, or to light the room when working at home.
Public safety is expected to improve by July this year, so we'd like to go back to Orissa and report again on what we see and hear.
A visit to often overlooked areas in large cities without electricity
On this trip, we also visited slums in Bangalore, the third largest city in India. Here, people live in shelters covered by tin roofs and plastic sheets. The sight of the slums right next to a large apartment building explained all too well the wide economic disparity.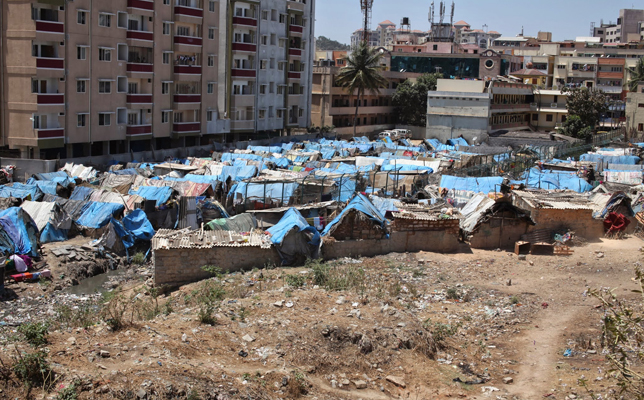 Many residents of these slums have no access to electricity and still use kerosene lamps for light. Smoke from kerosene lamps causes health concerns, but city slums do not receive as much attention as rural areas, so problems facing people in slums like these are often overlooked.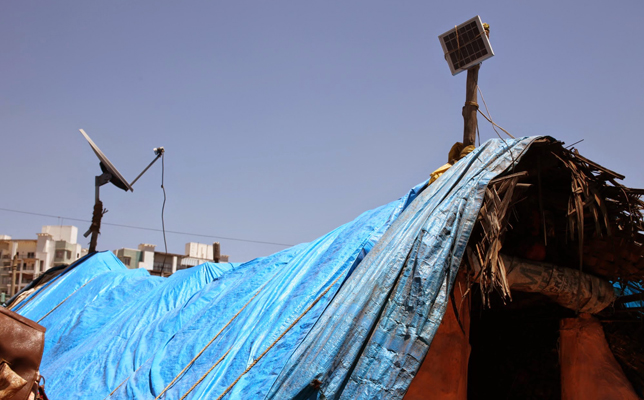 According to a 2013 World Bank report(*2), developing countries have undergone mass urbanization in the past 20 years and the increasing number of people from rural areas ending up in these slums has been a rising concern. Today, 828 million people worldwide live in slums. Of that number, 61% are concentrated in India and other countries of Asia. Meanwhile, the World Bank predicts that 96% of the additional 1.4 billion people in the developing world in 2030 will live in urban areas.
In our ongoing efforts to deliver solar lanterns to the people who need them most, we will travel to places like these, making sure to keep our eyes open so as not to miss issues that are too often overlooked.