[Voice] Message from Donated Lantern Recipients: Life With Dignity
2014.08.15 Voices
We received a report from one of our lantern recipients in Cambodia, Life With Dignity, on how solar lanterns are helping improve lives of vulnerable households in off-grid remote rural areas.
Dear Friends at Panasonic,
Hello, this is Leak Ratna, Communication Coordinator at Life With Dignity (LWD).
It's been six months since we received the solar lanterns. The solar lanterns are being used at facilities like Village Health Support Groups, schools, and community learning centers and they have also been distributed to vulnerable families in rural areas where there is no access to electricity.
Solar lanterns helping on the frontlines of health and education
The solar lanterns were distributed to key organizations and poor families in rural regions.
・Use in Village Health Support Groups
Village Health Support Groups use the solar lanterns during health education classes for villagers and during emergency examinations at night.

・Usage in community learning centers
At community learning centers, the solar lanterns are used during evening reading classes and when teachers prepare for classes.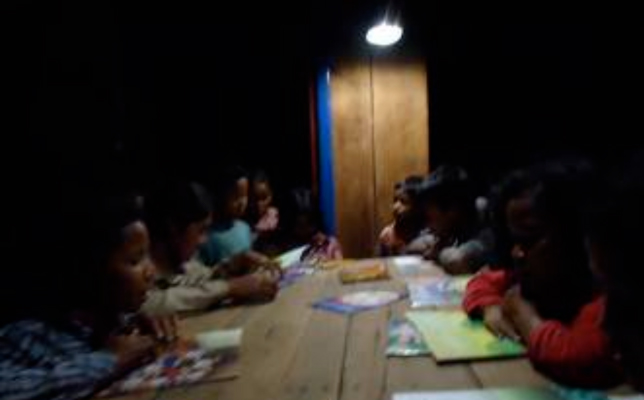 ・Typical usage
After consultation with you at Panasonic, we distributed the solar lanterns to poor families. We set clear guidelines to avoid causing any trouble or disputes in the communities due to the distribution of lanterns. A recipient household should live on land provided by the Royal Government of Cambodia under its Social Land Concession Project, funded by the Japan Social Development Fund/World Bank and implemented by LWD. The target recipients included each family of a single parent with three or more children. We also exchanged memorandums with recipient families about the proper use of the solar lanterns. The instruction leaflet was translated into Khmer and distributed along with the lanterns.
Families typically use the solar lanterns at night, when children do homework, or when the families cook meals or work in the household garden in the dark.
"Bright, convenient solar lanterns. Thank you for the wonderful gift."
At the home of Iem Sokhorn, one of the recipient households, the solar lantern is used while the children study, during the family dinner, when going to and from the outdoor toilet, when preparing breakfast in the early morning before dawn, and at many other times.
The Iem family moved from Chuonh Chit village of Chhean Laeung commune in Kampong Chhnang Province in January 2013 to Kiri Akphivath village, a new village established under the SLC project. - The family's three daughters were unable to attend school for some time after the move but resumed this past January. They are thrilled that they can now study more, thanks to the light of the solar lantern.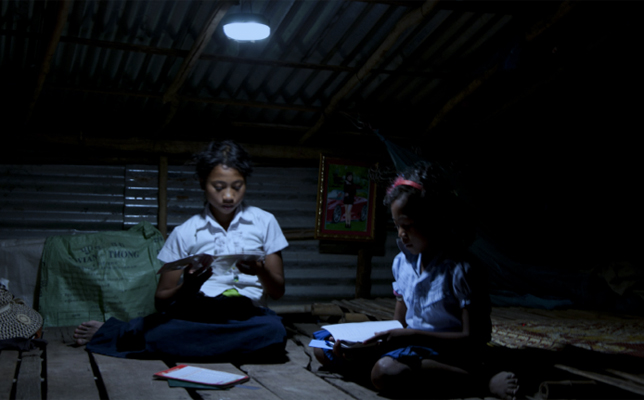 In the past, a lamp strapped to Mr. Iem's head still didn't provide enough light. It also required three large batteries, costing him as much as 800 riel (about 20 US cents) every two weeks. This meant that they could not use the light for long and the children's study time was limited to only 30 minutes per night.
Now however, he can charge the solar lantern during the day and use the light every night from 6 to 8 p.m. Their eldest daughter, Im Channa, can now study with her younger sisters an hour longer every night.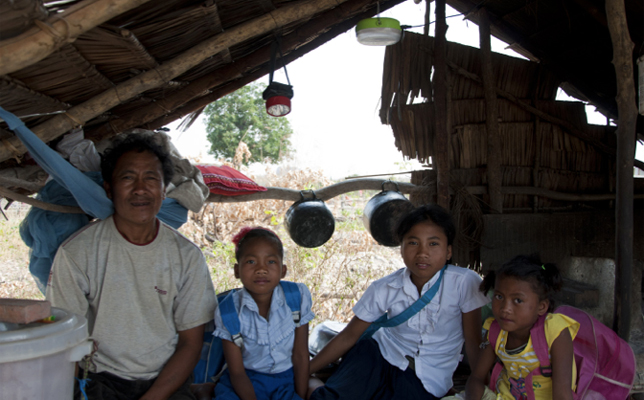 "The solar lantern is bright. If we sit under it, we can read, write, and concentrate on our studies." (Im Channa, second from right)
"The solar lantern is very convenient. I am deeply grateful to Panasonic and LWD for this precious gift." (Mr. Iem, far left)

Lower fuel cost, less burden on home finances
Four months after making the donation, we interviewed 59 people about their use of the solar lanterns. We learned that their households have reduced the cost of battery charging and kerosene, saving about 8,000 to 45,000 riel (about 2 to 11 US dollars) per month. Also, without the use of kerosene lamps, the indoor environment has improved, leading to better health conditions.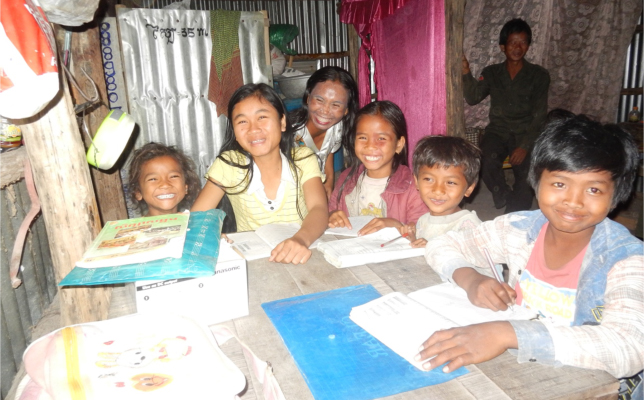 The recipients are very satisfied with the solar lanterns due to their ease of use. Some said they are even thinking of purchasing one themselves if the price is affordable.
LWD will continue conducting periodic reviews on how the solar lanterns are benefiting the lives of the people and how they are being used.