Solar Lanterns Donated to 24 Organizations in Cambodia and Myanmar
2014.12.26 Field Report
In November 2014, we donated more than 2,500 solar lanterns to 16 organizations in Cambodia and more than 2,000 to eight organizations in Myanmar. The total donated so far reach more than 8,500 and 7,060, respectively.

Seven new donation recipients in Cambodia
Hello, this is Akira Hoshi of the CSR & Citizenship Group.
As the first country of donation in FY2014, we visited Cambodia from November 12 to 15 and donated solar lanterns to 16 organizations. Of them, seven organizations were new recipients.
One of the new recipients, Asia School Attendance Partnership (ASAP), has built five elementary and middle schools in Siem Reap province to date and provides support for school operations. Besides being used in classrooms in villages that still have no electricity, the solar lanterns will also be used by teachers to prepare materials for class, and distributed to poor households to support their economic independence.
Cambodia Learning Aid for Children (C-LAC) is an organization jointly formed by a human resources consulting company and first-class registered architects from Japan, plus bureaus of education in Kratie province and local districts, as well as Japan Overseas Cooperation Volunteers in Kratie. The solar lanterns are planned to be used at the La_ak Primary School, which was built this September by C-LAC in a village in Kratie that is still off the electrical grid.
In their effort to improve basic education, promote community development, and eradicate the educational gap between cities and rural areas of Cambodia, Education Support Center "KIZUNA" has provided support to teacher training while also supporting education for middle school students through English education by radio. The solar lanterns will be lent to teachers who work in provinces far from the capital city, Phnom Penh, in villages that are still off the grid.
World Assistance for Cambodia/Japan Relief for Cambodia, which provides support in education, health and hygiene, rural development, and technology, has built approximately 550 schools across all 23 provinces of Cambodia and the solar lanterns will be used particularly at schools located in areas without electricity.

The Ieng Foundation (IF), founded by Mr. Ieng Sotheara who is a Cambodian entrepreneur , plans to use the solar lanterns at elementary schools in Preah Sihanouk province and Prey Veng province. Shanti Volunteer Association (SVA) builds schools in areas that have limited access to education, establishes libraries, and trains librarians. They will use the solar lanterns at their community learning centers (CLC) built in off-grid villages in Kampong Thom province and Siem Reap province as a part of Japan's official development assistance (ODA) efforts.

My Happy Village Cambodia (MHVC) is an NGO that offers English education at Prasat Primary School in a village without electricity in Siem Reap province. In addition to classrooms and school libraries, the solar lanterns will be used at a house where volunteer teachers stay.

Donation ceremony in Myanmar
After leaving Cambodia, we traveled to Myanmar for the solar lantern donation ceremony on November 18, held as a part of the Panasonic Solutions Expo 2014 press conference at the Sule Shangri-La Yangon Hotel. At this ceremony, four out of the eight donation recipients were new organizations. The year 2014 also marked the 60th anniversary of the establishment of diplomatic relations between Myanmar and Japan, and this donation was endorsed by the Embassy of Japan in Myanmar as a commemorative project for that.
Save the Children Japan, a new recipient, will lend solar lanterns to midwives working in areas with limited or no access to electricity located in the states of Kachin and Karen as well as in four regions including Sagaing region. Peace Winds Japan (PWJ) will distribute solar lanterns for free to development committees in villages without electricity in Karen. The committee then will rent out the lanterns to individual households. Revenues are used to fund activities such as flood prevention in the community.
Association for Rengein Tanjoji International Cooperation, which builds elementary schools in the Ayeyarwady region, distributes the solar lanterns to users in five non-electrified villages, and users pay a monthly fee. The "power bill" they pay is saved as a fund for future development projects in the villages. Birumero no Kai, which runs nine private schools in the Yangon region, plans to use the solar lanterns in the field of education including the usage at elementary and middle schools in off-grid villages.
Growing disparities between regions
On the outskirts of Yangon City, we revisited the Dream Train for the first time in two years. This is a child nurturing facility operated by Japan Heart. Much to our surprise, new high-rise buildings had been constructed around the facility.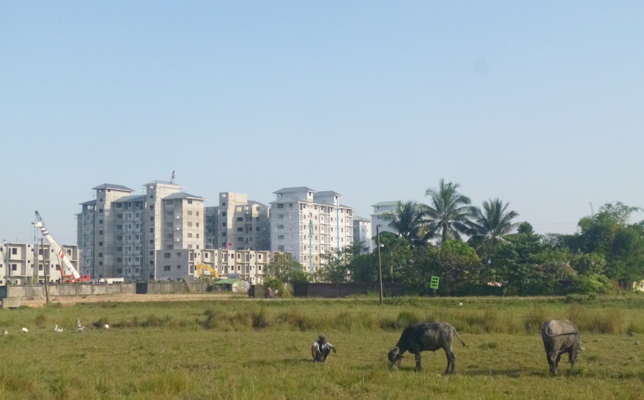 This scene was symbolic of a rapidly-changing Yangon today. However, the further away we went from the center of Yangon region, the worse the status of the electrical grid, and some villages still have no electricity at all. In other regions and states, there are even more areas still without electricity.
Both Myanmar and Cambodia have been achieving remarkable economic growth in recent years. Yangon and Phnom Penh are bustling with activity, but in contrast to these urban areas, we got the impression that rural areas are being left behind. In both countries, the rural electrification rate is still only 18%. People still live with inconveniences because they have no access to electricity, particularly in rural villages. We strongly sensed that the gap is widening between cities and rural villages. This helped renew our vow to continue careful research and investigation to ensure that solar lanterns are delivered to those who really need them.