[Voice] Supporting education and medical care in Myanmar: Birumero no Kai
2015.05.29 Voices
Solar lanterns are changing lives in Myanmar. Here is a recent report from Myanmar-based Birumero no Kai, an organization that provides local support in education and medical care.
This is Eiichiro Hirose, representative of Birumero no Kai. The solar lanterns donated by Panasonic traveled approximately four hours by car and boat from Myanmar's former capital of Yangon, to schools and clinics in the off-grid village of Hta Nee Bet, as well as our classrooms in Yangon. The lanterns are used effectively in both locations. Here, we introduce the words of thanks received from users.
Solar lanterns lighting up villager's lives and hearts
The sole elementary-junior high school in Hta Nee Bet village is attended by approximately 220 students. The school's teacher, Mr. Khin Maung Gyi, uses the solar lanterns during evening classes and at home to prepare for the next day's class and catching up on personal studies. He's happy with the lanterns, and told me, "Until now, I used candles and kerosene lamps but the solar lanterns have made it so much easier to read. Not only are they environmentally friendly but they have also helped cut back on fuel costs, and the long lasting battery power is so helpful."

Solar lanterns are also used at the village clinic. Since there is no doctor dispatched to the clinic, the midwife examines all kinds of patients. Until now, those in the clinic had to work in pitch black at night but they say that the solar lanterns provide a bright light, which enables them to examine people and assist births without having to worry about losing the light of the candles. Every person in the village says, "Very happy!" and it seems that solar lanterns are brightening up their hearts too.
Brighter and longer light
Though electricity is available in the Yangon classrooms offering free tutoring classes provided through Birumero no Kai, blackouts are still common. Until now, the classrooms used conventional electric lanterns and candles once it got dark. However, these lanterns broke easily and every time it did, staff had to go buy new ones at electronics shops in central Yangon. When purchasing lanterns, price negotiation is a must and since defects are frequent, they had to check the product carefully, making the process a somewhat of a hassle.
Talking about candles, teacher Ms. Bahu Thonedari said, "Since there are many students, we could not buy candles for every one of them. On top of that, candles only lasted halfway into class, which left us no other choice but to cut class short every time when there was a power blackout. Also, when children were being naughty or careless, the text books or children's hair would catch fire from the candle, or they would burn their hands, or fight over the light."
However, these problems have been resolved with the introduction of the solar lanterns, and the classes can now proceed in more smoothly.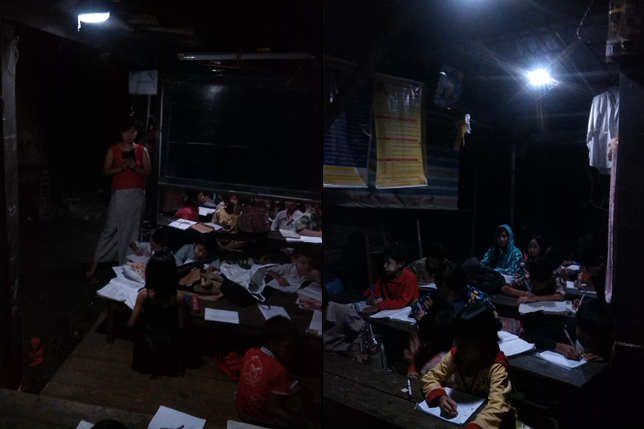 The donated solar lanterns are much brighter and last longer than conventional lanterns and candles, and these safety and economical features make them even more appealing.
We thank you for sending this light of kind compassion together with the light of the solar lanterns. We will continue to use these lights with a spirit of gratitude.