[Voice] Association for Rengein Tanjoji International Cooperation
2015.06.30 Voices
We received a report on solar lantern use from the Association for Rengein Tanjoji International Cooperation, which builds schools and supports education in Myanmar.
Hello. This is Nobuyuki Hirano, Project Director of the Yangon Office of Association for Rengein Tanjoji International Cooperation (ARTIC). The solar lanterns donated by Panasonic are being used in five off-grid villages in the Ayeyarwady region of southwest Myanmar.
Villagers bestowed with light in the night
The Ayeyarwady region, which lies about three hours west by car from Myanmar's former capital Yangon, is located in the expansive delta region of the great Ayeyarwady River of Southeast Asia. The region is the largest producer of rice in the country.
Many of the villagers who recently received the solar lanterns live by farming in a rich natural environment. Being villages in areas without electricity, once dark, they had to depend on the light of candles and batteries, which led to limitations in the things they could do at night.
The villagers seemed to have been looking forward to the donations very much and at the ceremonies held in each village, they received the solar lanterns with great joy.

When we visited each village several months later to see how the lanterns were being used, we heard many uplifting comments: "Nights are now bright thanks to the lanterns." "They're helpful when the kids study at night." "I can now spend more time with my family." "We no longer have to spend money on candles." The solar lanterns can also be used to charge mobile phones, and the villagers have also raved about how easy this function is to use, since the indicator lamp turns off once the battery is fully charged.

Electricity fees are collected to raise funds for village development
Not only do solar lanterns provide light to villages during the night but they have also led to infrastructure development. Money collected in place of electricity bills from solar lantern users have helped build a fund for developing roads and learning facilities.
For example, in Sar Kyat village of Ma-ubin District, each household pays 3,000 kyat (approximately 2.7 USD) into the electricity fund per month. This money was applied to build a paved path for motorcycles. Villagers are cooperating in the expansion of the roads by moving their hedges back 60 centimeters. By May, they finished building a path 1,161 feet (about 350 meters) long, and the current plan is to expand it to 2,500 feet (about 760 meters) by November.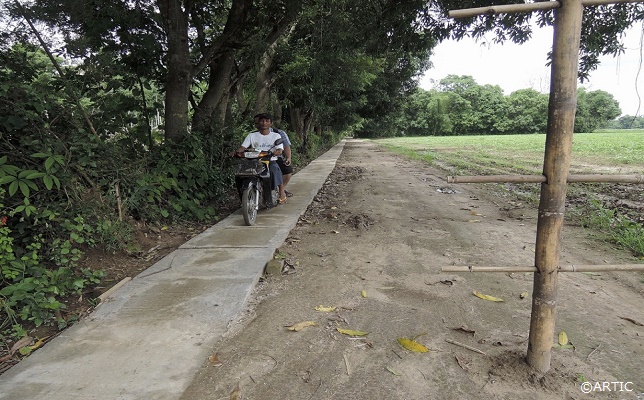 There are also plans to build a medical clinic in Lat Pan Su Anauk village of Hinthada District, school gates in Shwe Pyi Su village, roads in Ngat Pyaw Taw village, and school fences in Kyein Kyone village.
The light of solar lanterns has not only brought light to villages but has also become a driving force in encouraging villagers to be the positive change agents in their own lives.