[Voice] Solar Lanterns in Mountain Villages on Mindanao Island, Philippines
2015.08.03 Voices
The following is a report received from Synergeia Foundation, an organization that supports education among children in the Philippines. Solar lanterns installed at community learning centers are lighting up the children's future in areas that have no electricity, deep in the mountains of western Mindanao Island.
Dear Friends at Panasonic,
Hello, This is Florendo L. Guevara of Synergeia Foundation. Synergeia works together with local governments, communities, schools, and parents to give more children in the Philippines access to basic education. Today, through our activities, we touched the lives of more than 1.5 million children.
Recently, the solar lanterns were donated to the municipalities of Balindong and Piagapo of the Autonomous Region of Muslim Mindanao (ARMM.) In addition to there being no electricity supplied to these municipalities, both are far behind in terms of education.The percentage of children that finish basic school (six years) is low. We work together with each of the municipalities in our effort to improve the educational environment for these children.
Living conditions made more difficult by lack of sufficient lighting
Until now, during evening classes, the learning centers in the two municipalities used kerosene lamps, candles, and traditional "sulo" bamboo torches. Rechargeable electric lights were also used to lessen the risk of fire but this proved inconvenient since people had to travel to a village 15 kilometers away just to recharge the batteries, only to find out many times that there was a power outage at the destination. Hence, solar lanterns were indeed the ideal source of light and something they couldn't wait to see.
Setting up solar lanterns together with the mayor
We traveled together with Mayor Raysalam Mangondato to deliver the solar lanterns first to Balindong. We hiked three kilometers in the mountains until we arrived at barangays (villages) Dado and Bualan. The mayor, a former educator herself, has been a passionate advocate of better education standards in her municipality.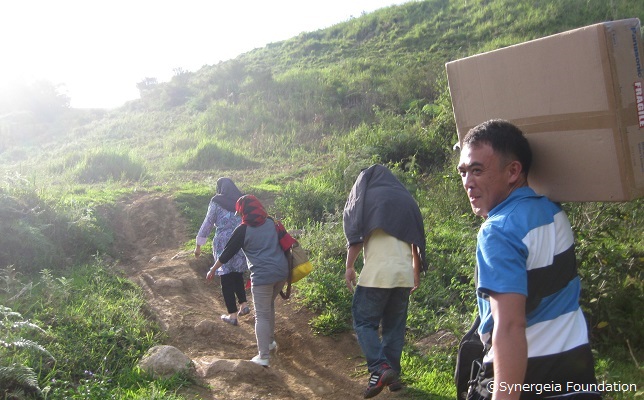 Children overjoyed when the lights went on
"Wow! It's like magic!" After the mayor personally explained the purpose of the donation and how to use the lanterns, the solar lanterns were installed on the ceilings of the learning center. The children were overjoyed by the light of the solar lanterns; something they'd never seen before. The mayor happily commented, "It was very rewarding when I saw the children's happiness after the solar lanterns were turned on." She extended her sincerest gratitude to Panasonic and Synergeia for their support.

In addition to thanking Panasonic for providing the solar lanterns that will light the way for the children's future, I am very honored by this opportunity to participate in the "100 Thousand Solar Lanterns Project" celebrating the company's hundredth anniversary. Many people in mountain villages of the Philippines are still in need of solar lanterns. Going forward, I hope to expand this circle of support that delivers light.