[Voice] Lanterns help schools, health centers, and even people taking refuge: PBSP
2015.12.04 Voices
Philippine Business for Social Progress promotes poverty eradication and community development. Joined by more than 267 domestic member companies, PBSP's active collaboration with overseas NGOs, governments and businesses led to the recent donation of the solar lanterns reported here.
Hello, everyone at Panasonic. I am Garibalde Alvin Enriquez, Regional Manager for PBSP. The solar lanterns donated by Panasonic are being put to good use on the island of Mindanao in areas without electricity of the Autonomous Region of Muslim Mindanao (ARMM) and the island's westernmost city of Zamboanga. Solar lanterns were delivered to four health centers and 41 schools, to the benefit of over 8,000 students and 1,300 health center personnel and patients.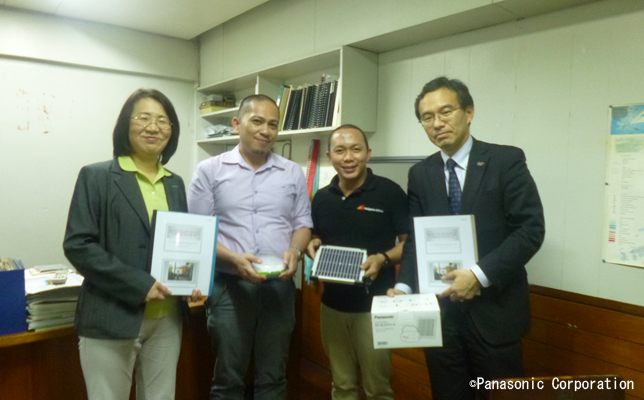 On local government request, lanterns lent to people taking refuge
When solar lanterns were delivered in April 2015 to health centers in the town of Wao (ARMM region on Mindanao), the original plan was for health workers to use them when working at night. However, a shooting incident in relation to local elections at the end of April forced many people to flee from their homes and take refuge in areas without electricity. In response to these circumstances, the local government asked if the solar lanterns could be lent to those people and we agreed. Particularly for children and expectant mothers living under such stressful conditions, the light of the solar lanterns provided a big sense of security. When the situation stabilized in late June and the people were able to return to their homes, the solar lanterns came back. The lanterns are now being used according to the original plan--by health workers during the medical services at night. The response from the centers has been positive and they say the lanterns help them provide medical care with confidence, even at night.
Magsukol (Thank you)! Panasonic!
Solar lanterns were delivered to the schools in September--after the summer vacation, to reduce the chances of theft. Solar lanterns were delivered to five schools in Tawi-Tawi (a province in ARMM), and with the cooperation of the ARMM Department of Education and the local Lumad Development Center, to 33 schools in Cotabato City (southern part of Mindanao) where indigenous people live without electricity. We received an encouraging response from the Assistant Secretary of the ARMM Department of Education, who told us, "It has become easier to conduct classes now thanks to having enough light shining in classrooms."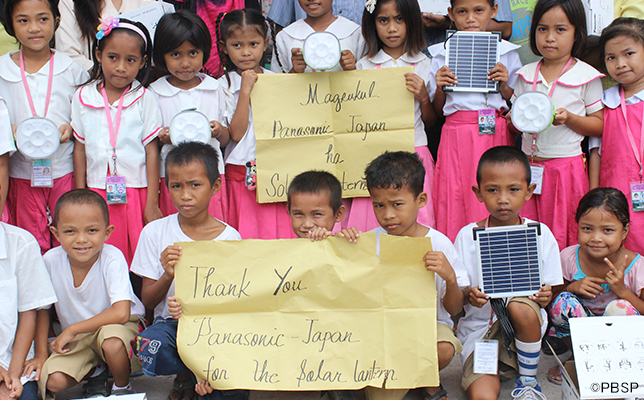 In Zamboanga City, 44 lanterns were delivered to three schools on isolated islands. At one of those schools, Sibuktok Elementary School, teachers and students get to school every day by boat from nearby islands. Having no electricity on the island, on cloudy days and around sundown, the classrooms become very dark, making it difficult to study. With solar lanterns, students can continue with their studies, which has helped boost their motivation.

Thanks to the solar lanterns, many people are now able to receive health care and education with peace of mind, for which they are very grateful. Going forward, with cooperation from health centers and school personnel as well as PTA members, we will continue to monitor the use of the solar lanterns and make the most of them.