Philippines: 2,400 More Lanterns Donated to Improve Quality of Life
2016.03.31 Field Report
Our previous donation of solar lanterns in the Philippines was in February a year ago, and they are being used in educational and medical fields to help solve social issues. In February 2016, 2,400 more solar lanterns were donated to 15 organizations.
Hello, this is project leader Akira Hoshi.
Prior to the most recent donation, Panasonic had made four sets of donations, including 1,002 solar lanterns donated in December 2013 to the Department of Social Welfare and Development (DSWD) of the Philippines government to assist disaster relief efforts following Typhoon Yolanda (also known as Typhoon Haiyan). Also 2,376 solar lanterns were donated in February 2015 to 18 organizations active in education and healthcare. Thus, including two other donations, as of December 2015, the number of solar lanterns donated to the Philippines totaled 3,414.
Solar lanterns help safe infant deliveries at night
One of our previous recipients, the Zuellig Family Foundation (ZFF), trains local health leaders to improve access to health services, especially in rural and poor communities, and it has distributed solar lanterns to hospitals and clinics in four provinces that are home to a total population of approximately 660,000.
On Sibutu, an island municipality of about 30,000 people located in the Tawi-Tawi Province in the southwestern Philippines, electricity is available only between 4 p.m. and midnight. Its rural health clinic has no generator, and faces multiple challenges in the dark of the night. From our first donation of solar lanterns in February 2015 until December of the same year, 323 babies were born safely, at all hours of day and night.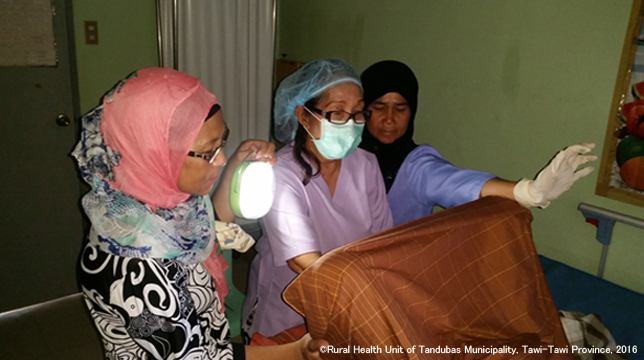 Two solar lanterns were distributed to the Datu Alawaddin Bandon Memorial Hospital on Sibutu island. The hospital has 10 beds and about seven in-patients on daily average. The solar lanterns are mostly used in the emergency room and pharmacy, but they are also used in hospital rooms when the generator is out of order.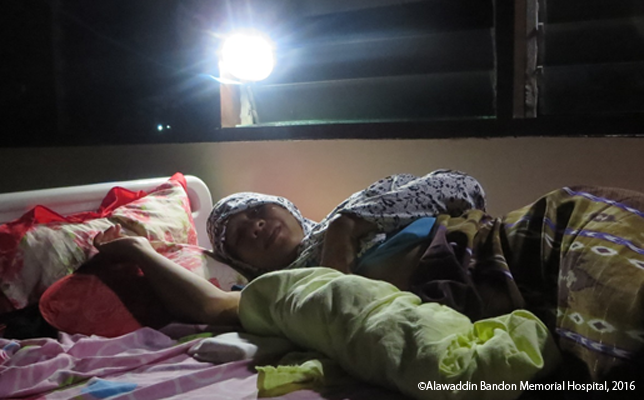 Excitement at donation ceremony as some new recipient organizations have joined
On February 23, 2016, a donation ceremony was held at the office of Panasonic Manufacturing Philippines Corporations to mark the donation of 2,400 more solar lanterns. Five of the 15 organizations were new recipients.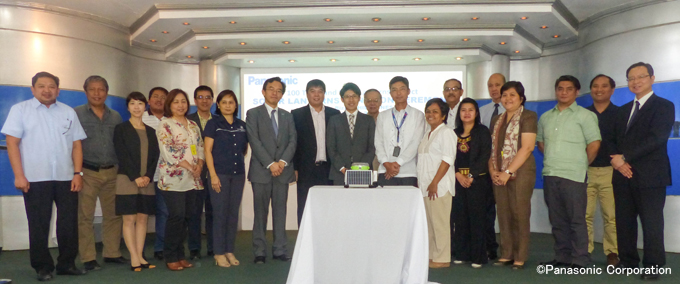 15 Recipient Organizations for fiscal 2015 (In alphabetical order)
・Center for Excellence in Special Education (Stepping Stone) Foundation Inc.
・Conrado and Ladislawa Alcantara Foundation Inc.
・Davao Medical School Foundation, Inc. - Institute of Primary Health Care
・Health and Dev't for All Foundation, Inc.
・Integrative Medicine for Alternative Health Care Systems (INAM) Philippines, Inc.
・Interfaith Partnership for the Promotion of Responsible Parenthood, Inc.
・Jesus V. Del Rosario Foundation, Inc.
・Josefa Segovia Foundation, Inc.
・Konkokyo Peace Activity Center Information Office, Inc.
・ Mangyan Mission, Inc.
・ Pambansang Kilusan ng mga Samahang Magsasaka
・ Pamulaan Center for Indigenous Peoples Education
・ Philippine Business for Social Progress
・ Pilipinas Shell Foundation, Inc.
・ Synergeia Foundation, Inc.
New recipients included organizations dedicated to education for children with special needs, education for indigenous people, supporting self-reliance among small-scale farmers and fishers, and other community-rooted actions. We are honored to have this opportunity to deliver light to those we were not able to reach until now.
The recent donation has brought the total number of solar lanterns donated in the Philippines to 5,814.
Helping to address disparities
According to national numbers, the Philippines is enjoying steady economic growth. However, in reality, growth continues mainly for people in the middle class and above, who are living in urban areas, while many living in the mountains and on islands still live poorly and without electricity. According to the latest data by the International Energy Agency*1, of the more than 100 million people in the country, 21 million still have no access to electricity. We can see that this is especially the case among indigenous people in mountainous areas and remote islands. We will continue to support these people through the light of solar lanterns and contribute to their betterment, by helping bring adequate education and health services to those living in areas in the Philippines without electricity.
Source: IEA, World Energy Outlook 2015