Myanmar: Precious Light Supports Children's Education in Off-grid Villages
2017.06.05 Voices
Meikswe Myanmar is an organization that provides support in the area of health, education, development, and emergency relief in Myanmar. Recently, we received their report informing us how solar lanterns are now a dependable friend for students and teachers at senior and junior high schools.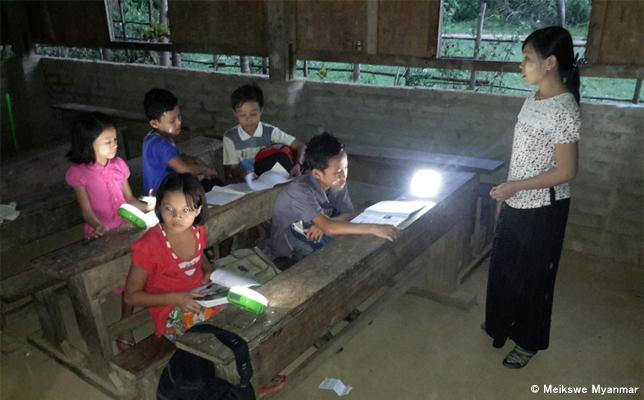 No more limits to studying for high school students in off-grid villages
Hello, this is Naw Bway Khu of Meikswe Myanmar.
The solar lanterns donated in January 2016 have been distributed to three schools in off-grid villages where the need for light is particularly high.
The first school is OhnChaung Attach High School in an off-grid village in the Ayeyarwady Region. This school is attended by students from five villages.
When exam season draws near, the school opens its doors to students at night so that they can study. Prior to the arrival of solar lanterns, the school would collect money from parents and turn on lights using a generator from 6 to 10 p.m. and light candles for the remainder of the time. Now with the solar lanterns, the children can study as much as they like and parents are also happy that they no longer need to pay for lights.
Solar lanterns used by students on an off-grid island that is home to ethnic groups
The second location of distribution was Kamarchaung Post Primary School on Moken Island in the Tanintharyi Region. This island is located eight hours by boat from the nearest town. The Karen tribe is the majority ethnic group living on this off-grid island. The people here live poor lives since fishing is the only way for them to earn cash income.
Here on this island, candles and kerosene lamps were the only source of light. Children's study time at night was limited to three hours in order to save fuel cost. Since solar lanterns do not require fuel, students can now turn the light on and study without worrying about the time.
NawHnin Yu Mon told us, "I have five siblings and both parents work as gardeners. There is no electricity in the village so we used candles until now. But with candles, I could not read the words clearly at times, which made it difficult for me to concentrate. Now, it's great because we can charge and use the solar lanterns on our own. This time of year, we have to study hard for the government exams and the solar lanterns are such a great help. Thank you so much, Panasonic."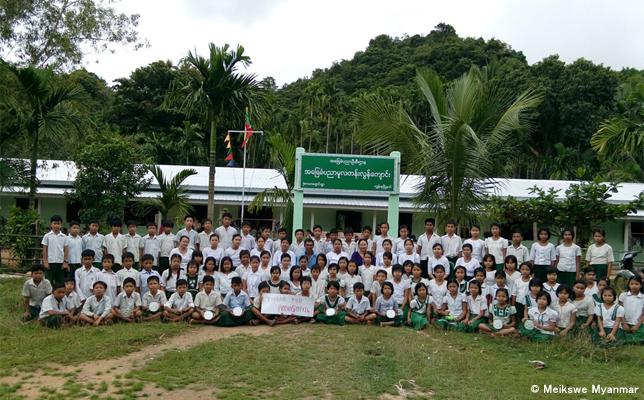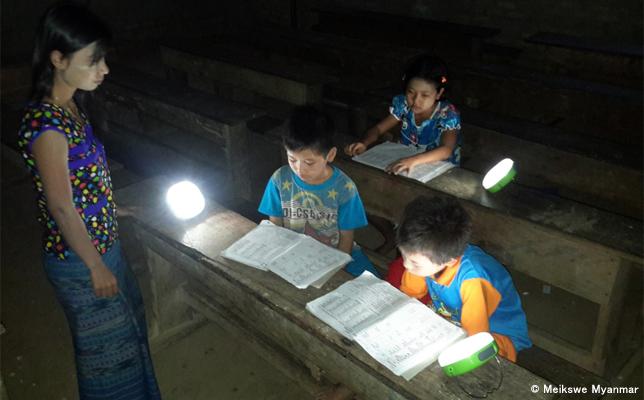 A precious light that supports children's studies
We also delivered solar lanterns to the Yodayote Border boarding school in Rakhine State. This school accepts children from the Mro ethnic group. Twelve children from seven villages gather here to live and study together. The opportunity to study to their heart's content under the light is an invaluable gift for these children who are poor but have a strong desire to learn.
The solar lanterns distributed to these three schools are a crucial study support for children living in areas without electricity. We would like to continue using them with great care. Thank you, from the bottom of our hearts.