Developers Talk: Meeting People's Needs with the New Solar Lantern
2013.12.11 News
The new solar lantern realizes brightness, user-focused functions, downsizing and cost reduction to respond local needs. Development team talks on its features.

Panasonic's solar lantern continues to evolve in direct response to local needs, ensuring it truly helps people in regions without electricity enjoy better lives.
In October 2013, a new and enhanced model was announced, incorporating feedback received from the local people. This new model will be used in donations made through the 100 Thousand Solar Lanterns Project hereafter.
The people involved in the development speak on the features of the new solar lantern.
---
【Improvements in the new solar lantern】
A brightness of 100lx--sufficient to illuminate a room widely
Additional user-focused functions such as mobile phone charger function
Compact size and reduced cost keeping durability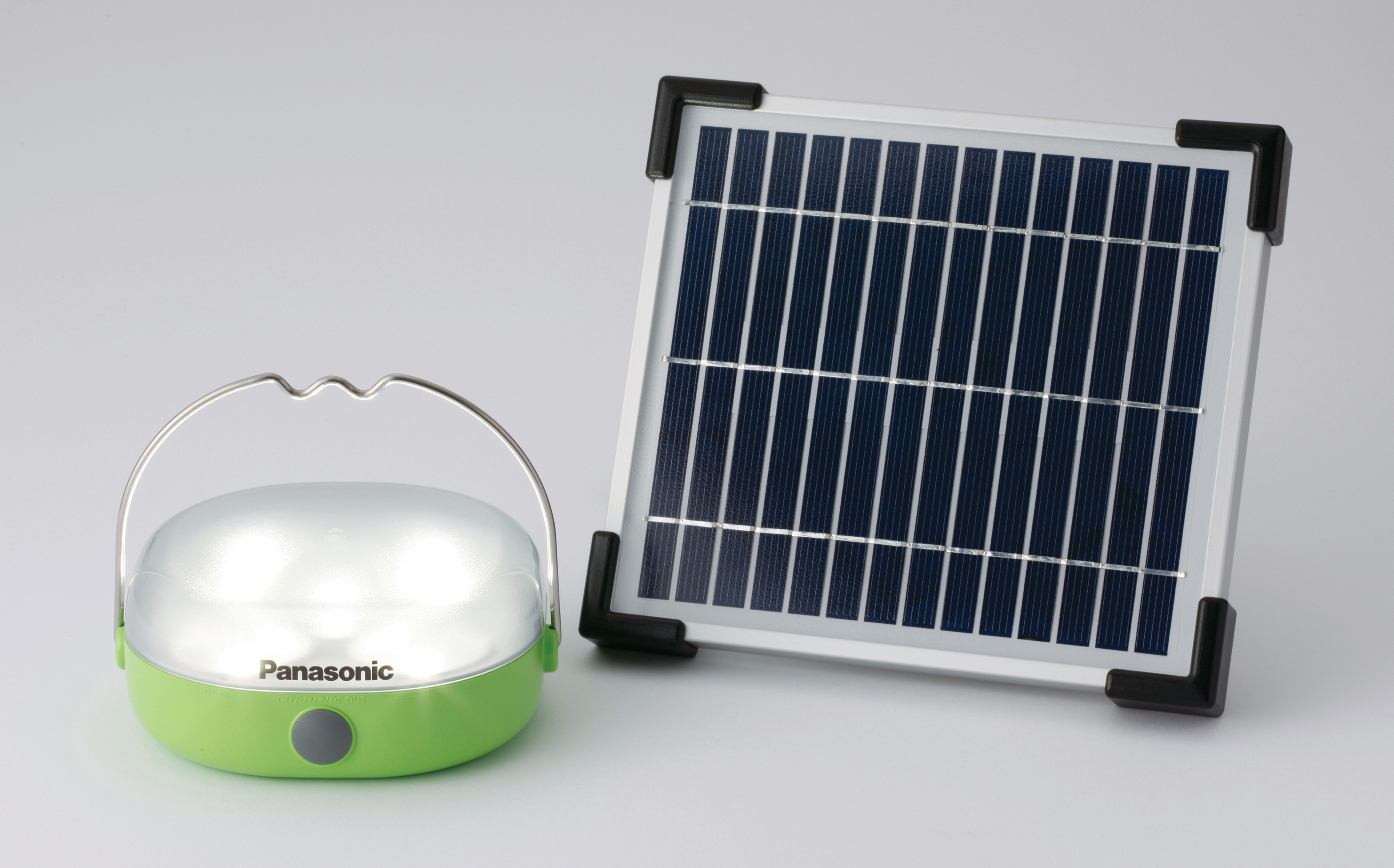 What they want--Lighting for people in regions without electricity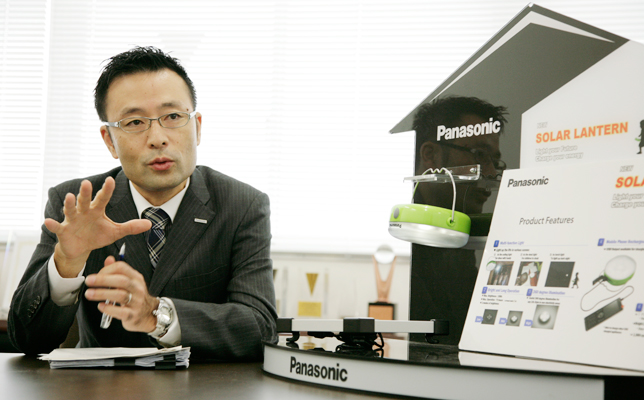 As the first step in developing the new solar lantern, we visited regions without electricity in the various Asian countries, calling on local families and hearing from the NGOs and governmental agencies working to improve people's living environment.
Lighting is closely tied to poverty in regions without electricity. Without lighting, women are bound to do housework during daylight hours, meaning they have no opportunities to work during the day. Children cannot study once the sun goes down and might fall behind in their education. The fact is a lack of lighting results in limitations and makes it difficult to break out of poverty.
Many people use kerosene lamps for lighting at night. However, these only cast a dim flickering light, making them unsuitable for work or study. In addition to the cost, the smoke they produce has a serious impact on health.
The solar lantern is a product incorporating lighting, battery and solar energy technologies--Panasonic's expertise. Visiting these regions strengthened my resolve to improve their lives using Panasonic's technologies.
As a matter of fact, cheap solar lanterns are available in the project regions of each country. But many people said that these do not cast enough light, are fragile and have batteries that are quickly exhausted.
So how about our previous solar lanterns? Although they did not have such problems, they were large and costly to manufacture and transport, which made them expensive. Furthermore, the people also wanted them to work as chargers for mobile phones.
Based on such feedback, I asked the design and manufacturing team to add the following functionality to the new solar lantern:
A brightness of 100lx--sufficient to illuminate a room widely
Additional user-focused functions such as mobile phone charger function
Compact size and reduced cost keeping durability
How it works--Bright enough for household lighting, easy to use in rural locations
In response to the feedback from people living in areas without electricity, we first changed the design of the exterior and reduced the size of the product by more than half to cut costs.
Meanwhile, with regards to brightness, we decided to go beyond the goal of 100lx luminance and aim for light that would make it easy to work and study. The solar lantern provides brightness with a LED light source, a reflector that also disperses the light, and a shade.
At first, we prioritized light dispersion and tried using a mirror plated reflector, but this was too reflective and created a harsh light, making it unsuitable for everyday use. Also, a transparent shade is good for simply increasing luminance, but when we actually tested one out, the light from the reflector was dazzling and gave a non-uniform light distribution. In pursuit of a satisfactory light, we investigated many different combinations together with the engineering team.
On the functionality side, we attached a handle that could be used in various scenarios, such as to hang, prop-up, wall-mount or carry the solar lantern. At first glance it may seem to be just a typical handle, but the truth is the w-shaped section in the middle is one of the parts we put the most thought into. We designed this for a stable balance--whether the lantern is hung or propped up.
We were also very particular about the length of the cable connecting the lantern and the solar panel, even if it meant a higher cost. Many people are reluctant to put the lantern outside due to concern of theft. In response, we changed the cable length from around two or three meters (standard length) to five meters so that the panel could be placed on a sunny roof to charge a lantern kept indoors. This was also something we devised for the peace of mind of the local people.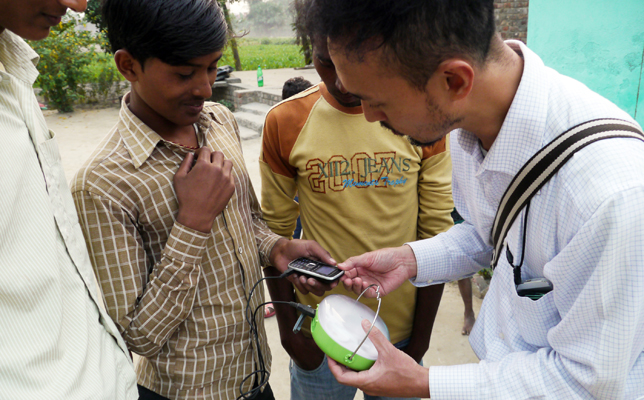 This is it!--Manufacturing to realize concept and quality at a reduced cost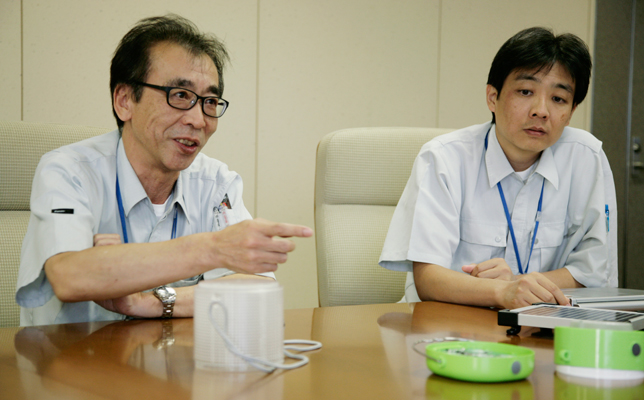 The challenge for the engineering team was how to incorporate the ideas of the design team into the lantern and give it the required specifications and quality while keeping costs down.
First, we worked to integrate the three circuit boards of the previous solar lantern into a single board and reduce the number of components as much as we could. These challenges directly result in reduced material and manufacturing costs.
Furthermore, for the exterior we adopted a resin, which is widely used in our products. Procurement in volume enables a low price, which was made possible by Panasonic's combined strength.
The brightness was a more difficult challenge. Every time we made a single change to the reflector, the shade material or the processing method, we had to redesign the internal circuitry.
In the end, we used five small and inexpensive 0.2W LEDs and adopted a semi-transparent, emboss-finished shade with a reflector. This casts light in 360-degree directions and is gentle on the eyes when performing detailed work. The solar lantern looks like five large and bright light bulbs, so in addition to a luminance of 100lx, it feels brighter than it actually is.
The solar lantern also responds to the frequent requests for a mobile phone charging function. After actually carrying out tests on the mobile phones used by residents in regions without electricity and determining the required power specifications, we equipped the lantern with a USB charger port.
Panasonic is recognized as a reliable brand even in the project regions, and so our challenge was to somehow provide a quality that lives up to this reputation at an affordable price. Batteries must be replaced after two years, but the newly designed solar lantern is durable and lasts for as long as 10 years. We believe this solar lantern responds well to local expectations.

---
The ingenious design of the new solar lantern aims for realizing the development team's powerful wish that the new model genuinely helps people improve their lives. To deliver the solar lantern to as many people as possible and contribute to the smiles of the people in regions without electricity--Panasonic continues its challenges.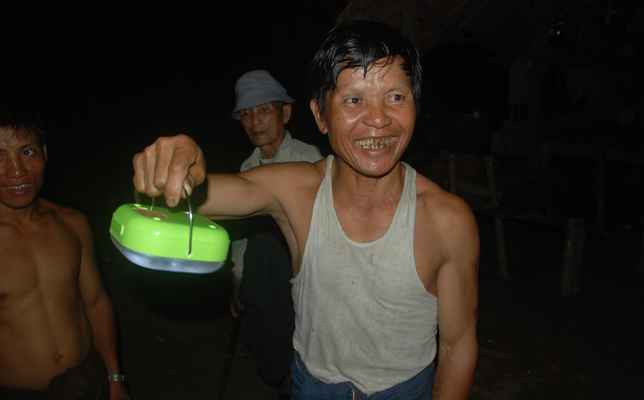 Specifications
Product name
Solar LED Lantern
Model number
BG-BL03
LED brightness setting
High
Medium
Low
Luminance
100lx
40lx
6lx
Operation time
Approx. 6 hours
Approx. 15 hours
Approx. 90 hours
Charging time
Approx. 6 hours (rechargeable via solar panel only)
Battery
Nickel-metal hydride battery
Solar panel output
3.5W
Size
Lantern: Approx. 138 (L) x 133 (W) x 60mm (H)
Solar panel: Approx. 206 (L) x 186(W) x 39mm (H)
Weight
Lantern: Approx. 400g, Solar panel: Approx. 630g
※ This product won the Japan Institute of Design Promotion Good Design Award 2013 and silver award in the Social Design Category of the International Association for Universal Design (IAUD) Award 2013.
Profile: developers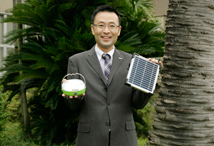 Takuya Tanimoto
General Manager
Energy Group Panasonic Consumer Marketing Asia Pacific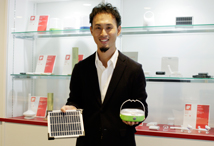 Takuo Nomi
Manager
Marketing Group, Charging System Business Unit, Portable Rechargeable Battery Business Division Automotive & Industrial Systems Company of Panasonic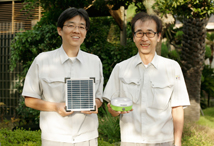 Takeaki Nagashima, Manager (Left)
Toshikazu Ura, Staff Engineer (Right)
Engineering Group, Charging System Business Unit, Portable Rechargeable Battery Business Division Automotive & Industrial Systems Company of Panasonic