Report from 100 Thousand Solar Lanterns Project's Volunteer Employee Reporters
2017.01.19 Field Report
From January 3 to 7, 2017, two volunteer employee reporters visited Indonesia's East Nusa Tenggara Province. This was their first experience in an area without electricity. Below is their report on life there and how solar lanterns are playing a part in people's lives.
Panasonic employees visit areas where solar lanterns are being used
In its effort to contribute to improving lives in emerging and developing countries, Panasonic is committed to delivering 100 thousand solar lanterns to areas without electricity.
In March 2016, 500 solar lanterns given through employee donations were delivered to clinics and other recipients in East Nusa Tenggara Province of Sumba Island in Indonesia. Two volunteer employee reporters, Hiromi Sasamoto and Keisuke Takeuchi, were selected from the pool of employees who had applied to go and see how the donated solar lanterns are being used.

A first-hand view of life in off-grid areas
The bumpy road leading to the off-grid village had potholes in the asphalt. We eventually arrived at our destination, comforted during the three-hour ride by scenes of grand natural surroundings and grazing horses, goats, and water buffalo. Besides problems with electricity and water supplies, due to its location in the mountains, the village faces various issues such as the lack of access to public transportation. Even on the day of our visit, the public bus had not come for two weeks and there were no signs that services would resume any time soon.
Health clinic
We were welcomed with open arms by the nurses who care for villagers at the health clinic. They told us the donated solar lanterns are being used as guiding lights on pitch-black mountain trails at night when the nurses go to check on emergency patients. The lanterns provide precious light for them to go safely and quickly to the patients who await their arrival.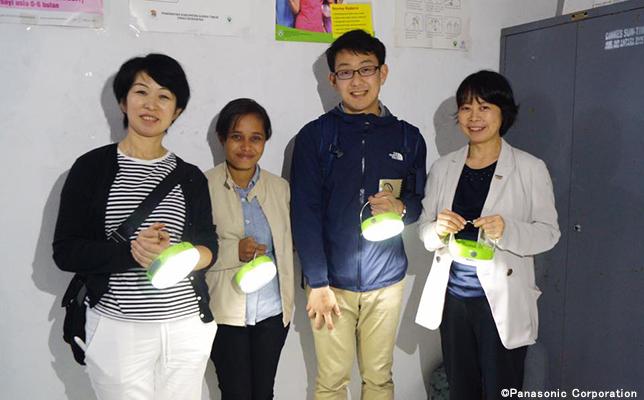 Village office
At the village office, an annual meeting with the local government was in session and we were greeted with smiles and handshakes from many villagers.
Some homes in the village, including that of the village chief, are equipped with systems provided by the government that use photovoltaic batteries and LED lights. Payments are made in installments. However, most of the systems are apparently not working due to the lack of maintenance in this remote village deep in the mountains. Villagers' only water source is spring water, and despite the source being only about 100 meters away, climbing down the mountain trail didn't seem to be an easy task.

Elementary school
We also visited an elementary school attended by 156 students. The school is open only during the morning hours, from 7:15 a.m. to 1:00 p.m., except when students are studying for the country's standardized tests. In such a case, classes go until around 5:00 p.m., with electricity provided by a kerosene-powered generator.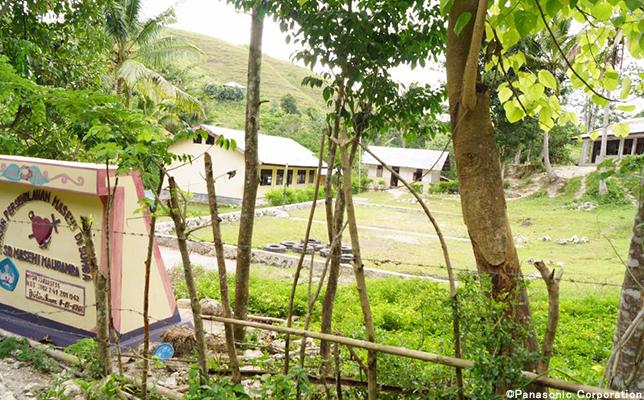 Homes
At a home we visited, the only sources of light were two small kerosene lamps made by the homeowner. To save on fuel costs, the family usually finishes dinner and other activities by 8 p.m. and then passes the time talking with one another in the dark until bedtime at 9 p.m. Life without electricity may be inconvenient, but this time spent talking heart-to-heart with family members seems to be precious for human bonding.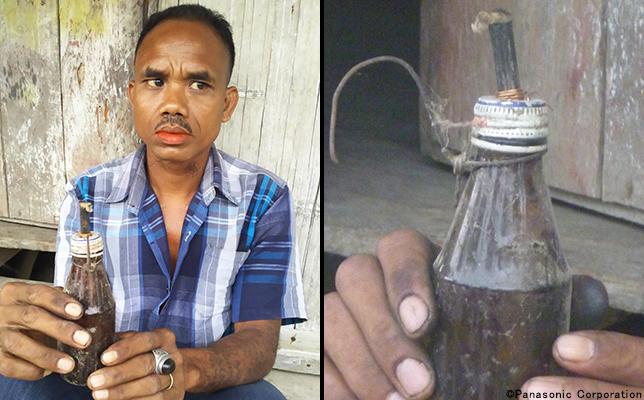 Tech Kiosk
"Tech Kiosk" was displaying and selling technologies (e.g., solar lights, water purifiers, cooking stoves) for what is known as "the last mile" (areas without electricity, poor areas in developing countries). Besides product performance and price, color and design are key selling points, with products featuring bright colors like red, orange, and yellow being more popular than chic black products. We also saw a light bulb that could double as a flashlight, and we were intrigued by this product that could also be of much help during disaster response.

For details, please visit our photo gallery here>>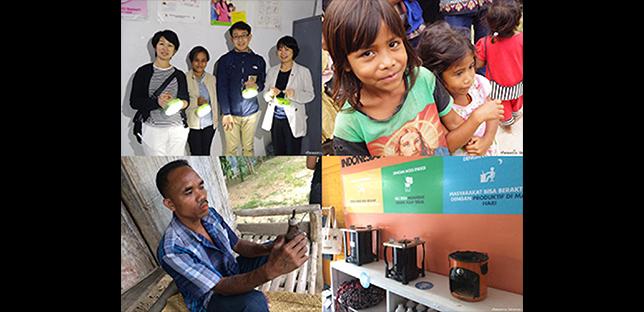 Afterthoughts of the visit
"I saw people facing issues in off-grid areas that are hard to imagine in our daily life" (Hiromi Sasamoto)
We were thrilled to see how much the solar lanterns delivered to public clinics were appreciated for their ease of use and versatility.
Additionally, we realized that there are still many more issues facing the lives of those in areas without electricity. For example, at the clinic, the people did not have access to clean water or refrigerators that they could store drugs and vaccines in. Regular homes were missing basic infrastructure and entire families had to invest a significant amount of time looking for firewood and fetching water. Despite the availability of safe and clean light by solar lanterns, many families cannot afford the cost, so they continue to use kerosene lamps while knowing their hazardous effects on health.
I sincerely hope that we can deliver more solar lanterns as quickly as possible to the people of Indonesia and other areas without electricity. It would be an honor if our trip could encourage others to take their first step.
"I saw with my own eyes how employee-donated lanterns have become a helpful light in people's lives." (Keisuke Takeuchi)
The electrification rate on Sumba Island where we visited is reportedly about 40%, and most of the people in areas without electricity make a living off the land. In the two villages we visited, most of the homes had no access to electricity, so people spent their time under a small kerosene lamp once the sun went down.
This was the first time I visited an off-grid village and I saw how the solar lanterns were contributing significantly to the lives of the local people. I saw with my own eyes how the employee-donated lanterns have become a helpful light in the lives of the local people.
I will continue making donations going forward and would like to take action to spread the word of these activities to many other colleagues.
---
Photos of the visit are available on our Facebook page.
100 Thousand Solar Lanterns Project Facebook page