[News] Myanmar: 3,060 lanterns donated brings new total to 14,924
2017.10.25 News
On Tuesday, September 19, nine organizations active in Myanmar were presented with 3,060 solar lanterns. The number of solar lanterns donated to Myanmar in the past five years since 2013 has now reached 14,924.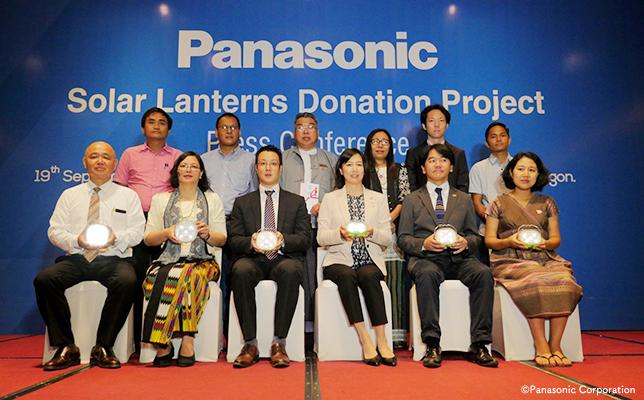 Approximately 50 guests attended the donation ceremony at the Novotel Yangon Max Hotel in Yangon, including members of the recipient organizations and Mr. Keita Iwase, second secretary of the Embassy of Japan in Myanmar.
Ms. Shwe Cin Myint of The Myanmar Red Cross Society gave a speech on behalf of the recipient organizations, saying, "The Myanmar Red Cross Society has used solar lanterns in medical fields and refugee camps. Solar lanterns have gone beyond improving the quality of life among residents in areas without electricity, and also served people who have been driven from their homes by conflict. We must not forget these gifts. The Myanmar Red Cross Society and all of the other NGOs and NPOs present at the ceremony today would like to thank Panasonic sincerely for their extensive efforts for Myanmar."
Hisakazu Maeda, Chief Representative of Panasonic Asia Pacific Myanmar branch, spoke on behalf of his company, saying, "Since our founding, we have lived by our management philosophy of contributing to society through our business activities, and we hope to continue being involved in addressing Myanmar's social issues like education and healthcare just as the 100 Thousand Solar Lanterns Project has done. Personally, when I visited off grid regions myself, I saw first-hand how solar lanterns are helping to better the lives of residents."
[Nine recipient organizations for 2017]
All Country Agency for Rural Development
Association for Rengein Tanjoji International Cooperation
Community Association for Rural Development
Greater Mekong Initiative
Likhy Social Development Committee
Language and Social Development Organization
Meikswe Myanmar
Myanmar Red Cross Society
PH-Japan (PH-People's HOPE Japan)
Still today, an estimated 1.2 billion people, or 17% of the world's population, live in areas without electricity. We will continue our donations in Indonesia, the Philippines, other countries in Asia and Africa, with our sights set on our goal of donating one hundred thousand lanterns.