Philippines: 2,550 Solar Lanterns Donated for a Cumulative Total of 12,264
2018.01.23 News
On Tuesday December 12, 2017, Panasonic donated a total of 2,550 solar lanterns to ten organizations active in the Philippines. This fifth donation brings the cumulative total in the country to 12,264 lanterns.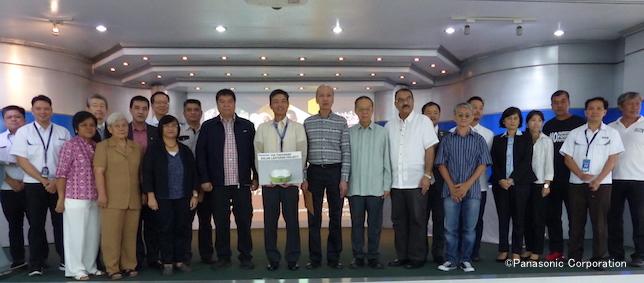 The donation ceremony was held at the Panasonic Manufacturing Philippines Corporation (PMPC) near Manila and attended by members of recipient organizations as well as Director Felino V. Castro from the Disaster Response and Management Bureau of the Philippines' Department of Social Welfare and Development.
At the ceremony, PMPC President Shinichi Hayashi said, "The 100 Thousand Solar Lanterns Project is a testimonial of the contributions that Panasonic has made to society and its dedicated passion in improving people's lives. We have received positive feedback here in the Philippines since the start of this project. We will continue to do our utmost in fulfilling our responsibilities as a corporate citizen."
Ripple effects of solar lanterns on education
One of the recipients, the Conrado & Ladislawa Alcantara Foundation, Inc., is dedicated to supporting education in the Philippines. The lanterns donated to the Datal Basak primary school through this organization are helping the children in their studies.
The lack of electricity in the school's region meant that children could only depend on kerosene lamps or small flashlights, which made studying at night difficult.
Solar lanterns have had some positive impacts in the region. Children can now review their day's studies, do homework and prepare for the next day on their own at home at night, all of which have led to better grades. Also, fewer children are falling behind thanks to supplementary reading and writing lessons after school. The primary school enrollment rate has reportedly risen by an impressive 12%, possibly thanks to the sense of reassurance resulting from better support for learning.
Fifth grader Jenlyn Collantes and seventh grader Ladylyn Galante at the school couldn't be happier with their new opportunities for evening studies. The two students are hoping to go to college and dream of becoming teachers one day. If they can teach in this school's classroom someday, the benefits of solar lanterns will be passed on to their students.

The full list of recipients is as follows:
【2017 Recipient Organizations (10 Total)】
Center for Excellence in Special Education (Stepping Stone) Foundation, Inc.
Conrado & Ladislawa Alcantara Foundation, Inc.
Davao Medical School Foundation
Interfaith Partnership for the Promotion of Responsible Parenthood, Inc.
Jesus V. Del Rosario Foundation, Inc.
Josefa Segovia Foundation, Inc.
Konkokyo Peace Activity Center Information Office, Inc.
Pambansang Kilusan ng mga Samahang Magsasaka
Philippine Business for Social Progress
Pillipinas Shell Foundation, Inc.
Today, approximately 1.1 billion people still face the challenges of living in areas without electricity. We will continue to donate to areas that need light in Asia, Africa and elsewhere, toward achieving our goal of 100,000 solar lanterns.