Thailand: Third Lantern Donation and the Eco Learning Program
2018.01.23 News
On December 13, 2017 we made our third donation in Thailand with 192 solar lanterns sent to Raks Thai Foundation, an organization dedicated to supporting education and environmental conservation in the country. In this story, we also report on the environmental education program held the day after the donation ceremony.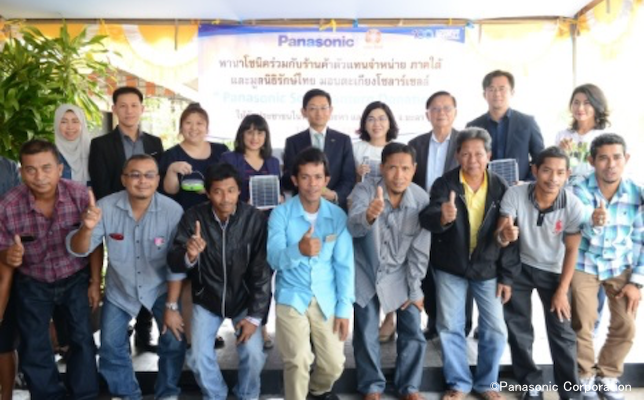 The donation ceremony held at the Raks Thai Foundation Suratthani Branch was attended by Ms. Phiphit Wattanaverachai, Vice Mayor of Suratthani Municipality, Mr. Boonrit Phopitchayakul of Sirisin Group & Sirisin Trading, and members of the recipient organization. Takeshi Nomoto, CEO of Panasonic Management Thailand, said, "Initially, the project's aim was to deliver light through renewable energy but these tiny lanterns also contributed to elevating living standards, including education, health and sanitary, and life security. We are thrilled that we will soon approach our goal of donating 100,000 lanterns to regions without electricity by 2018, the year of our 100th anniversary."
Solar lanterns thriving in education and the environment
On December 14, the day after the donation ceremony, we hosted the Eco Learning Program for local children. In this program, Panasonic employees act as teachers who teach the children around the world about the environment. The goal is to educate two million children by 2018.
On the day of the program, the teachers used their original teaching materials to talk about environmental and energy issues and the importance of saving energy in daily life. After that, the children joined in a workshop to put together their own solar lanterns to learn how electricity is made.

In the world today, approximately 1.1 billion people still live in areas without electricity and face the challenges that come with that. We will continue to donate to areas that need light in Asia, Africa and elsewhere, toward achieving our goal of 100,000 solar lanterns.