Five-year Journey and Stepping to the Future
2018.01.30 News
The 100 Thousand Solar Lanterns Project was launched in 2013 and reached its milestone of donating 100,000 solar lanterns with a donation to Indonesia in January 2018. Akiko Asano, the Project Leader, looked back to the journey leading up to the 100,000 target together with Kazuhito Wakahara, who joined the project in its final year.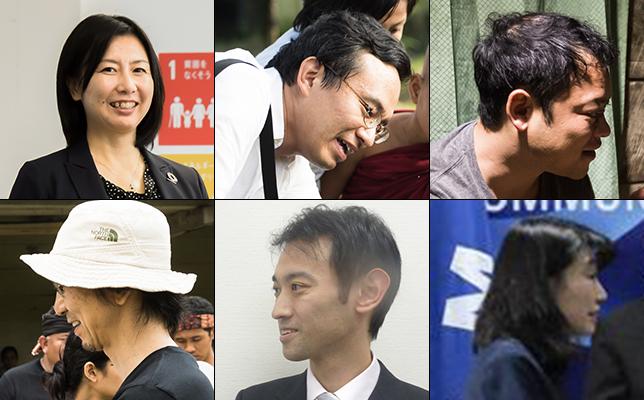 Why Panasonic donates solar lanterns
Wakahara : Panasonic has reached its milestone of donating 100,000 solar lanterns. I only joined in the final year of the project, but I imagine that the team faced many challenges along the way.
Asano : We wouldn't have been able to reach 100,000 lanterns had it not been for the support of partners at recipient organizations and our many supporters inside and outside the company. So I'd like to take this opportunity to express my heartfelt appreciation to everyone. Since Panasonic was established, we have been dedicated to making lives better based on the corporate philosophy of contributing to society through our business. The 100 Thousand Solar Lanterns Project kicked off in 2013 to build on one of our greatest strengths, which is light, and live out this corporate philosophy through our corporate citizenship activities.
Wakahara : Were the solar lanterns developed exclusively for this project?
Asano : The history of solar lanterns goes back to 2006. It all started with a request received from the Republic of Uganda's Minister of State for the Vice President's Office to help resolve health hazards caused by kerosene lamps. The Minister had toured our solar facilities during a visit to Japan and felt that our energy generation and storage technologies could help solve issues in areas that have no access to electricity. That's when we started developing products based on these technologies.
Wakahara : So that's the story of how the solar lanterns came about.
Asano : After that, we began our initiatives in solar lantern donations through cooperation with non-profit and non-governmental organizations and international institutions in Africa and Asia, and continued to improve the product bit by bit while reflecting local needs. When we look out at the world, there are still many regions where the convenience of light that we take for granted is not the norm. Today in 2017, approximately 1.3 billion people in the world still live without access to electricity. The 100 Thousand Solar Lanterns Project started with a serious focus on solving social issues by providing light to areas without electricity.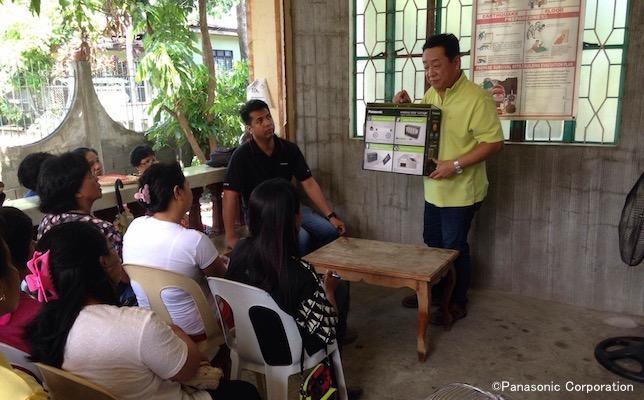 The need for solar lanterns is particularly strong in Africa and in addition to the basic function of providing light, there is also a need for mobile phone charging functions. While products made in China take the market by storm with their low price, our aim was to differentiate ourselves through high quality batteries that have more storage capacity and a longer product life. We also developed high-capacity solar storage to create products that serve the needs of areas without electricity. (Ryuichiro Tanikawa, Product Team)
Wakahara : This project is closely aligned with the Sustainable Development Goals (SDGs) adopted by the United Nations Summit in September 2015, right?
Asano : Yes, Panasonic's medium-term corporate citizenship priority theme is "Ending poverty to realize an inclusive society" and the first goal of SDGs is to end poverty. Poverty does not refer only to economic difficulty. It also relates to people not having access to basic needs and services such as education, employment, and healthcare. Our intention is to create new opportunities for people to access those things and services through the light of solar lanterns.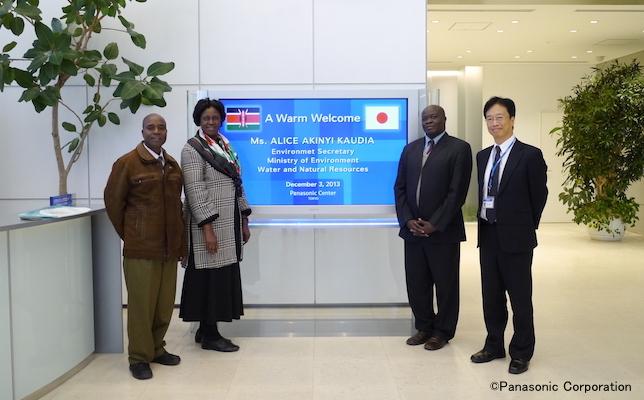 Solar lanterns that were created for developing country markets were a revolutionary product built on our technical strengths and contributed to improving people's lives. As a member of the Public Relations Department, I am proud to have played a role in this project that boosted awareness among international and government institutions and took the initiative in shaping the ideal world of tomorrow through the support of many. (Takayuki Hotta, Public Relations Department)
What 'light' brought to people's lives
Wakahara : Light at night allows people to study, receive treatment with peace of mind, and work longer hours. Taking part in this project has helped me realize the enormity of the impact that light has on people.
Asano : Instead of simply delivering this solar lantern as a product, we've always been focused on delivering them to public facilities and other places where the impact of each lantern can be maximized and used by as many people as possible. We have developed recipient channels and maintained communication with each organization on an ongoing basis to ensure that the lanterns are being used effectively. Direct communication is the best way for gaining local understanding and building trust. We have built relationships diligently so that we can solve social issues together with our recipients.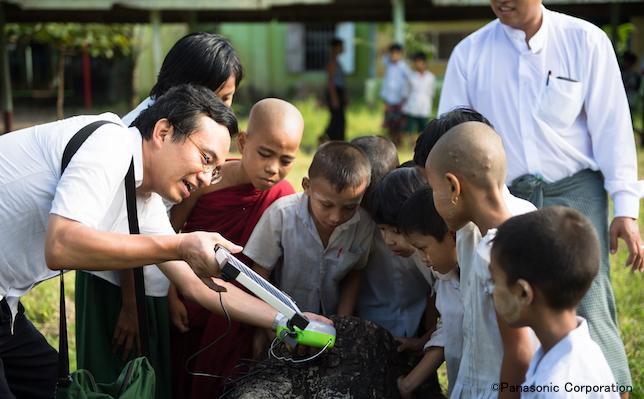 Our project donation started in Myanmar in February 2013. There was some anxiety in visiting a first-time country where there were no Japanese ex-pats from Panasonic at the time but we prepared for the event through direct discussions with local staff, agency executives, and representatives of candidate organizations to gain their understanding and build mutual trust. I have fond memories of the inspiring speech given by the president of the Myanmar Red Cross Society at the donation ceremony. The photo above was taken when we visited a temple at the time of our second donation. (Akira Hoshi, project member)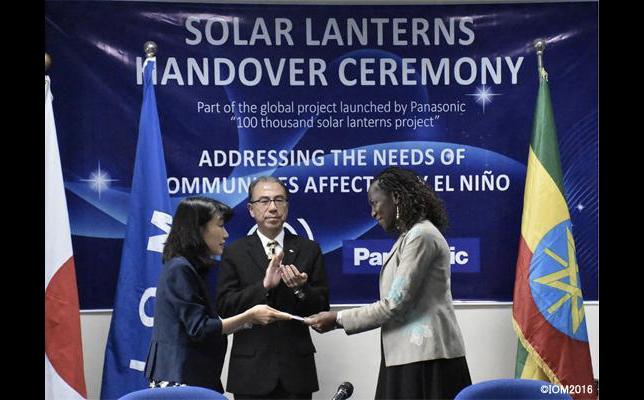 I was mostly in charge of donations in Africa. Donations in Africa came with many difficulties in terms of solar lantern transport due to the long distance from Japan and we tried particularly hard to deliver the lanterns as quickly as possible to facilities in need when donating to Liberia and two other countries to help fight Ebola. This photo was taken at the donation ceremony to Ethiopia IOM in 2016. (Noriko Tanaka, project member)
Wakahara : I did not have the chance to travel to the sites but I know that project members try to visit the recipients as much as possible.
Asano : Right, seeing and hearing things first hand helps you understand the challenges that people face. Paying a visit to the locals is extremely important in understanding the impacts of the donations. Speaking of impact, we tried to take quantitative measurements so that we could gain an objective understanding of how much change light has brought.
Wakahara : You wanted to visualize the results?
Asano : Yes, we tried to track the impact of solar lanterns by closely aligning with the recipient organizations' missions. We were not able to acquire precise data consistently throughout the project due to the large number of recipient organizations and regions we work with, the fact that lanterns are being applied for different purposes, and the difficulties in making frequent visits to recipient communities that are located far from urban areas. However, we have been able to confirm various impacts on an individual basis.
Wakahara : What are some specific examples?
Asano : At one place in Myanmar, 2,434 babies were born at night under a light in the two years between 2015 and 2017. Were it not for the solar lanterns, the mothers and children may not have been able to receive safe care. In India, solar lanterns are helping women in rural villages with their embroidery work. The ability to see what they are doing has helped improve work efficiency and some women succeeded to increase their monthly income by about 1,000 rupees. We've heard so many stories of how solar lanterns delivered around the world are helping solve issues and improving lives.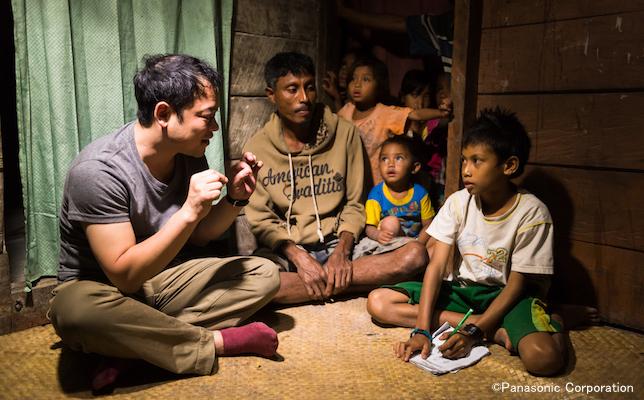 I visited homes in India and Indonesia to learn about the issues that people in off-grid areas face and the impacts that solar lanterns bring. One child told me how he could now study to his heart's content. A mother spoke happily about how work and house chores are so much easier. I really saw how every single light is playing a definite part in improving lives. (Halhisa Okuda, project member)
Circle of donations spreading across Japan and the world
Wakahara : I think that many connections have been made through this project.
Asano : To date, we have delivered solar lanterns to 30 countries and 131 organizations and institutions in Asia and Sub-Saharan Africa. Initially, we had to find the recipient organizations on our own but as word of our initiatives spread further, we started receiving more and more requests for donations. An open call for recipient organizations in 2017 led to our first donations in regions like Haiti, Rwanda, and Mauritania.
Wakahara : In addition to requests for donations, we also received requests from people wishing to give, right?
Asano : Yes, for example in Myanmar, we received a request from Maybank, Malaysia's largest bank, to donate solar lanterns to rural areas without electricity. Also, Myanmar Posts and Telecommunications (MPT) donated Panasonic Eneloop Solar Storage units, small-scale power storage systems, to temple schools. In other areas, we've seen joint projects by Japanese companies and NGOs to use the solar lanterns as well as local governments supporting our cause and joining in the project. We are so thrilled that the project has transcended its initial boundaries and spread the circle of donations throughout the world.
Wakahara : I was also impressed by the project that gathered lantern shade designs from around the world.
Asano : That would be Cut Out the Darkness. We gathered designs from people around the world and created a total of 200 lantern shades from user-voted designs and donated them together with solar lanterns to areas without electricity. The aim of that project was to spread greater awareness about the issues faced by off-grid areas.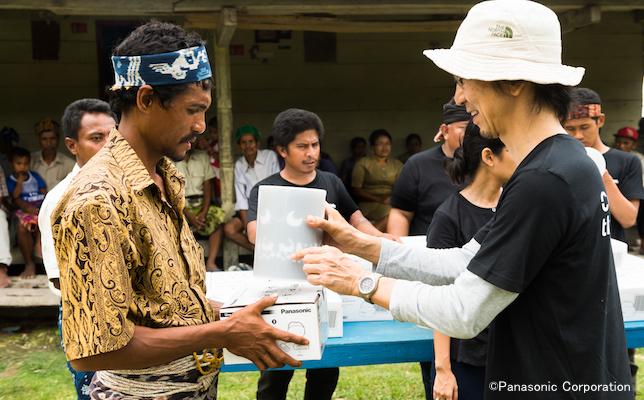 Cut Out the Darkness was a project that gathered lantern shade designs online from users worldwide and delivered those shades together with lanterns. This project gave us the opportunity to tell more people about the serious issues that those without electricity face while also delivering to them a message that the people of the world support them. This project spoke about the power of art that connects people regardless of country or language. (Hisao Tsugita, Cut Out the Darkness creator)
Expanding the scope of activities
Wakahara : We've reached our 100,000 target, so does that mean the project is over?
Asano : Still many people in the world today have no choice but to live without electricity. We are coming up with new ideas like solar lantern crowd funding donations involving employees and other individuals who want to help solve issues in areas without electricity and I hope that this will expand our initiatives to the next level.
Wakahara : Growing bigger would bring bigger promises of impact across the entire community.
Asano : Yes, we hope to expand the scope of activities in terms of both the parties making the donations as well as the recipients using the solar lanterns. We want to contribute as much as possible to improving people's lives in areas without electricity by providing our technology and products including light.
Wakahara : I hope that we can create a mechanism that allows each employee to take a more active part in these initiatives and I for one will do my best.