Supporting People Left Behind by Development in Cambodia, Vietnam, and India
2016.05.14 News
In March 2016, Panasonic donated a total of 12,166 solar lanterns to Cambodia, Vietnam, Indonesia, India, Bangladesh, and the Democratic Republic of the Congo. In each country, through local organizations, we are delivering solar lanterns to people left out of development and in most need of light. Here we feature our donations in Cambodia, Vietnam, and India.
Cambodia: Supporting children, the country's future
This was our fourth donation in Cambodia. In March 2016, we donated a total of 2,400 solar lanterns to 11 recipient organizations. People's HOPE Japan, a new recipient organization, is an international NGO providing support mainly in the area of education on health and medical care, to empower people in Asia's developing countries. In addition to being used at health centers operating around the clock, the solar lanterns will be utilized when staff visit villager's homes at night.
[11 Recipient Organizations for Fiscal 2015]
・ Association of School Aid in Cambodia
・ Cambodia Education Assistance Fund
・ Cambodia Learning Aid for Children
・ Ieng Foundation
・ International Federation of Red Cross and Red Crescent Societies, Cambodia Country Office
・ Life With Dignity
・ My Happy Village Cambodia
・ PH-Japan (People's Hope Japan)
・ Shanti Volunteer Association
・ World Assistance for Cambodia and Japan Relief for Cambodia
・ World Vision International - Cambodia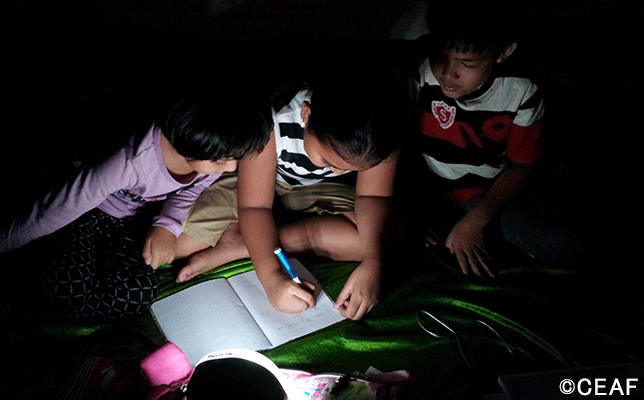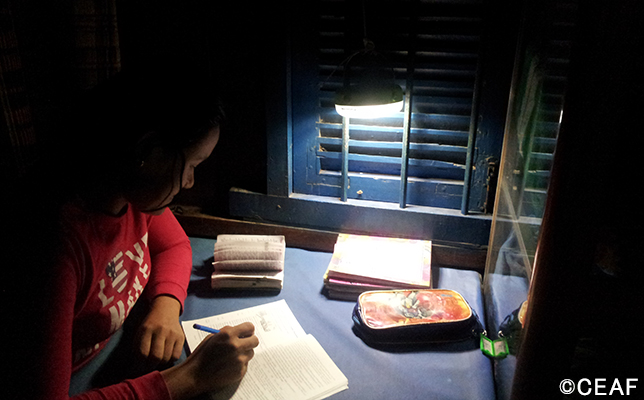 Vietnam: Higher attendance at evening meetings
This year again, Panasonic donated 1,002 solar lanterns to World Vision Vietnam. These lanterns will be distributed to people we were not able to reach previously.
Many of the villages where World Vision Vietnam works have no electricity. The solar lanterns are used for a multitude of purposes, including examinations at hospitals, classes at school, studying, work, and house chores. To date, 5,120 people have benefitted directly from our solar lanterns.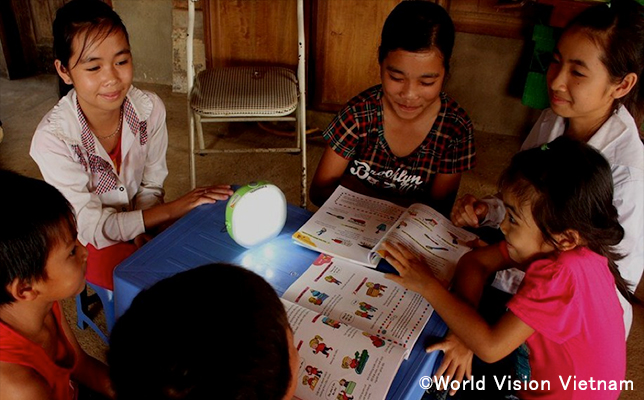 Operations Director Than Thi Ha spoke of the lanterns' benefits, "Thanks to solar lanterns, the villagers can get through daily life with greater ease."
India: Solar lanterns lighting up hearts
In India, solar lanterns are donated mostly to organizations providing educational and medical support to the poorest sector of society. This year, we donated 5,940 solar lanterns to six organizations.
[6 Recipient Organizations for Fiscal 2015]
・ Bindaas Unlimited Trust
・ Japan Evangelical Lutheran Association
・ Plan Japan
・ Society for All Round Development (SARD)
・ World Health Partners
・ World Vision India
World Vision India proposes and implements community development projects and poverty solutions. Through this organization, the solar lanterns are distributed to people in Dhemaji district, one of the poorest areas of the Assam region. The lanterns donated last year have been put to use in nine villages with no access to electricity. One of the villagers, Gitanjali Pait said, "We always struggled to find money to buy fuel for kerosene lamps, but now with solar lanterns, the children can study hard every night. The lanterns have been a huge help."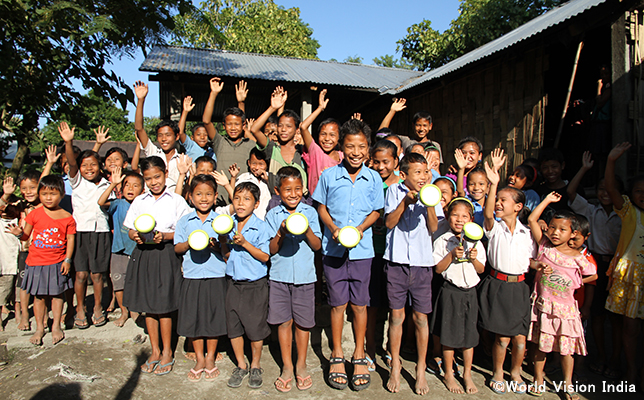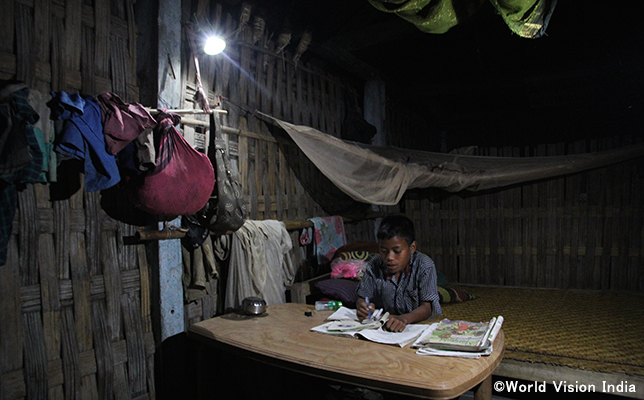 Delivering light to the poorest who live without electricity
Cambodia, Vietnam, and India have all witnessed major economic development in recent years. However, people in off grid villages still live in poverty and put up with many inconveniences, while the gap continues to expand between them and the rich who live in cities. We will continue cooperating with local organizations to provide our support and deliver the light of solar lanterns, to help solve the issues and challenges that these people face.