[News] 2,400 Solar Lanterns Donated for Internally Displaced Persons in Ethiopia
2016.07.25 News
Panasonic Corporation has donated 2,400 solar lanterns to the International Organization for Migration (IOM) Special Liaison Office in Ethiopia. A donation ceremony was held on July 14, 2016, with key persons present, including Ms. Maureen Achieng, Chief of the Mission and Representative to the African Union, IGAD and UNECA, and H.E. Mr. Kazuhiro Suzuki, Ambassador Extraordinary and Plenipotentiary of Japan to Ethiopia.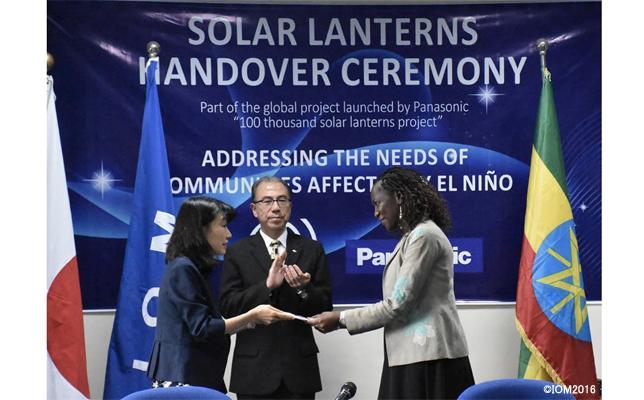 At the ceremony, Ms. Achieng said that displacements often occur in rural areas where there are no or limited social and basic services and among displaced populations, women, children and the elderly are particularly vulnerable to various types of hazards en route and at their sites of displacement. She also said that this donation of lanterns would give these communities precious light, and that she hopes this example will strengthen partnership between the government, humanitarian organizations and private sector. She expressed heartfelt appreciation on behalf of the IOM and people who will benefit from the donation. Ambassador Suzuki said this donation could be a new model for partnership between international organizations and the private sector for the socioeconomic development of African countries.

The solar lanterns donated will be used in 120 locations with IDPs in three regional states, including health posts, youth centers, and community policing stations, and it is hoped that they will help improve the quality of life for people in the areas of health, education, and safety.

The 100 Thousand Solar Lanterns Project was launched in fiscal 2012, and by the end of March 2016 a total of 61,000 lanterns had been donated to 17 countries in Africa and Asia, including Cambodia, India, and Myanmar. In Africa, about 11,000 lanterns have already been donated to eight countries, and this was our first donation to Ethiopia.

Panasonic will further accelerate its efforts under the 100 Thousand Solar Lanterns Project so that it may successfully donate 100,000 units by 2018, its 100th anniversary, and strengthen efforts to contribute to the achievement of Sustainable Development Goals (SDGs), adopted by world leaders at the United Nations in September 2015.