[News] Panasonic Donates 2,400 Solar Lanterns to Myanmar
2016.11.22 News
In November 2016, we donated 2,400 solar lanterns to nine organizations in Myanmar. Including this fifth set of donations, the total number so far has reached more than 11,000.
On November 7, 2016, we hold a solar lantern donation ceremony at a showroom in the Yangon Branch of Panasonic Asia Pacific. We donated a total of 2,400 solar lanterns to nine organizations in Myanmar in FY2016, of which two were new recipients. A letter of donation was given to a representative of each organization at the ceremony.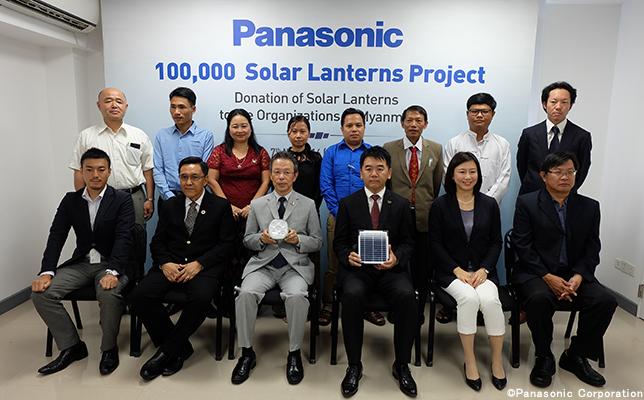 FY2016 Recipient Organizations (9 in total):
All Country Agency for Rural Development
Association for Rengein Tanjoji International Cooperation
Community Association for Rural Development
Greater Mekong Initiative
Likhy Social Development Committee
Meikswe Myanmar
Myanmar Red Cross Society
PH-Japan (People's HOPE Japan)
Save the Children Japan
Panasonic will continue to deliver solar lanterns to people in need of light by collaborating with NPO/NGOs who work particularly in rural areas, so that we can contribute to helping solve various social issues and be a positive change agent in people's lives. We will also continue to watch what kind of positive impacts these efforts can bring to society, and confirm the long-term results of our activities, which will help us understand how our actions can be improved.