[News] Panasonic Donates 2,400 Solar Lanterns to Cambodia
2016.12.26 News
In December 2016, we donated 2,400 solar lanterns to eleven organizations in Cambodia. The total number so far has reached more than 11,000.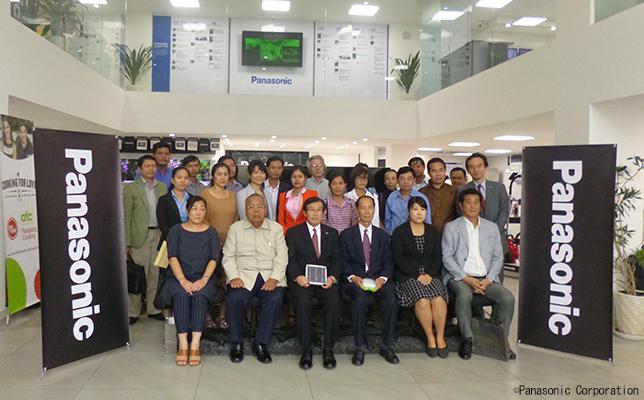 On December 13, 2016, we held a solar lantern donation ceremony at the showroom in Phnom Penh of the Cambodia Branch of Panasonic Asia Pacific. We donated a total of 2,400 solar lanterns to eleven organizations in Cambodia in FY2016, of which four were new recipients.
[FY2016 Recipient Organizations (11 in total):]
Association of School Aid in Cambodia
Cambodia Education Assistance Fund
Farmers Livelihood Development
International Federation of Red Cross and Red Crescent Societies, Cambodia Country Office
Khmer Community Development
LIFE WITH DIGNITY
Live & Learn Environmental Education Cambodia
My Village
PH-Japan Foundation
World Assistance for Cambodia/Japan Relief for Cambodia
World Vision International - Cambodia
Cambodia has witnessed major economic development in recent years. However, its rural electrification rate is only 18%, and people in off grid villages still live in poverty and put up with many inconveniences.
Panasonic will continue to deliver solar lanterns to people in need of light by collaborating with NPO/NGOs who work particularly in rural areas, so that we can contribute to helping solve various social issues and be a positive change agent in people's lives, and thus to the achievement of the Sustainable Development Goals (SDGs).