Program launches FY2017 solar lantern donations in Bangladesh
2017.07.24 News
In July 2017, 504 solar lanterns were donated to e-Education and their efforts to support education for the youth of Bangladesh. This is the second time solar lanterns were distributed through this organization.

A country about 40% the size of Japan and with a population of approximately 159.4 million people, Bangladesh has witnessed rapid economic growth in recent years and attracted global interest for its abundant workforce and potential market scale. Meanwhile, about half of the country's population lives in poor rural villages, and there are growing disparities between rural and urban areas in terms of education, infrastructure, and other sectors. The electrification rate in rural areas remains low at 55%.
Solar lanterns create a bright future for high school students
e-Education, a second-time recipient, is an NGO devoted to supporting education for children in developing countries. Bangladesh's rural villages face the issue of low education levels due to the shortage of teachers and the lack of electricity which limits students' study time in the evening. For high school students in rural villages, e-Education offers videos of lectures by teachers at preparatory schools in the city. The video classes have helped students gain admission at Dhaka University and other top schools in the country.
Village students comment a year after receiving donated lanterns
The solar lanterns donated in March 2016 were distributed in Haimchar, a village of about 140,000 people located six hours by boat from the capital city of Dhaka. The level of education in this village is the lowest in the country, with literacy rates at 25.4%, an very low rate compared to the national average of 70%. There is no electricity in this area, which faces floods and many other natural disasters. Kerosene lamps are used in most homes at night but poor families have limited funds to buy the fuel, so these students are unable to study even if motivated to do so.
With these conditions in mind, e-Education distributed the solar lanterns to high school students in particularly poor households in the village.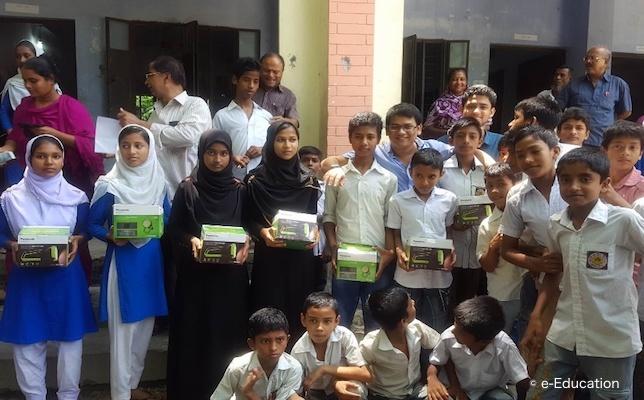 "Solar lanterns are an amazing gift."
Akhi lost her father when she was 6 years old and currently lives with her mother and two brothers. The family survives only on the mother's income, and Akhi could not study after dark due to the lack of money for kerosene lamp fuel. Now with a solar lantern, she can study at night and submit her homework on time.
Momin Hossain, whose father works as a day worker, can now study at home at night, joyfully saying "Solar lanterns are an amazing gift."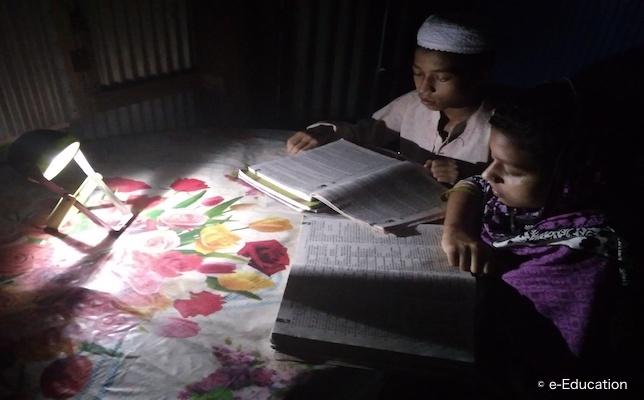 Bringing more light to students
It's been about a year since the previous donation was made. Most of the students in Haimchar village talk about the dramatic changes that solar lanterns have brought to their lives, and it seems that lantern light is a source of happiness and motivation for them.
Some also talk about how the solar lanterns eliminate the need for lamp fuel and the big savings for family finances. We look forward to receiving more local reports in the future and learning about how the light of solar lanterns is helping people live better lives.