[News] Cambodia: 2,202 Lanterns Donated in 2017
2017.10.13 News
Panasonic donated 2,202 solar lanterns to eight organizations in Cambodia. The total number of lanterns donated in Cambodia has now come to 13,516 in five years.

In August 2017, we donated a total of 2,202 solar lanterns to eight organizations addressing social issues in Cambodia.
A donation ceremony held at the Intercontinental Hotel in Phnom Penh was attended by 40 guests, including members of the recipient organizations, Mr. Yoshikazu Hasunuma, First Secretary at the Embassy of Japan in Cambodia, and Ms. Ayaka Ando, Deputy Director of the Japan External Trade Organization, JETRO Phnom Penh Office. The attendees enjoyed the ceremony in a friendly atmosphere.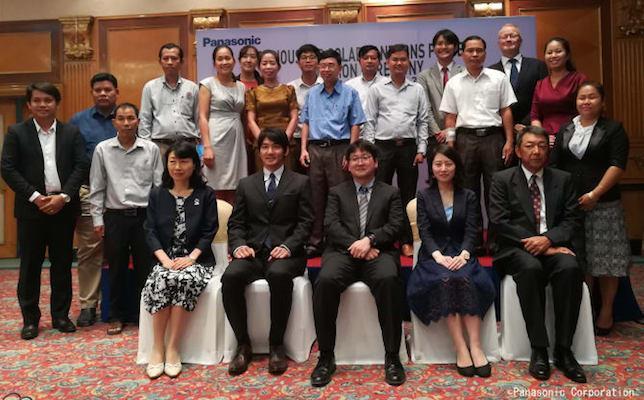 Mr. Hasunuma said in his speech, "Cambodia is in the midst of very rapid infrastructure development and the demand for electricity is growing. Meanwhile, those living in poor regions have no access to electricity. Panasonic's solar lanterns are so important because they use eco-friendly energy that converts sunlight into electricity and can also be used as a battery. This is the last year of the project but I look forward to their continued contributions in bettering the lives of people living in Cambodia's off-grid areas. "
Representing the recipient organizations, Ms. Lak Mony Rasmey of the International Federation of Red Cross and Red Crescent Societies, Cambodia Country Office gave a speech and remarked, "People living in poor rural areas do not have the opportunity to experience "light." The 100 Thousand Solar Lanterns Project brought countless rewards to health centers, clinics, and many others. We extend our sincerest gratitude on their behalf. We hope to participate in new projects by Panasonic and to work together again in the future."
[FY2017 Recipient Organizations (8 in total):]
Cambodia Education Assistance Fund
Farmers Livelihood Development
International Federation of Red Cross and Red Crescent Societies, Cambodia Country Office
LIFE WITH DIGNITY
Live & Learn Environmental Education Cambodia
School Aid Japan
World Assistance for Cambodia/Japan Relief for Cambodia
World Vision International - Cambodia
We are only a few steps away from reaching our goal to donate 100 thousand solar lanterns in this project and we look forward to your continued support along the way.