FY2013 Summary: Over 14,000 Solar Lanterns Donated to Nine Countries
2014.06.16 News
In FY2013 (April 2013 to March 2014), 14,114 solar lanterns were donated to nine countries. Here, together with photographs received from the recipient organizations, we will introduce the solar lanterns in action in each country. The report also touches upon how compact solar lights donated in FY2012 are currently used.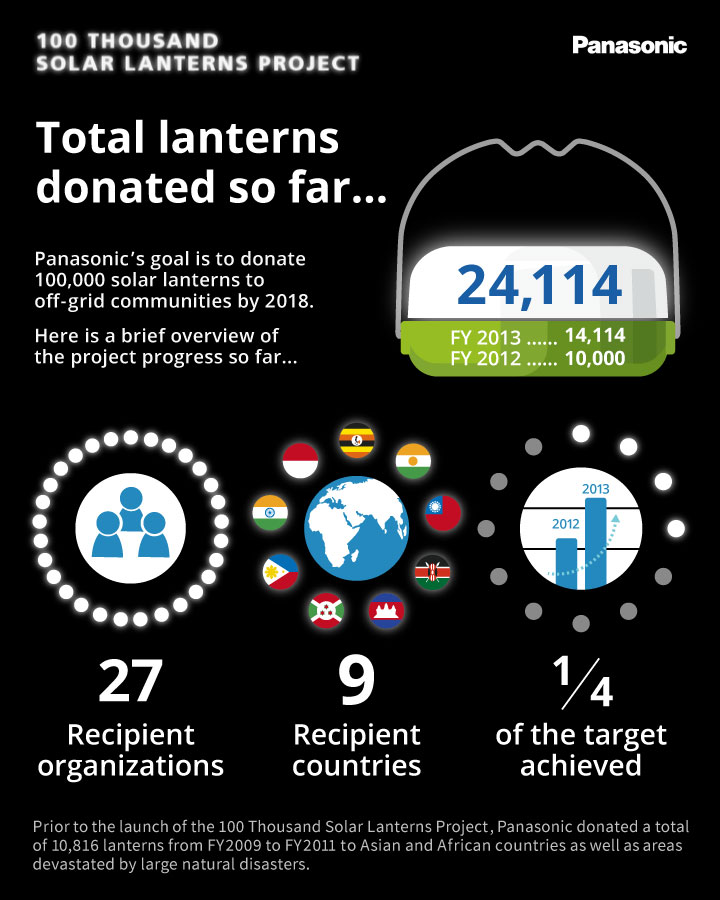 India
Plan India works under the concept of child-centered community development. They lend compact solar lights to households that fulfill the following conditions: homes without electricity, families with a child attending school between Grades 1 and 10 (priority given particularly to households with girls and disabled children), and households with income that is below the poverty line set forth by the Indian government. Thanks to the compact solar lights, children can now study in the evening in places without electricity and adults use the light when cooking or lighting paths when walking at night or charging mobile phones.

Compact solar lights are also used on remote medical care in rural neighborhoods and when people work at home in the evening.

Indonesia
On Indonesia's Sumba Island, we donated solar lanterns through IBEKA, a group that works to address energy-related issues and promotes community development by introducing renewable energy, such as micro hydropower and wind power. The solar lanterns are donated to families with the most limited financial means, in areas the least likely to get access to the power grid within the next ten years.
Until then, the people on the island had no choice but to use kerosene lamps that negatively impact health. The people appreciate the solar lanterns for alleviating the financial burden of purchasing fuel, allowing them to instead invest in education with the money saved. In each home, the solar lanterns are used when cooking meals, working, and when children study.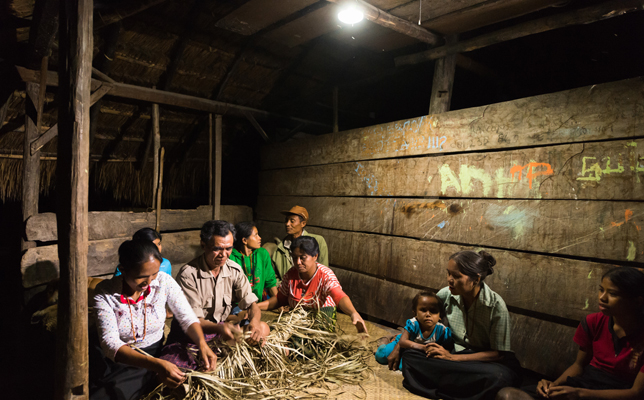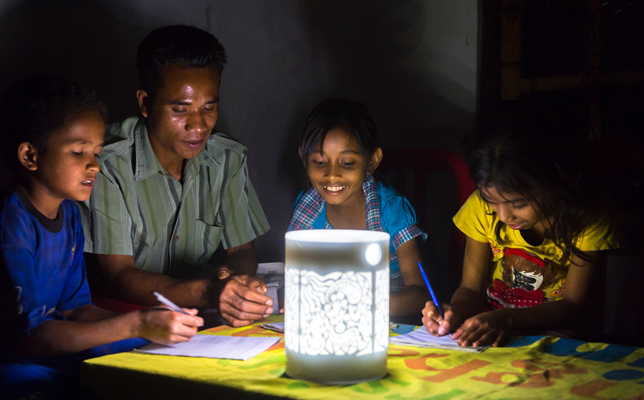 Cambodia
Japan Support Team for Angkor Preservation and Community Development (JST) uses the solar lanterns during their evening English classes at the free school inside Angkor Krau Community Center.

Come nightfall, the area turns pitch black. Until now, the last class of the day was until 6PM but now with the solar lanterns, they can study until 7PM.
In Cambodia, the solar lanterns are also used inside community factories that offer employment to poor women and in activities that support self-reliance among women who have studied traditional weaving techniques.
Kenya
At the UNHCR Representation in Kenya, compact solar lights are used in two refugee camps (Dadaab, Kakuma).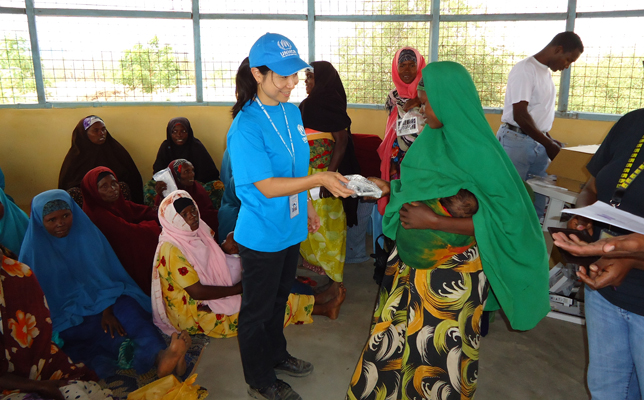 Philippines
In the Philippines, solar lanterns were donated to support victims devastated by Typhoon Haiyan (Yolanda).
Myanmar
Japan Heart, who provides medical support in Myanmar, uses between compact solar lights and solar lanterns, depending on the situation, for operations at night and power outages and when nurses make rounds at night.

In Myanmar, solar lanterns play a key role in temple schools as well as rural development and education support provided through school construction.
For donations in FY2014
Preparations are currently under way in our efforts to fulfill our FY2014 goal of expanding our reach to other countries in addition to those countries and regions we already work with today. We will continue to inform you on new project developments and send reports on how solar lanterns are being used by recipient organizations through our website and Facebook Page.