Without light, people can't cook, work, study,
or receive medical treatment at night.
Panasonic is sharing its solar technology to make their life better.
Spreading light to people without electricity
Panasonic Corporation has launched the 100 Thousand Solar Lanterns Project, aiming to contribute 100,000 solar LED lanterns to people without access to electricity by 2018, the year of our 100th anniversary.
The recipients of the solar lanterns are non-governmental and international organizations working to solve social challenges in Southeast Asia, South Asia and Sub-Saharan Africa, the key areas without electricity access. In fiscal 2012*, the first year of the project, we donated a total of 10,000 solar lanterns to Myanmar (3,000 units), India (5,000 units) and Kenya (2,000 units).
*from 1 April 2012 to 31 March 2013
1.3 billion people don't have access to electricity
Currently, about 1.3 billion people live without access to electricity worldwide, many of whom live in the developing countries of Asia and Africa.
Homes in these regions commonly use kerosene lamps for lighting, but the fire and smoke from these lamps pose serious fire and health risks. Unable to emit sufficient light, they also significantly restrict what people can do at night. The lack of electric lighting in these regions means significant challenges in the areas of safety, health, education, and the economy.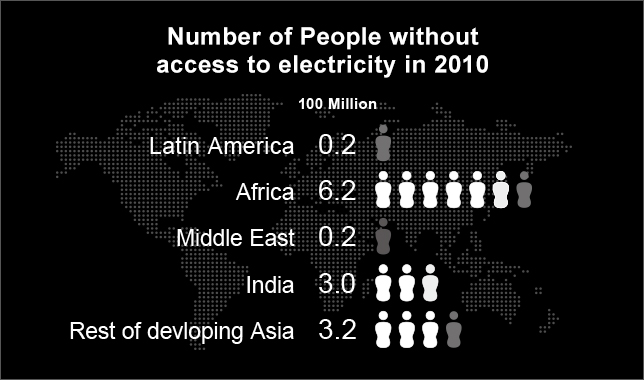 Panasonic solar lanterns now lighting up communities without electricity

The story behind the Panasonic solar lantern goes back to 2006.
In that year, the Republic of Uganda's Minister of State for the Vice President's Office visited Japan and took a tour of the Solar Ark, an ark-shaped solar array that symbolizes our efforts to help realize a clean energy future. After returning to Uganda, he sent us a letter explaining the current circumstances people without electricity are facing in Uganda. He told of people using kerosene lamps despite the serious health problems caused by black smoke. He also indicated that our solar technology could be very useful for improving the quality of living for these people.
Encouraged by his letter, we began to study how to use our unique clean energy technologies to help solve these issues. This led to the development of the solar lantern.
Since then we have been improving our solar lanterns based on user feedback, and have also been donating solar lanterns in African and Asian countries in partnership with non-governmental and international organizations.
Panasonic plans to continue working on the "100 Thousand Solar Lanterns Project" to create better lives and to contribute to the progress of the society and the achievement of the United Nations Millennium Development Goals (MDGs).