Main Contents begins from here.
HOW TO INTERPRET THE LIST
The List of Contents includes every object or item stored in the capsules according to the final classification made by the Selection Committee. It is divided into four parts: Items related to the natural sciences (N), items related to the social sciences (S), items related to the arts (A) and miscellaneous items (M), which are mainly related to Expo '70 and the sponsors of the project.
Each section of the list is made out in the following way :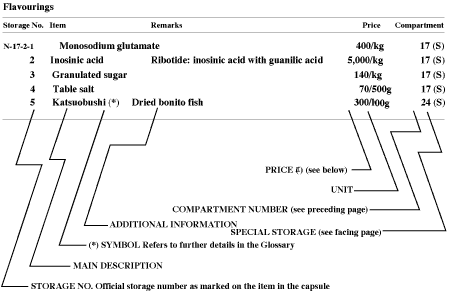 ---
Price
All prices are given in Japanese Yen (¥). These are the prices actually paid for the items concerned or, in some cases, the value of items which were donated under special circumstances. As of March 14th, 1970, the exchange rate of the yen against major world currencies was as follows:
$ (Dollar, USA ) = ¥357.45
£ (Pound, U K ) = ¥857.10
Fr. (Franc, France) = ¥64.19
DM (Deutschmark, W. Germany) = ¥96.86
For banking and commercial purposes, the yen has a lower denomination: sen (¥1 = 100 sen). Sen are no longer used in the public sector and sen coins are out ofcirculation.
---
Special Storage
A bracketed symbol adjacent to the Compartment Number refers to special conditions of storage as follows:
(S): Special container or packing, i.e. quartz glass, metal foil, etc.
(A): Special atmospheric conditions provided within a sealed individual container.
---
(*) Symbol
This symbol refers the reader to a more detailed description of the item in the Glossary. Some of these items were selected for their unusual scientific or social interest, in which case the Glossary gives necessary information regarding handling, application and, in the case of certain seeds and microorganisms, conditions for germination. The remainder of the items – the majority – are items which are traditionally Japanese in origin or usage.
---
Italics
Italics are used throughout the list and text for Japanese words – but not for personal names, place names (except where these form part of a descriptive term), or titles of Japanese books, musical composition or works of art. In principle, Japanese words have been restricted to descriptive terms for which there is no adequate, brief English translation, or where the Japanese expression is of special interest.
---
Parsonal Names
In all cases, Japanese names are written in the Japanese manner, i.e. with the family name preceding the given name. Non-Japanese names are written in the Western manner, the given name or names coming first.
---
Publications
Unless otherwise noted, all publications in the capsule are in Japanese. Titles of studies/reports are given in English for the purposes of this edition only Where publications were stored in the original (non-Japanese) language, the language is given in brackets in the remarks. Publications translated into Japanese from other languages are marked (Tr.) in the remarks.
---
Other Special Symbols
| | |
| --- | --- |
| MF | Microfilm |
| ( L) | Library |
| T | Magnetic recording tape |
| (Ch) | Church or Christian organization |
| F | Motion picture film |
| [ ] | Title of book, newspaper or other publication |
| ph | Photograph |
| (R) | Related item listed elsewhere: refer to the number given |
| < > | Chapter or extract, either contained in the original publication or recorded on microfilm |
| (T) | Buddhist temple |
| (Sh) | Shinto shrine |
| Tr. | Translation (into Japanese) |
---