FY2014 Summary: More than 44,000 Solar Lanterns Donated Since Project Began
2015.07.21 News
In fiscal 2014 (April 2014 to March 2015), we donated a total of 20,364 solar lanterns in ten countries toward our goal of 100,000 lanterns. The following is an update on how solar lanterns are being used in each country based on reports from recipient organizations.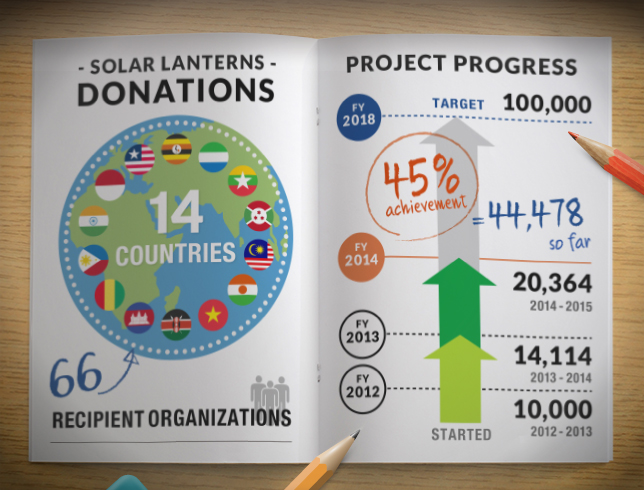 [Highlights]
Guinea, Liberia, Malaysia, Sierra Leone and Vietnam added to recipient list.
Local governments (Kota Town) and domestic/overseas Panasonic group companies (Panasonic Eco Solutions Housing Equipment Co., Ltd., Panasonic Malaysia) joined in solar lantern donations for the first time
Development of "solar LED light" to serve needs in rural India
Cambodia
Education Support Center "KIZUNA", in their efforts to eradicate educational disparities between urban and rural areas, offers teacher training and educational support to middle schools through English lessons on the radio. Today, solar lanterns are used in 25 schools in the provinces of Preah Vihear and Stung Treng. The solar lanterns are used by almost 200 teachers and students for about 3 to 4 hours per day. Teachers use them to prepare for classes and tests, and dormitory students use them when doing their homework.

Cambodia, India
Four to six months after lanterns were donated, the Japan Evangelical Lutheran Association (JELA) conducted research on approximately 300 solar lantern recipients. On average, the solar lanterns are used 3.12 hours per day for cooking, studying, and emergencies (e.g., sudden illness), in that order. Children's study time has increased by 2.05 hours on average and teachers say the children's grades have certainly improved.
Additionally, energy costs have been cut by more than half and the money saved can now be used to purchase nutritious food and medicine, ultimately leading to better health.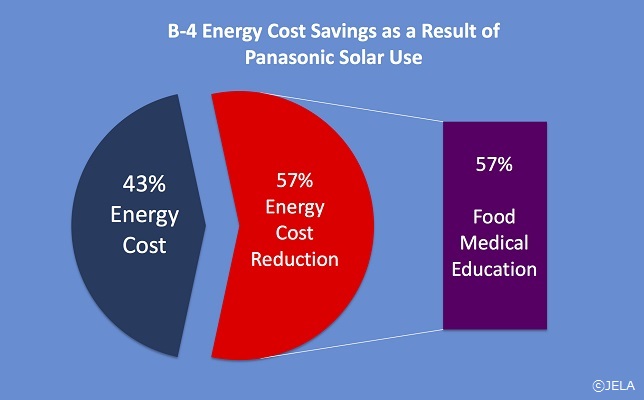 -- Impact Survey in Verifying the Power of Solar Lanterns: JELA
Malaysia
Panasonic Malaysia became the first overseas group company to join the 100 Thousand Solar Lanterns Project and donate solar lanterns to indigenous people living in off-grid islands on Lake Temenggor.
Solar lanterns were also donated in January 2015 to indigenous people affected by floods in Kelantan Province .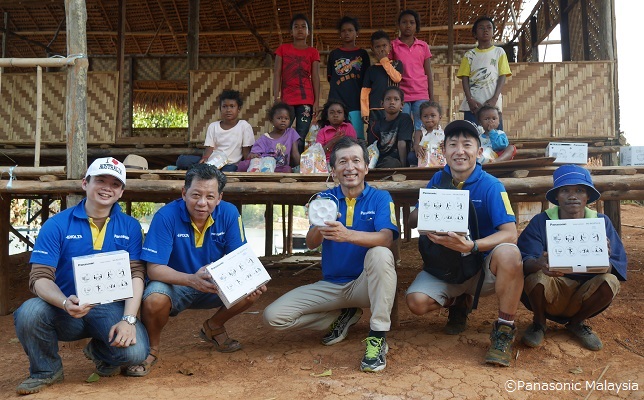 -- Malaysia: Solar lanterns donated to villagers on an off-grid island
Myanmar
Save the Children Japan (SCJ), an organization working to improve health of pregnant women, mothers, and children under age of five in rural villages in Myanmar, have distributed solar lanterns to 204 midwives working in four townships including Pakokku. The midwives comment happily, "They are very helpful when attending births at night and when providing emergency home visits. Nowadays, solar lanterns are one of our must-have-tools."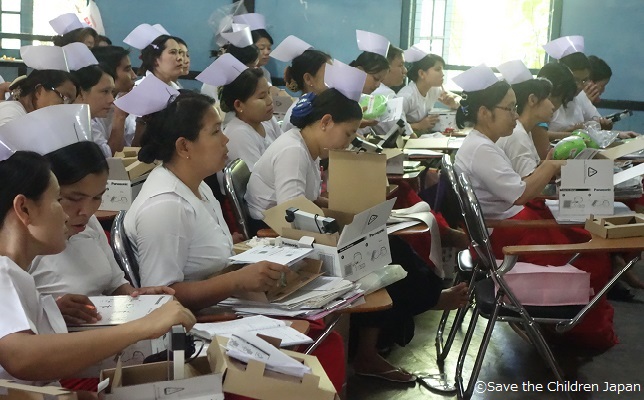 Philippines
Josefa Segovia Foundation (JSF) has an Educational Support Program for the disadvantaged children and youth of Mindanao, Philippines. The solar lanterns donated to JSF are used for studying and other evening activities of the students living in "Balay Pasilungan", a dormitory for Indigenous Peoples in Davao City. One of the children reported happily, Maka- study na kami sa gabii kay kaniadto amo ra mata among ginapasiga kay ngitngit man!" (In the past, we couldn't see in the dark unless we squinted our eyes but from now on, we can study even at night!)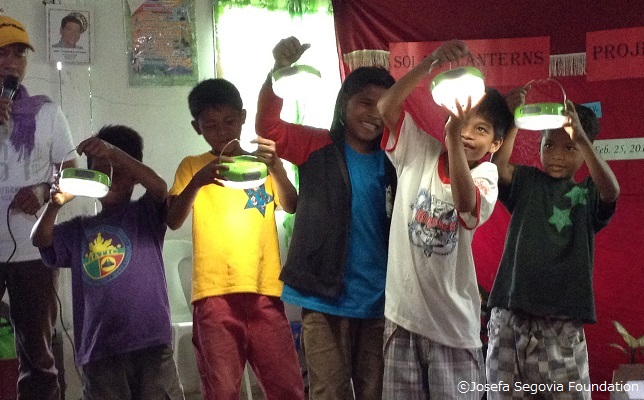 Guinea, Liberia, Sierra Leone and Kenya
As part of our support in fighting Ebola hemorrhagic fever, we donated 3,240 solar lanterns to the United Nations Development Programme (UNDP.) The solar lanterns are being used by medical professionals and on-site staff supporting Ebola survivors and orphans in Guinea, Liberia and Sierra Leona, where impacts of the disease have been particularly serious.
Additionally, this March in Africa, 2,004 solar lanterns were donated to the UNDP Kenya to provide support in the areas of health and education.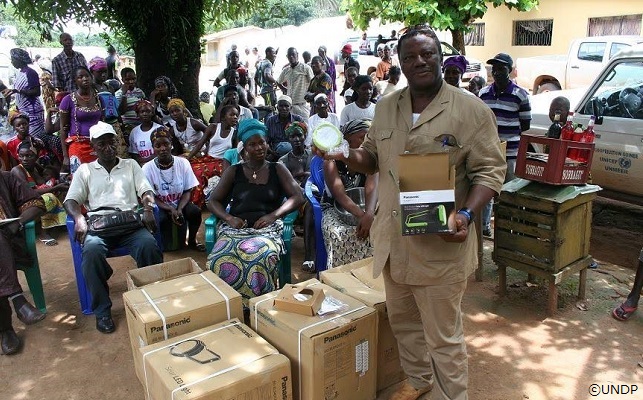 -- Press Release: Panasonic Donates Solar Lanterns to UNDP for Ebola Relief Efforts
Indonesia
For the second donation this fiscal year in Indonesia, solar lanterns were sent to people living in off-grid areas of northern central Timor through the new recipient organization, "Kopernik." Two hundred solar lanterns are being used at 50 medical clinics to expand health care facilities for the local people. Additionally 110 solar lanterns were donated to the people of Sone village together with special shades designed by people from around the world as a part of Panasonic's "Cut Out the Darkness Project."

-- Press Release: Panasonic Donates 1,020 Solar Lanterns to People of East Nusa Tenggara
-- Cut Out the Darkness Report: "Lantern'zoo" Shines in a Village that has No Electricity
Vietnam
In Vietnam, a new member to our list of recipient countries, we donated 630 solar lanterns to World Vision International in Vietnam in the Dien Bien Province of northern Vietnam. The solar lanterns are used in nutrition classes, village kindergartens, and public gatherings in off-grid villages that are home to ethnic minorities in mountainous regions.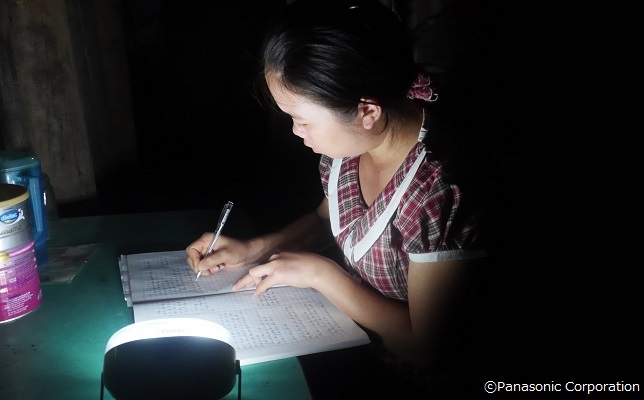 -- First solar lantern donation in Vietnam went to people obscured in statistics
India
A total of 5,006 solar LED lights were donated to seven NGOs and they are helping improve economic and educational conditions for children as well as public health.
The design of solar LED lights, led by a team at the local Panasonic development center, incorporated input from people in rural areas and Japan's development division until it was completed after half a year of repeated improvements. The affordably-priced solar LED light offers cell phone charger functions and is able to operate for a full night, making it a product that truly serves the needs of the local people.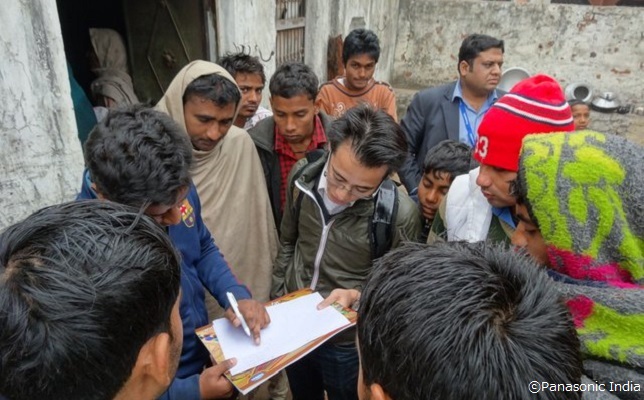 -- Press Release: Panasonic Donates 5,006 New "Solar LED Lights" to India
-- New "Solar LED Light" Developed for Villages in Rural India
Preparing for Donations in FY2015
Fiscal 2015 is expected to bring new recipient countries in addition to the countries and regions that already receive lantern donations. Through articles and our Facebook page, we will continue to share project updates and introduce how solar lanterns are being used by recipient organizations.