Our Donation for Fiscal 2016 Kicked Off in Ethiopia and Tanzania!
2016.08.09 News
In July 2016, the first set of donations for this fiscal year kicked off with 2,400 solar lanterns to Ethiopia and 216 to Tanzania. Here we introduce highlights from the previous fiscal year, 2015 (April 2015 thru March 2016).
New recipient country, Ethiopia
Ethiopia is the destination for many refugees fleeing from conflicts, hunger and drought in neighboring countries, including Somalia, Sudan, South Sudan, and Eritrea, as well as internally displaced persons (IDPs) who have been driven from their homes by the impacts of El Nino and climate change. Most of the areas they flee to have no electricity.
In light of this situation, Panasonic, through the International Organization for Migration (IOM) Special Liaison Office in Ethiopia, donated 2,400 solar lanterns to IDP communities in the Oromia, Somali, and Afar regions of the country. The lanterns will be used in 120 locations, including health posts, youth centers, and community policing stations.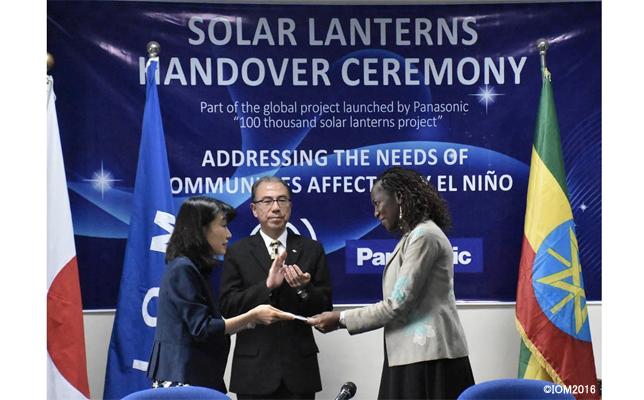 Tanzania: Solar lanterns used at health posts and schools in off grid villages
In Tanzania, we donated 216 solar lanterns through Plan International Japan. The donation ceremony was attended by the acting District Executive Director for Kisarawe District Council and other officers from the Education Team and the Health Management Team where the lanterns will be distributed. A solar lantern demonstration, an orientation on usage, and a question and answer session were held on the same day.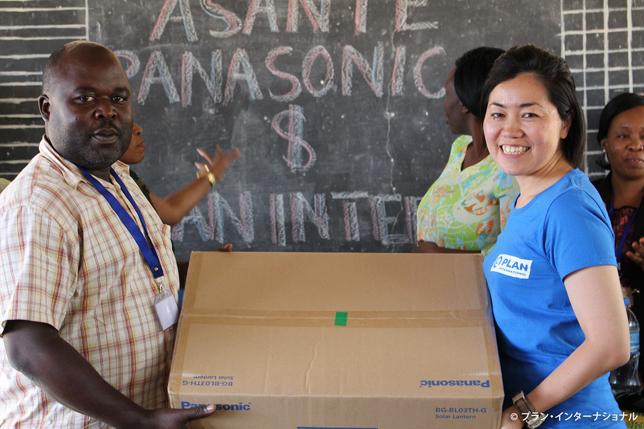 We started our fiscal 2016 donations in Ethiopia and Tanzania, and will continue to expand to more recipient countries across Africa and Asia in the future.
Fiscal 2015 Donation Results
Panasonic donated more than 60,000 solar lanterns to nine countries in FY2015, bringing the total number of recipients to 84 organizations in 17 countries.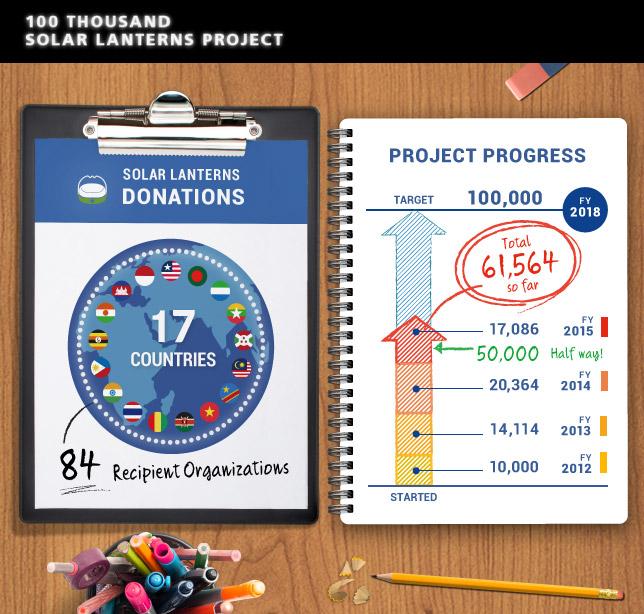 [The year's highlights]
Three new recipient countries: Bangladesh, Democratic Republic of Congo, Thailand
Total number of lanterns donated tops 60,000 in March 2016
New program enables the first donation by employees
●Bangladesh
Bangladesh's social enterprise Nijera Cottage and Village Industries launched their indigo dyed textile brand "Living Blue" to create employment for women. The majority of women working there live without electricity and now use the solar lanterns at night when taking care of housework or when their children study.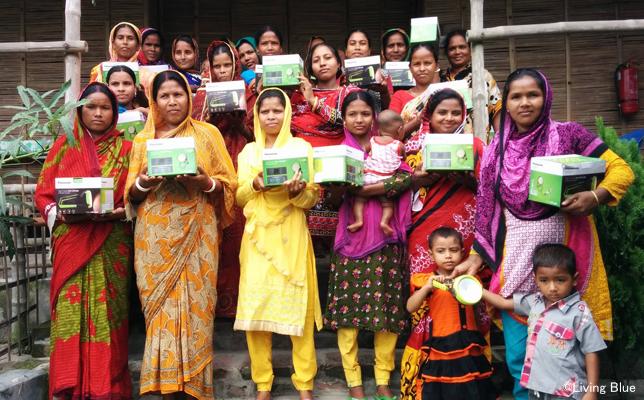 ●Cambodia
World Assistance for Cambodia and Japan Relief for Cambodia (WAfC/JRfC) supports education for poor people in rural areas. Through them, solar lanterns were distributed to approximately 40 schools in areas without electricity. The light is being used in many ways, like helping children study at night and teachers prepare for the next day's classes, while also allowing them to charge their phones.
・Solar Lanterns on the Educational Front: WAfC/JRfC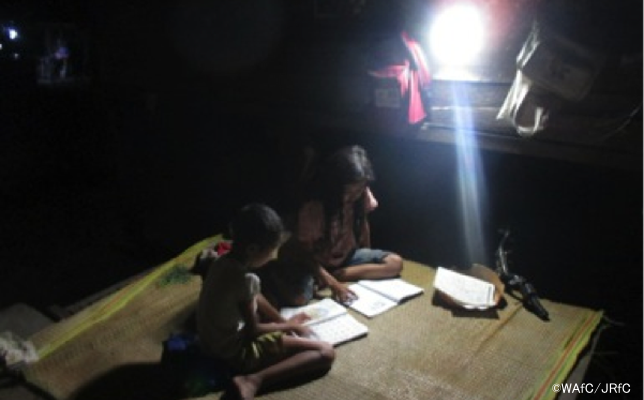 ●Democratic Republic of Congo
Solar lanterns donated to the Democratic Republic of Congo through the United Nations High Commissioner for Refugees (UNHCR) are being used at medical facilities, such as hospitals, clinics, and health centers in five refugee camps and host communities, as well as nine transit centers.
・Supporting both Refugees and People in Host Communities: UNHCR Representation in DR Congo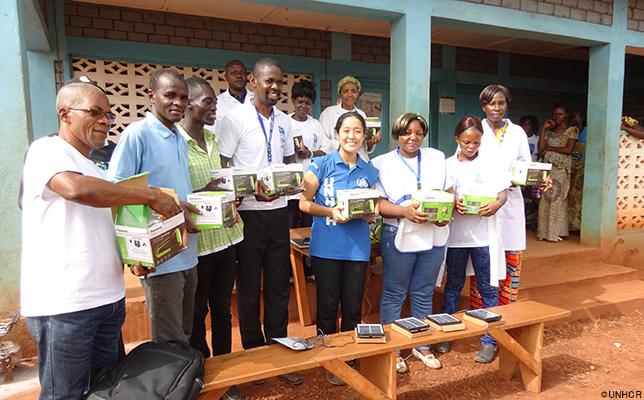 ●Indonesia
Personal donations by Panasonic employees resulted in 500 solar lanterns being donated to East Nusa Tenggara Province in Indonesia through the NPO Kopernik. The solar lanterns have been distributed to village clinics, where they are being used for various purposes including examinations and surgeries at night.
・First Donation by Panasonic Employees: 500 Lanterns to Indonesia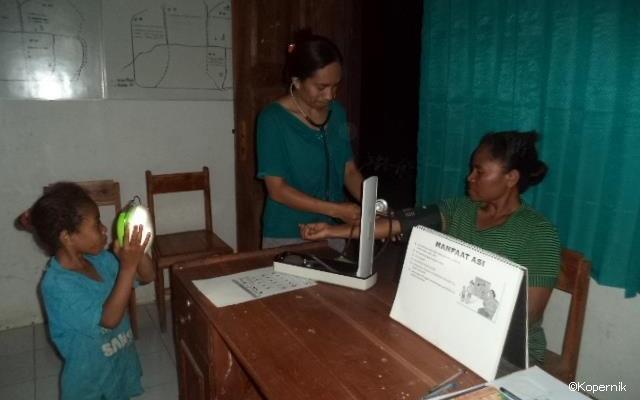 ●Kenya
In Kenya, solar lanterns were distributed to hospitals, clinics, and schools through the United Nations Development Programme (UNDP) in Kenya. At recipient primary schools, the existence of charging panels creates a situation that motivates students to attend school in order to charge their lanterns, and this reportedly helps deter them from dropping out of school.
・Solar Lanterns Help Reduce School Dropout Rates: UNDP Kenya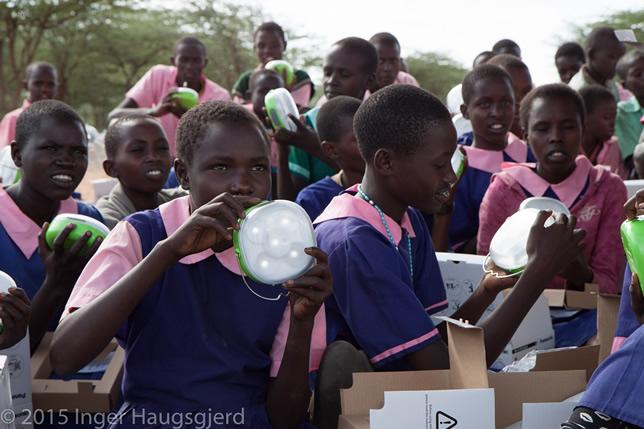 ●Myanmar
Solar lanterns were delivered through the Myanmar Red Cross Society to a village in the Sagaing region of Northern Myanmar that was devastated by a major earthquake in 2013. There has been no electricity in the village since the earthquake, so children who had been studying by candlelight are thrilled now that they can study under the bright light of the solar lanterns.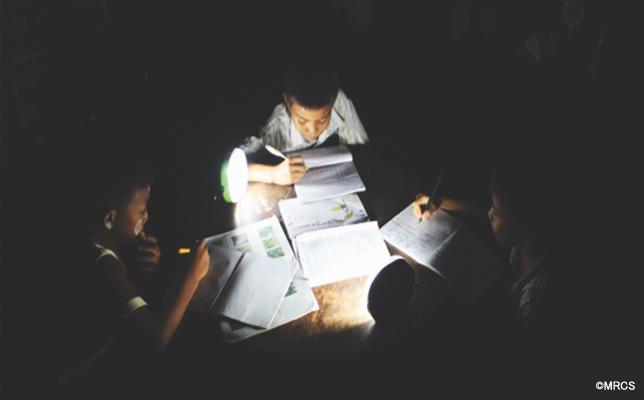 ●Philippines
The Davao Medical School Foundation, Inc. - Institute of Primary Health Care, which offers medical education in the Philippines, distributed solar lanterns to six villages. The lanterns are proving helpful in various situations, from nighttime medical activities to church activities, housework, and children's studies. The lanterns also provide precious light on dark roads when children head to water sources to collect drinking water.

We will share information about progress of the project and updates on how solar lanterns are being used by recipients, through articles and our Facebook page. For details on how to be a part of this project, please visit our Take Action page. We are committed to make even greater efforts as we move toward our goal of donating 100,000 lanterns, and hope that this circle of action will expand to resolve the issues facing areas without electricity.